The PS5 is a massive console that manages to stay surprisingly cool thanks to its strong heat sink construction and liquid metal-cooled SoC; our PS5 SSD temperature testing also demonstrates the importance of a storage heat sink. However, one YouTuber has gone to extremes, decreasing the PS5's overall thickness to only 0.75 inches, a reduction of 85 percent over the retail model.
The PS5 customized by DIY Perks is far thinner and cooler than Sony's mass-produced model. The size reduction is noticeable, but the inner components like the VRM, RAM, and SoC have kept up to 45 percent cooler thanks to a custom water cooling system designed specifically for the ultra-slim chassis. This DIY console, on the other hand, was time-consuming and expensive to construct.
DIY Perks made a special water-channeling system out of copper sheeting for this project. The copper sheets used in the system were highly expensive, costing nearly as much as the PlayStation 5 retail price. He also had to alter the PS5's power connector due to space constraints. One of the most notable alterations was the relocation of the PS5's power supply to the outside of the device. Because the PS5's massive stock PSU wouldn't fit in the small chassis, the YouTuber had to make his own.
You can see the PS5 slim in the video below

In addition, DIY Perks had to build a bespoke heat pipe for the PS5's VRM, which has its own specialized heat pipe solution with a small heat sink, and recoat the PS5's proprietary 7nm+ SoC with liquid metal, sealing the outside with putty to prevent overspill.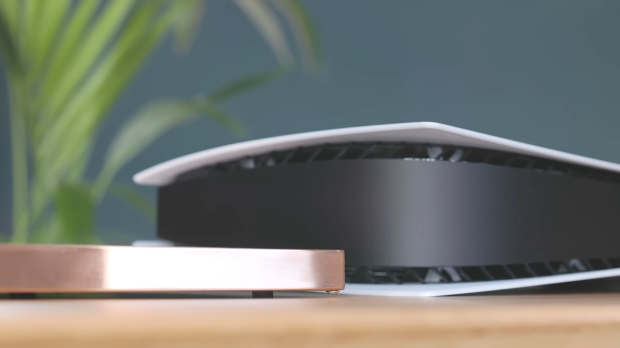 Things, however, did not go as planned. In one test, the PS5 overheated and became unresponsive. Thankfully, DIY Perks had a spare PS5 thanks to Dbrand and the second run went off without a hitch.
also read:
TCS, Reliance and other big firms of India takes huge dip of INR 3.91 lakh Crore in Market Value