Noise i1, the first smart sunglass from this leading electronics brand was scheduled to launch today, 21st June which is also World Music Day, at 12 noon. As per the schedule, the new smart eyewear is launched now. There are two models – Noise i1 Square and Noise i1 Round. From the name probably you get the difference. As per the official website, Noise's first smart sunglass costs Rs.12,999. But as always, it will be available with a 53% discounted rate, which is Rs.5,999 only. For now, we can only confirm that Noise i1 will be available via Noise's official website, have not sport any listing on any other popular e-commerce platforms. BTW, this glass is coming only in black colour options and includes a magnetic charger along with a stylish carrying case.
Page Link: https://bit.ly/3y73esV
Noise i1 Features

Well, we already covered the pricing and variant related details. Now, it's time for the features. There are two kinds of features – the first is the basic features of a sunglass and the second is the smart features. So, let's check out what Noise Labs is gifting us on World Music Day.
Basic Features
First of all, the Noise i1 Smart Sunglass comes with an interchangeable lens option. There are two lenses – the Sunglass Lens can protect your eyes from UVA/B by 99% without compromising your style at all; the transparent lens, on the other hand, is capable to filter blue light which is helpful if you sit long in front of computer screens like me. The frame weighs 47 grams only. This means it will not feel heavy. In addition to these, this smart sunglass is IPX4 certified.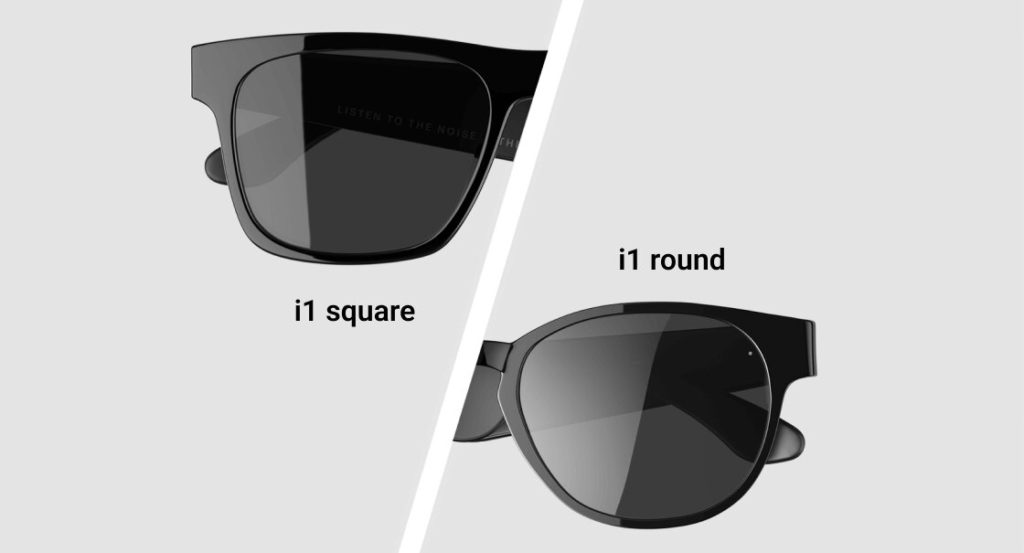 Smart Features
Noise has added most of the features it generally adds in a TWS or neckband to this smart sunglass. The Noise i1 has Bluetooth 5.1 onboard with the Hyper Sync technology support. It ensures connectivity with your primary device. There is AAC and SBC Bluetooth profile support as well. The 16.2mm audio drivers have been added to this smart sunglass for the audio output. Noise has implemented Guided Audio so that the audio output reaches to your ears and not escape to the environment.
Noise i1 is fully controllable with easy gestures. Just like the TWS, you can control ongoing tracks, manage volume level, enjoy hands-free calling experience, and even can interact with the voice assistant as well. The built-in microphones will help to transfer your commands or during any calls.
Coming to the battery part, the smart glass can continue for around 9 hours at 70% volume as per the company claim. With the help of a magnetic charger, you can refill the battery easily. This wearable may take approx 1.5 hours for this process. Fortunately, Noise has not forgotten to add fast charging. Against just 15 minutes of charging, the i1 can provide up to 2 hours of playtime.
Additional Information
Noise has plans to collab with the Stranger Things team. The brand has already teased the same a few days back on its official social media accounts. But for now, the launch is the main focus.
Noise Store: https://amzn.to/3y7u7gb
Click here for World Music day Deals