The likelihood of a recession in the United States has caused Indian IT companies' valuations to drop. Investors are concerned about a possible recession in India's main market, the United States since companies like Infosys, TCS, and Wipro have hit a 52-week low.
"The stock price correction (in IT firms) has largely been due to de-rating of valuation multiples, as earnings estimates have largely remained intact or seen minor downgrades. The reasons for this sharp derating, as we mentioned above, are largely related to the global macro environment," said a report by Phillip Capital.
Concerns about the US Federal Reserve tightening liquidity, rising inflation in the US/EU, the Russia-Ukraine conflict, and volatile petroleum and commodity prices have all weighed hard on stock markets around the world in recent months.
Despite mounting fears that Indian IT firms like TCS, Infosys and Wipro may lose revenue, many believe the impact will be minor and short-lived

"While the global macro fears are for real, we believe their impact on earnings will be minimal and temporary. The demand outlook continues to be super-bullish – by Gartner, ISG, Accenture and Infosys/HCL (in their recent analyst meets). The commentary on tech spending by major BFSI and retail players (two major verticals for Indian IT) also remains strong, despite macroconcerns," added the report.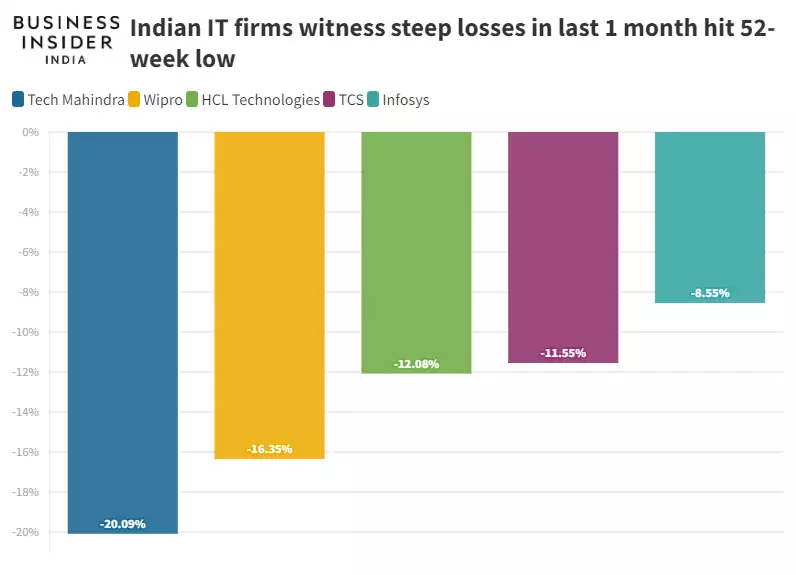 Analysts believe that another 10% correction in Indian markets is imminent and that it all rests on an announcement of a US market recession – meaning that the pain in this sector will continue for the foreseeable future, despite their conviction in the sector's fundamentals.
Analysts, on the other hand, believe TCS and Infosys will weather the storm best, leaving TechM and Wipro with the biggest price declines
Experts expect that businesses will continue to invest in digital transformation, which has become essential to the survival of many industries. TCS, Infosys, Wipro, and HCL Tech are among the IT companies gaining from the current tech spending cycle.
According to a report by Kotak Institutional Equities, the IT sector is well-positioned in a volatile and recession-prone market since demand is strong despite high inflation because companies are spending a lot of money on digitalization.
Also Read:
Apple might release a 13-inch MacBook Air Model with OLED Panel by 2024
source