If you're new to streaming or podcasting, then you definitely need a good sound card to start your journey. There are many podcasting consoles, but their price can pinch a hole in your pocket. So, if you're looking for a budget podcasting console, Maono has an exciting sound card available for you.
The previous Maonocaster was a popular sound card but lacked some of the features. So, this time Maono has listened to all the feedback and has launched the Maonocaster E2 with all the enhanced features.
We have got our hands on the Maonocaster E2 for reviewing. Here we have bundled the Maonocaster E2 sound card with the HD300 microphone. This microphone is not the microphone included in the Maonocaster E2 mic bundle but it can be used seamlessly with the sound card as well.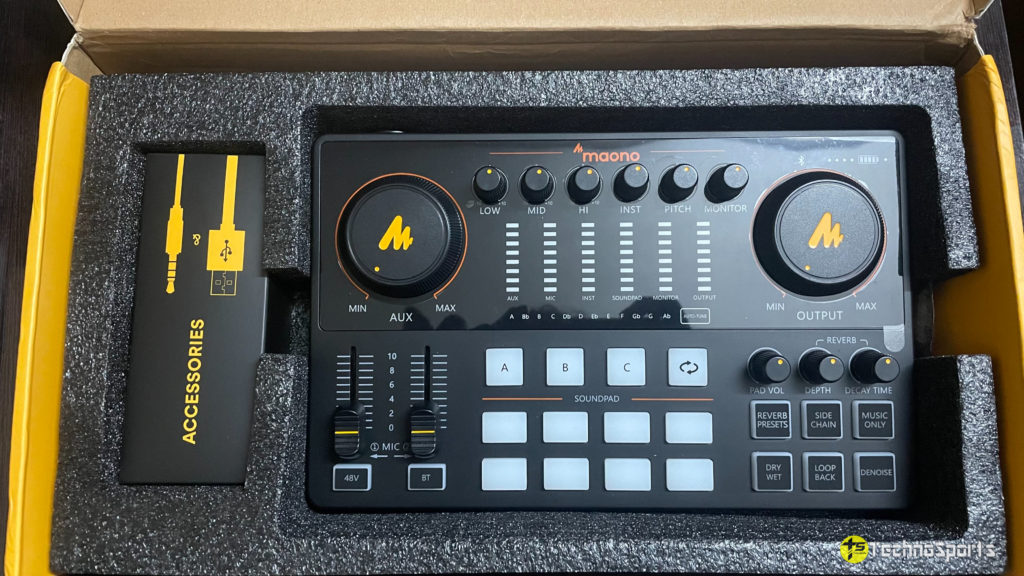 Specifications of Maonocaster E2
Maonocaster E2 is a professional sound card for audio/video recording and streaming. It has two mic input interfaces which allow connection with instruments like guitar, and supports background music from audio input via Bluetooth and AUX connection.
There are 2 analog and 1 USB audio output channel which allows simultaneous connection with 3 streaming devices. The powerful built-in audio chip delivers professional studio-level audio and provides rich mixing adjustment options and also has 11 custom buttons for personalized effects settings and unique streaming styles.
Up to 11 customized sound pads to enhance your podcast atmosphere
Built-in quality pre-amps and support phantom power for best performance of XLR microphone. E2 features with 3-level mic gain adjustment, supporting ultra-low noise gain up to 60dB, high-end dynamic microphones, such as SM7B/SM58. 32Bit high-performance chipset and DENOISE function will provide a clearer sound.
Enjoy a personalized podcasting atmosphere
Equipment with 6 reverb modes, You can adjust the time and depth of reverb freely, 12-step auto-tune, 3 modifiable tones (Treble, mid-range, bass), and pitch changer knobs. Each microphone input is independently controlled. Pro features like sidechain, music only, and loopback switch are also included.
Designed for live- streaming
You can use USB-C to connect your computer or tablet, LIVE-OUTPUT1/2 to connect your smartphone for podcasting recording and streaming, via MONITOR SPK, connect a studio monitor for sound output, use an AUX-IN jack to connect your input accompaniment from a smartphone or other devices, use MIC1/2, and connect your favorite XLR condenser/dynamic microphone.
Perfect for guitar, bass, and other musical instruments with a 6.35mm jack
If you are looking for an audio interface to record guitar or bass, this bundle is a great option for you. There's no need to sacrifice the tone with the high headroom instrument input, you can get a perfect recording.
Package List
1* audio interface, 1* metal pop filter, 1* USB A-C charging cable, 2* 3.5mm TRRS audio cable, 1* user manual. 12-Month warranty.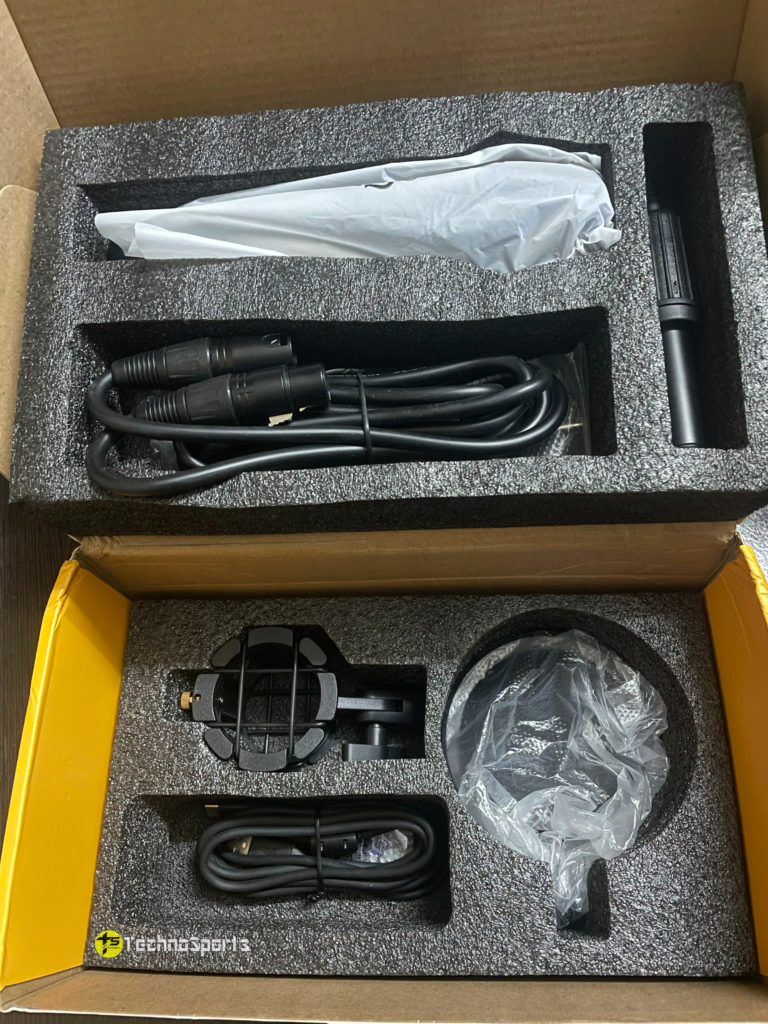 Specifications of HD300 microphone
Best of both worlds
Professional handheld dynamic microphone with USB/XLR dual-mode output.
Zero-Latency Monitoring and Volume Control
HD300 microphone also has a control button that can adjust the headphone output volume conveniently.
Cardioid dynamic microphone
Built-in cardioid capsule can capture sound in front of the microphone and reduces possible background noise from the other side and rear.
Durable metal construction for long-lasting performance
Rugged metal construction provides outstanding reliability. The stable base with the all-metal and will not be easily knocked down. Height adjustable metal tube is stronger than ordinary plastic tube and easily supports heavy microphones. Shock mount and pop filter for reducing p-pops.
Package List and Warranty
Dynamic microphone*1, microphone stand*1, pop fliter*1, shock mount*1, 78in USB cable, 98in XLR cable*1, user manual*1. MAONO HD300 dynamic microphone provides 24-month warranty.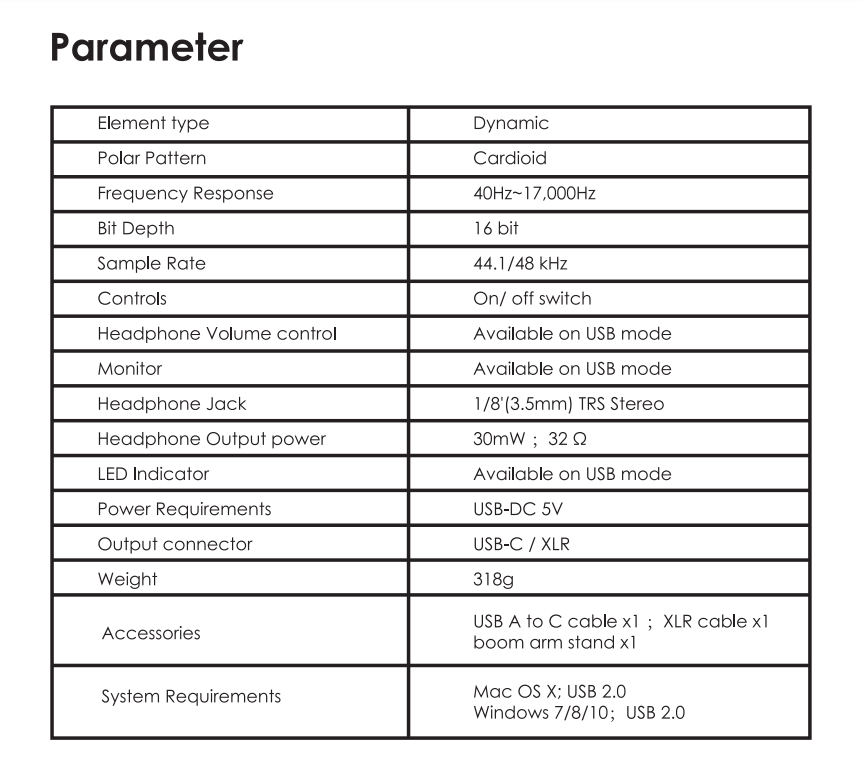 Build quality
The build quality of the Maonocaster E2 is on the premium side. The knobs, sliders, dials and buttons don't feel of low quality and seem to last long without any malfunction. It also has a touch response in the upper panel for the Autotune feature.
The knobs and dials have low and consistent resistance so that you can get the perfect audio level you want. The sliders are also smooth so that you can operate with ease. The backlit buttons are also quite responsive. Coming in at just $129, the Maonocaster E2 has a great build quality.
The HD300 microphone is also sturdy. The mic stand is also well built and adjustable.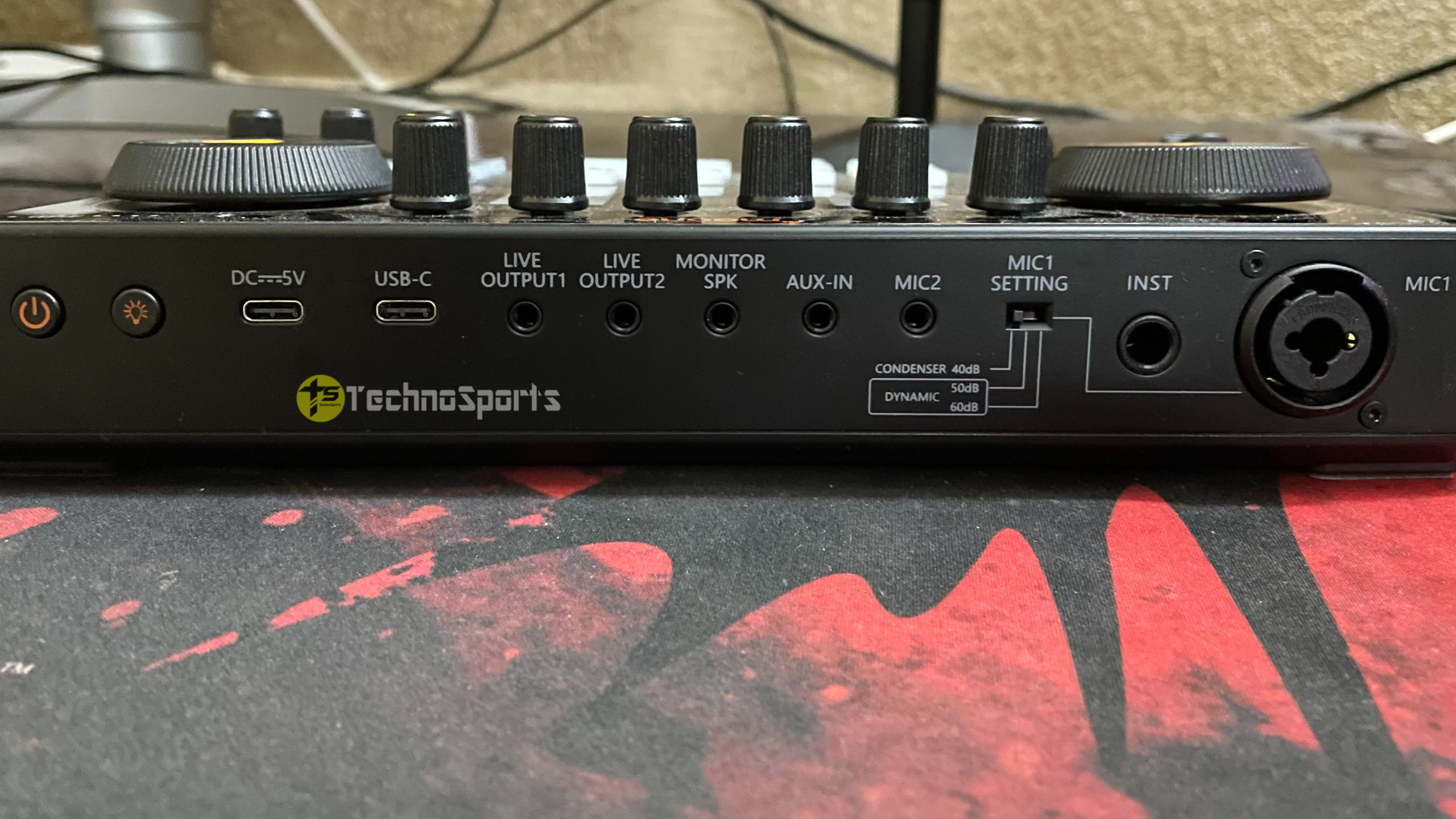 Ports
This is one of the most important aspects when choosing the perfect podcasting console for yourself. Maonocaster E2 includes an XLR input, Quarter-inch instrument cable input, 3.5 mm mic input, Aux input, Speaker monitor output & 2 headphone jack inputs on the front.
Maonocaster E2 has a USB C port that allows it to connect to your laptop or PC for streaming. It also has a UCB C DC 5V charging socket.
However, when the Maonocaster E2 is plugged into your laptop it doesn't charge by itself. You will need to plug the USB C cable into the charging port to charge it. If the Maonocaster E2 had the feature of getting charged while using it with your laptop or PC, it would have been super easy to charge and use.
Features
The Maonocaster E2 is an enhanced version of its predecessor. Maono has done a good job while listening to the feedback. It has a Bluetooth facility to connect your phone and use it as an audio input. You can play some music or sound on your phone and include it in your streaming or while recording some music.
It has 12 buttons on the sound pad in the middle. The A, B and C buttons can have a pre-recorded sound of 1 min and the other 8 buttons on the lower part can have 20 secs pre-recorded sound. The loop button can be used to play the same sound repeatedly.
You can connect 2 microphones to the Maonocaster E2 but only one can be of XLR input. It has two sliders for the microphones. The two big dials are for regulating the volume level of the input and output.
It also has two headphone jack inputs on the front to let you monitor your streaming. You can control the sound of it by the knobs present at the top. There are 6 knobs at the top. The other 5 knobs are for controlling Low, Mid, Hi, Inst and Pitch. The audio levels can be seen from the light stripes.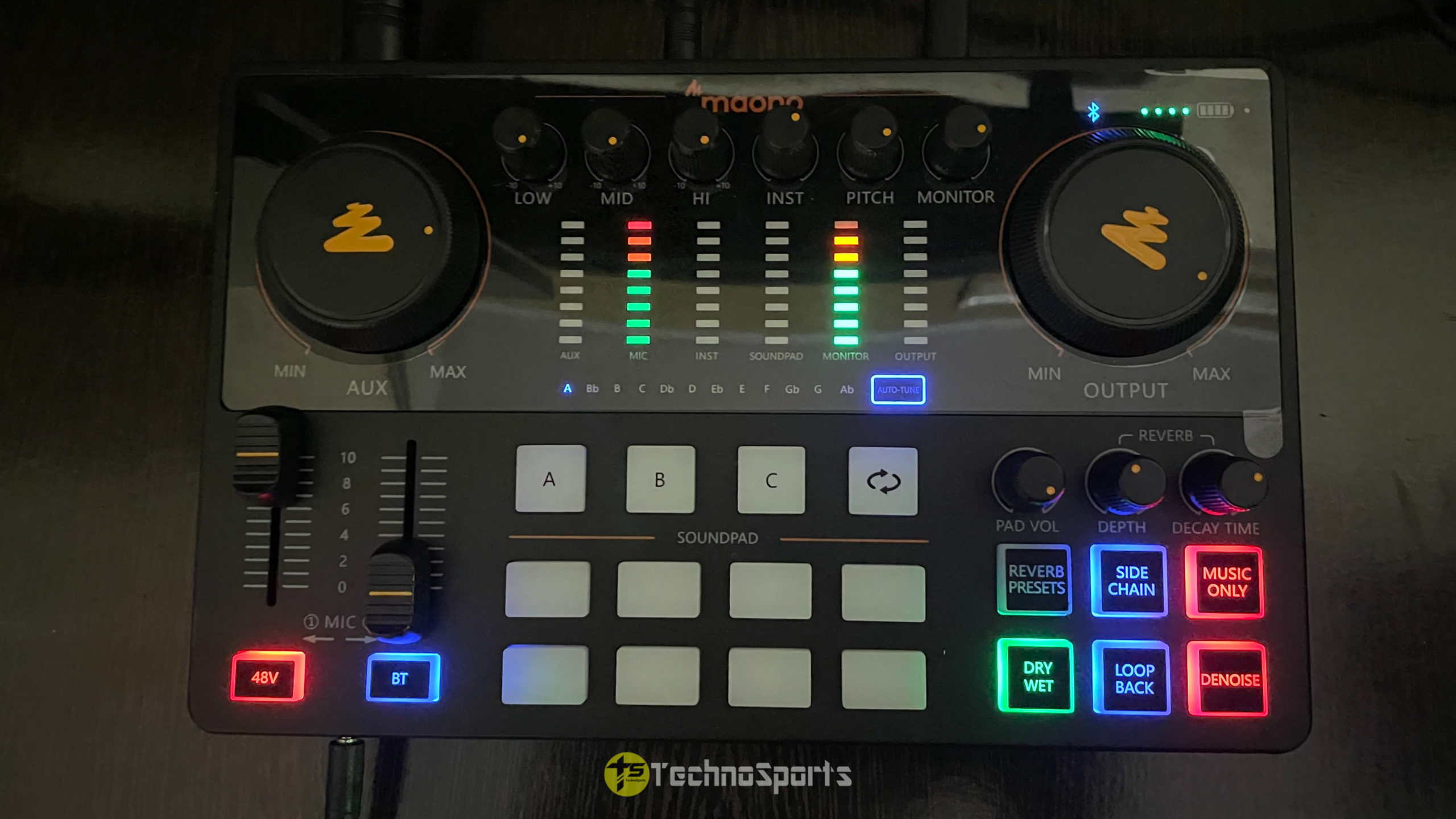 The Maonocaster E2 also have the autotune feature. It can be activated by touch, which allows you to tune your voice in any of the 12 keys labelled. The autotune feature can be of great help for singers.
There are 3 knobs in the right lower portion as well. They control the pad volume, depth and decay time. The pad volume knob controls the sound of the 12 white buttons which store pre-recorded audios. The depth and the decay time knobs are used for the reverb presets.
The sidechain button is a great feature as it omits the volume of the music when you are speaking in the microphone. The music-only button is the exact opposite as it removes the sound of the microphone from the music.
The dry wet button is for the mic input and outputs which helps to dry the signal. The loopback button records the system sounds with the help of the USB C cable and the denoise button filters out background noise from your stream.
The charging time of the Maonocaster E2 is around 3 hours while it lasted for around 4-5 hours while streaming.
I have tried streaming FIFA 22 on Youtube using Streamlabs OBS. The Maonocaster E2 was very easy to set up with my PC. All I needed to do was connect the Audio out from my PC with the AUX in of the Maonocaster E2 to capture the in-game sound. After that, I connected the AU-HD300 microphone via the XLR input. And I was all set up for my first live streaming. Even for a newbie like me, it was very easy to set it up and stream, so it won't be a problem for any of you to use it seamlessly.
Price
The Maonocaster E2 is priced at $129 and the HD300 microphone is priced at $69.99. You can also buy Maonocaster E2 Single Mic Bundle for $169.99. The products are available on the official Maono website.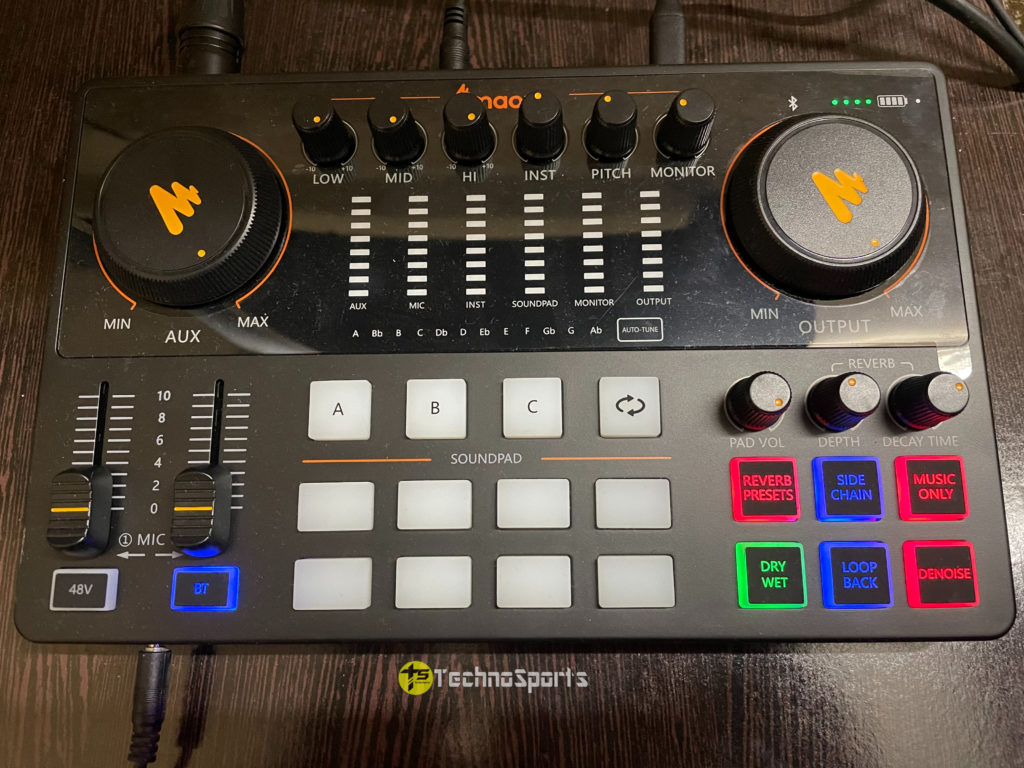 Verdict
If you're starting your podcasting or streaming journey or are looking for a sound card to record your music, but don't want to spend big yet don't want to compromise on the quality as well, then the Maonocaster E2 is the perfect choice for you.
Coming at such an affordable price, it is one of the best budget podcasting consoles out there right now!