We know Lenovo is a premium brand when it comes to Windows laptops and AMD is a name which has made its own mark with its efficient as well as powerful mobile SoCs. However, there are few ultrabooks which actually embraced AMD APUs into their laptops but Lenovo is one of them.
Here, we are talking about the Lenovo Yoga Slim 7 Carbon, which is its top-of-the-line portable laptop, though rare in India but we got a chance to review it. Continuing its experience to make premium Yoga laptops, this Yoga Slim 7 Carbon just shows how good Windows laptops have become.
If you are looking for a premium alternative to MacBooks, this is your chance to go for this Yoga Slim 7 Carbon, looks stunning in pure white and adds a classy feel to it. Powered by the new AMD Ryzen 5000U series processors, this laptop is both efficient and powerful, though isn't the fastest as the Ryzen 6000Us are here but still holds its own value.

Even if you get a great discount on this laptop, would you end up considering buying the laptop? Let's share our experience with this Yoga Slim 7 Carbon as I did use this as my daily driver for a week now:
Lenovo Yoga Slim 7 Carbon Specifications
Processor
Up to AMD Ryzen™ 7 5800U Mobile Processors
Operating System
Windows 11 Home
Graphics
Up to NVIDIA® GeForce® MX450
Display
Up to 14″ QHD + OLED (2880 x 1800), 400 nits, 16:10 aspect ratio, 100% DCI-P3, 90Hz, touchscreen, TÜV LBL Eyesafe® + Eye Comfort, SGS Vesa Certified DisplayHDR™ 500 True Black
Memory
Up to 16GB LPDDR4X dual-channel
Battery
Up to 14.5 hours (local video playback)
Storage
Up to 1TB M.2 PCIe SSD
Audio
4 x speakers with Dolby Atmos® Speaker System
Smart amp
Digital signal processing (DSP)
Camera
IR + time of flight (TOF) camera
Dimensions (H x W x D)
14.9mm x 313mm x 215mm / 0.59″ x 12.3″ x 8.5″
Weight
Less than 1.1kg / 2.4lbs
Color
Cloud Grey
Connectivity
2 x 2 WiFi 6 (802.11ax)
Ports / Slots
USB-C 3.2 Gen 1
2 x USB-C 3.2 Gen 2 (DisplayPort™ 1.4 + PD 3.0)
Headphone / mic combo
Preloaded Software
Alexa
Dolby Vision™
Lenovo Vantage
McAfee® LiveSafe™
Microsoft Office 365 trial
In the Box
Laptop, USB Type-C Charger and Type-C adapter
Design & Build
The moment you see the laptop you will know it's a premium one as it's made up of aerospace-grade magnesium alloy which is both light and strong. It weighs only 1.1kg and surely it is one of the lightest laptops I've ever used and has military-grade durability. The ultra-slim 14.9mm profile questions you how could a laptop be soo slim but I do miss 360 degrees rotation on this Yoga laptop.
It's tensile, easy to hold as well as carry, the simple grey finish along with that YOGA branding up top resembles premiumness and I do like the simpleness of this laptop. You can even open the laptop with one hand and in its small form factor, it definitely is one of the lightest and most durable options out there.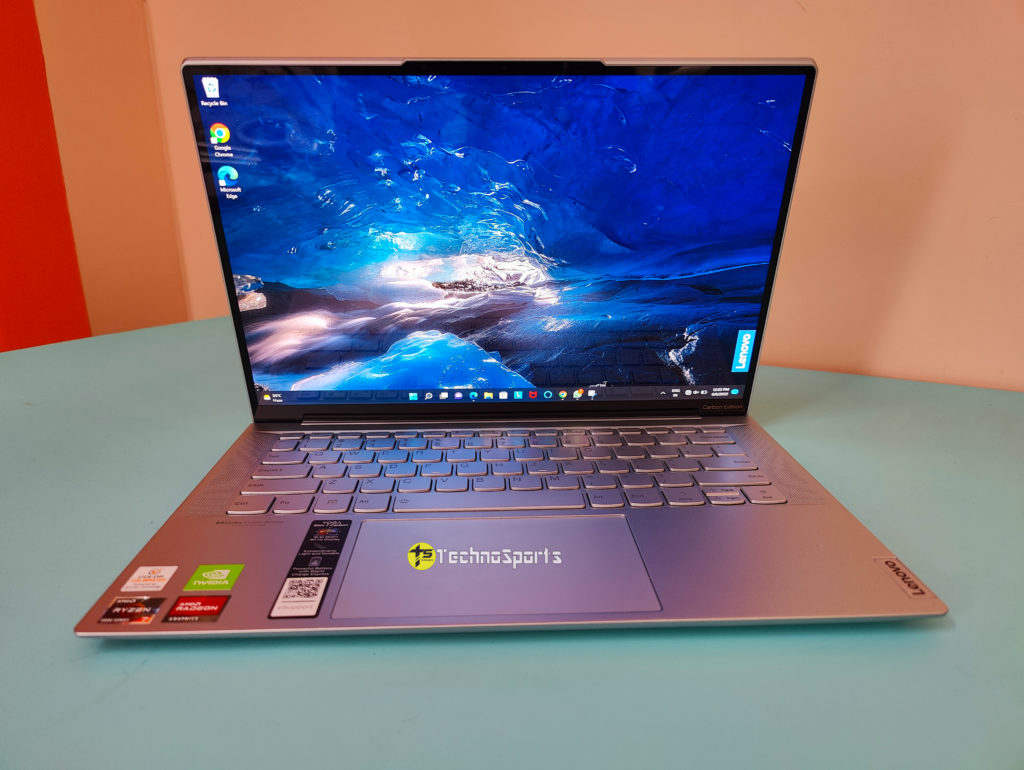 Display
The display of this Lenovo Yoga Slim 7 Carbon is again top-notch as you get an OLED panel and now this has become a notion that premium Windows laptops will come with high-quality OLED displays.
So, the 14-inch QHD + OLED display has a resolution of 2880 x 1800 and also has a modern 16:10 aspect ratio. This is perfect for those who need more headroom for everyday work or play and if you want to take it outdoors you can as it has a peak brightness of 400 nits.
In terms of color accuracy, the display covers 100% DCI-P3, which is adequate enough for everyday users as well as professionals to some extent. Also having a 90Hz refresh rate touchscreen display is helpful for productivity as well as casual gaming or work.
Another good feature is the TÜV LBL Eyesafe® + Eye Comfort verification which ensures you don't have eyestrains even after long work. With SGS Vesa Certified DisplayHDR™ 500, get the best entertainment experience overall and I did enjoy using it for my daily YouTube and Netflix sessions. Overall, I would say this is a great OLED display for daily work or even for casual usage.
Performance
Coming to another key aspect of this Lenovo Yoga Slim 7 Carbon has to be its performance, being powered by the AMD Ryzen 7 5800U processor with 8 cores and 16 threads, you expect top-notch performance while still being very efficient. Also having paired with 16GB RAM and 1TB SSD in such a thin & light form factor is again very impressive.
I already have used a lot of Ryzen 5000U powered laptops including the ZenBooks from Asus, however, this Yoga Slim 7 Carbon has already become one of my favourites. Why? Simply because of its ultra-thin form factor but still powerful enough to handle all of the daily tasks.
So, a discounted version of this laptop is great for casual users because it is a great all-rounder in my opinion. Here are some benchmarks for your reference:
As you see in a wide range of synthetic benchmarks, in spite of drawing 15-25W of TDP, the performance is really great. Also, in normal daily usage, you won't notice any stutter or lag as such even if you open a lot of Chrome tabs or multitask with multiple applications open.
Also, there's a dedicated NVIDIA® GeForce® MX450 graphics which I feel is redundant for the iGPU you have but still gives you the freedom to do productivity tasks like PhotoShop, Video Editing and much more. The 1TB SSD here also gives decent speed as you see, the read speeds go up to 3434 MB/s and the writes last up to 3105 MB/s.
Here are some 3DMark application benchmarks:
Overall, thanks to AMD and Lenovo, this Yoga Slim 7 Carbon is of its own class and truly defies premiumness. In terms of performance, you will definitely love this laptop and using it everyday.
Thermals & Upgradability
In terms of thermals, the laptop is really efficient as you won't hear any fan noise most of the time unless you do a real heavy task that forces the CPU to burst. Being an AMD-powered laptop, I expected to be efficient and it is as only during intense workloads I heard any fan noise.
Now, talking about upgradability, everything is sadly slaughtered onto the motherboard so boring can be expanded but if you buy this variant of the Yoga Slim 7 Carbon you won't need much of an upgrade.
I/O & Connectivity
For ports and I/O, on the left side, you have a USB-C 3.2 Gen 2, which can be used as a DisplayPort™ 1.4 and for PD 3.0, that means you can charge it easily from anywhere. Also, you have a USB-C 3.2 Gen 1 port on the left along with a USB-C 3.2 Gen 2 port on the right along with a webcam e-shutter switch and finally the power button with indicator light inside it.
Coming to the connectivity of the laptop, the Lenovo Yoga Slim 7 Carbon features the latest Wi-Fi 6 and Bluetooth 5.2. So, I was getting good WiFi speeds and faced no issues connecting multiple Bluetooth devices simultaneously. Also, never did I face any lag or issues in using the laptop with multiple connectivity options.
Keyboard & Trackpad
The Lenovo Yoga Slim 7 Carbon comes with a very comfortable keyboard to type on and considering Lenovo's trackrecord I am unsurprised of the quality of it. The backlighting is also good for typing at night, for me as a blogger, the typing experience has been great and I did use it quite a while to type my articles flawlessly.
The spacing between each keys are perfect and if you love 14-inch notebooks you will love this one and even the trackpad is big enough for a small form factor laptop like this. The glass trackpad is also smooth and usable unlike others which really are not usable enough but you will still prefer your mouse over the trackpad honestly.
Audio & Webcam
With Dolby Atmos and Vision, the Yoga Slim 7 Carbon could be the perfect partner for your daily entertainment dose. As I do love listening to music, the two front-firing speakers are I feel adequate enough, not the loudest or the best in terms of quality but decent.
The webcam is okay-ish and comes with an e-shutter for privacy, I think for Windows laptops we should see an upgrade to a 1080p webcam in the coming years.
Battery Life
The 60Wh battery of this Lenovo Yoga Slim 7 Carbon cannot be looked down upon because the efficiency of the AMD chip and Lenovo's incredible optimizations have helped to provide up to 8 hours of actual usage.
Now, this testing was done with 80% brightness and all connectivity options working simultaneously. Obviously, you could extend this with local video playback and lowering brightness and for a Windows laptop with an OLED display are impressive numbers.
Verdict
Lastly, the question is whether you should buy this Yoga Slim 7 Carbon laptop or not? Definitely as a laptop in terms of design, build and functionalities I think Lenovo did a great job and you will find bother AMD and Intel variants of the same. However, this AMD powered Lenovo Yoga Slim 7 Carbon is truly exceptional and defies premiumness.
The performance accompanied with efficiency is great and being such lightweight you definitely will like this one, however, you can either go for a newer Ryzen 6000U powered variant or get a discounted Ryzen 5000U variant. Overall, this is a highly recommended laptop and the AMD variant of this Lenovo Yoga Slim 7 Carbon is hard to purchase, so if you are getting one do grab it!