The Zhaoxin Glenfly Arise GT10C0 graphics card from China has been demonstrated, and it pales in contrast to NVIDIA and AMD GPUs from a decade ago. The Zhaoxin Glenfly Arise GT10C0 graphics card, shown here at Bilibili, is aimed at Chinese users.
The graphics card is a low-end device designed for use in the office, and that's all there is to it. It has a green PCB and a standard low-profile cooler with a single-blade fan and an aluminium heatsink block buried under a black shroud.
The PCB of the Zhaoxin Glenfly Arise GT10C0 has 2 GB of DDR3 RAM and a 64-bit bus interface
There are four more 512 MB slots available for a total of 4 GB of RAM, but they aren't utilized. The GPU is the Arise-GT10C0, which only has one VGA and HDMI display output. Although the GPU's exact architecture is unknown at this moment, it has 24 cores.

Although no graphics drivers are currently available for the card, the user states that it can boot into Windows 10 without trouble. Tomshardware had previously obtained a GPU benchmark run for the Zhaoxin Glenfly Arise GT10C0, which was powered by a Zhaoxin KaiXian XK-U6780A CPU with eight cores running at 2.7 GHz.
The graphics card came nothing close to decade-old GPUs like AMD's integrated Radeon HD 6480 from 2011 or even the most archaic ARM Mali GPUs in the Geekbench OpenCL benchmarks. Even NVIDIA's GT 510 is quicker than the Zhaoxin GPU. Even with appropriate drivers, we can't expect any performance improvement.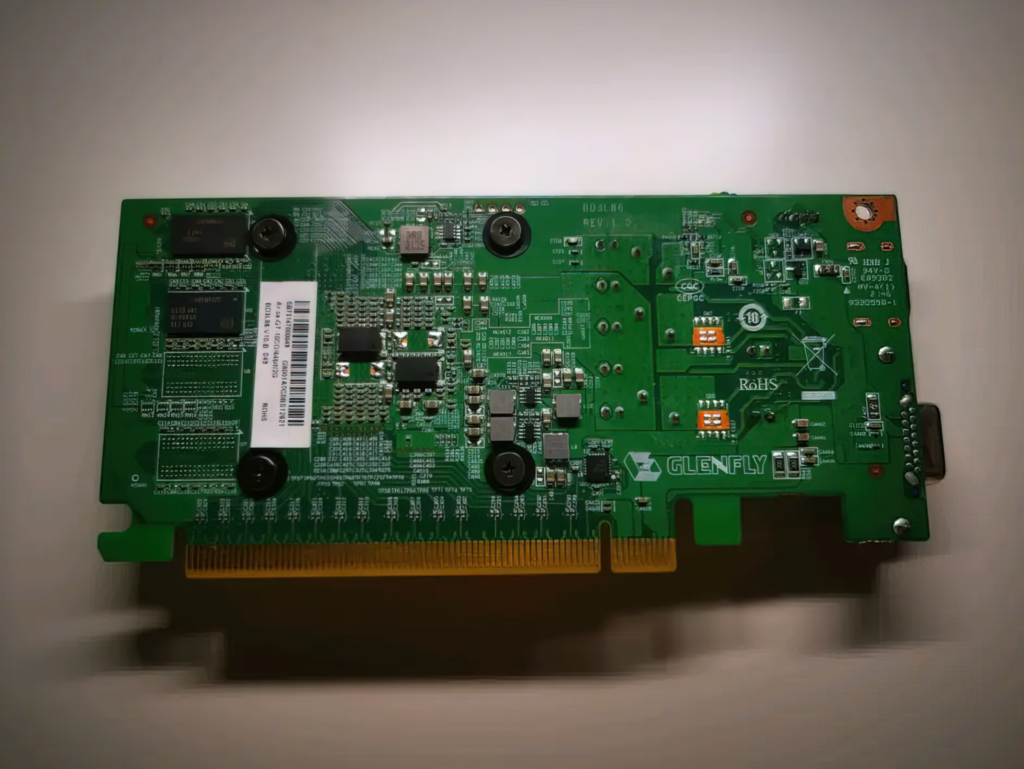 Since 2016, Chinese GPU makers have been aiming to catch up to AMD and NVIDIA GPUs in terms of performance. Jing Jiawei and Innosilicon have lately stated that they want to deliver GTX 1080 and Vega-level performance in the future. Zhaoxin is also working on a set of x86 processors that might compete with AMD's first-generation Ryzen CPUs, while Loongson's upcoming CPUs are aiming for Zen 3 performance by 2023.
Also Read: Apple: Stage Manager needs more Memory and High-Performance