The 34-year-old Brazilian left-back Marcelo has left the Spanish La Liga giants Real Madrid as a legend. During his more than 15 years of continuous service for Los Blancos, the Brazilian helped the team move forward with many new histories.
Marcelo is known as one of the best left-backs in the world for a long time. He joined Real Madrid in January 2006 from the Brazilian club Fluminense. Gradually, he became one of the favourite footballers of the club.
The Brazilian defender made his debut for Los Blancos on 7th January 2007 when he came on the field as a substitute against the hosts Deportivo La Coruna in a La Liga game. His first match at Santiago Bernabeu, the home venue of the Whites, was on 17th February 2007 against Real Betis in the Spanish first division game, where he once again played as a substitute.

Marcelo's first start for Real Madrid was on 14th April 2007, when Racing hosted them in a La Liga match.
On 18th September 2007, the Brazilian left-back experienced his first start at Santiago Bernabeu. It was a UEFA Champions League Group Stage game against Werder Bremen. Slowly, the top-class teamman evolved as a history creator for the Whites.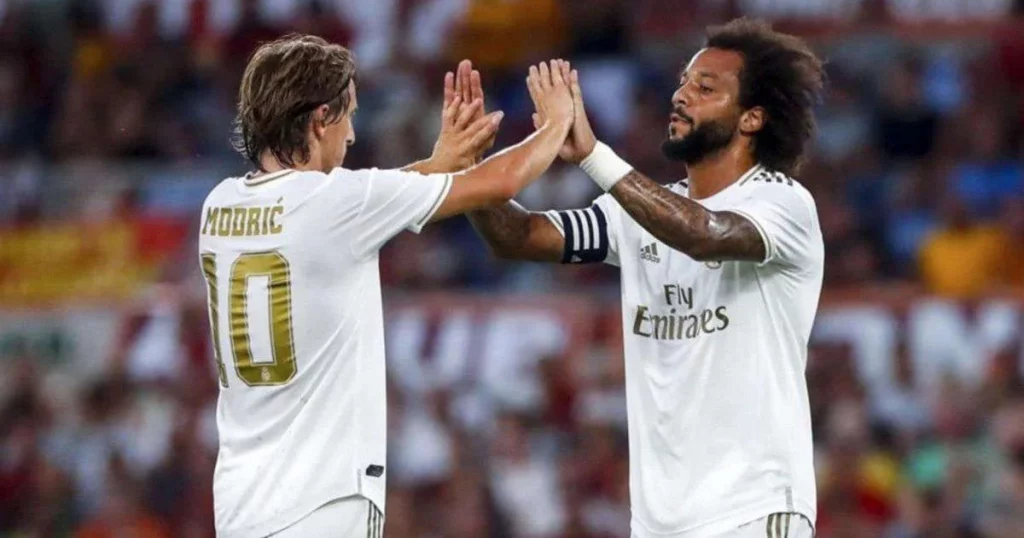 The top-class left-back managed to put his name in the UEFA Champions League Squad of the Season four times (2010/11, 2015/16, 2016/17 and 2017/18). He was a very dependable player for this Spanish club who could also serve responsibly as a winger during his best periods.
On 20th May 2022, Marcelo last time played for Real Madrid when they hosted Real Betis during their final La Liga match of the season (2021/22). He played that last 20 minutes of that game.
Marcelo's key career stats in Real Madrid
Appearances: 546
Goals: 38
Assists: 103
Marcelo's key records in Los Blancos
Most trophies for Real Madrid (25 trophies).
Since 1904, Marcelo became the first foreign captain for Real Madrid in the 2021 summer.
First foreign captain for Los Blancos to win UEFA Champions League trophy (2021/22).
Second most appearances as a foreign player for Los Blancos (546 matches).
Trophies for Marcelo's Real Madrid
Six Spanish La Liga trophies (2006/07, 2007/08, 2011/12, 2016/17, 2019/20 and 2021/22).
Five UEFA Champions League trophies (2013/14, 2015/16, 2016/17, 2017/18 and 2021/22).
Five Supercopa de Espana/Spanish Super Cups (2008, 2012, 2017, 2019/20 and 2021/22).
Four FIFA Club World Cups (2014, 2016, 2017 and 2018).
Three UEFA Super Cups (2014, 2016 and 2017).
Two Spanish Copa del Rey trophies (2010/11 and 2013/14).
Marcelo has now left Los Blancos after finishing his last contract with the club. The legendary footballer is now a free agent who is still passionate about playing. So, we can still experience his magic but for another club.