pTron had already entered the smartwatch market of India with the pTron Force series. This time the company has launched a new smartwatch named pTron Force X10e. Previously we have seen the Force X11 with calling features and you can read the full review of the smartwatch here.
The pTron Force X10e was announced on 7th June in India and is now available via Amazon.in at an affordable price of just Rs.1,899. There was also some special launch offer but now you can get discounts from various banks and EMI options. This watch is available in Black, Blue and Pink colour options.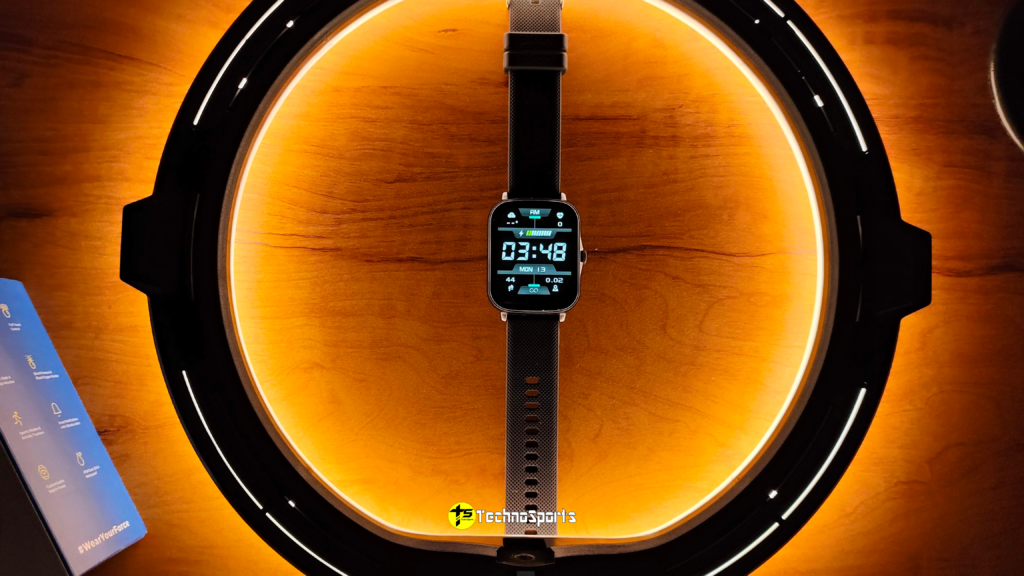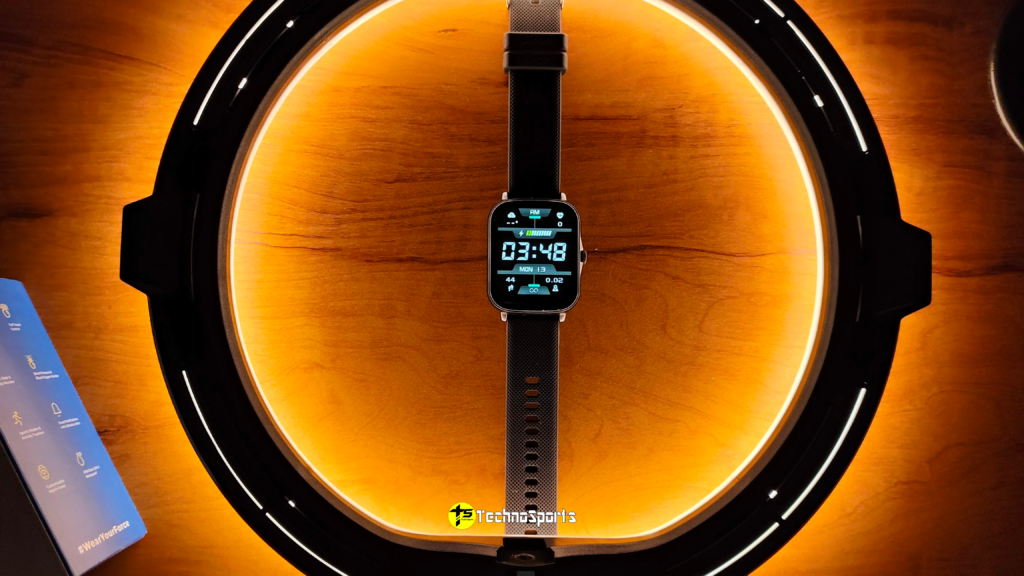 We have got our hands on the pTron Force X10e smartwatch and here we'll share some of our thoughts on the smartwatch. We have been using the Force X10e for quite some time and we have some points to discuss.
Specifications of pTron Force X10e:
Large Display: Grand 1.7 inch Colorful and bright Display with Full Touch Screen and Clear View & 240*280px Resolution
Track Health & Fitness: 24Hrs Realtime Heart Rate Tracking; Blood Oxygen (SpO2); Meditative Breathing; Sleep Monitor; Sedentary Alert; Sports & Fitness Tracking; Steps & Calories Count; Hydrate Alert
300+ Custom Watch Faces (cloud-based); Squarish Lightweight Design; 10-12 Days Runtime; 20 Days Standby
IP68 Dust, Dirt & Waterproof; Metal Body; Changeable Silicone Strap
Smart Features: Smart Notifications on Your Wrist; Call Alert; BT Camera & Music Remote Control; Raise & Wake Display; Weather Info; Find the Watch; Stopwatch & Alarm; Date & Time Sync;
Bluetooth 5.0 with 10meters Wireless Range
Use Da Fit Mobile App; Compatible with Android 5.0 & above/iOS 9.0 & above; Just 3Hrs Magnetic Charging
Download & install the 'Da Fit' App from Playstore/Appstore, connect the watch & phone via BT, and add the smartwatch to the App. Enable functions like notifications, watch faces, other, shutter & contact, etc.
Water resistance depth: 1.5 meters
Clasp Type: Tang Buckle
Water Resistance Level: water_resistant
1-Year Warranty
Design and Comfort
The pTron Force X10e smartwatch has a 10.5mm sleek metallic design. It has a 31grams of Bezel Weight. Focused on the new generation the company has provided a bigger 1.7-inch display with a slight 2.5D curved glass at the top.
On the backside, it contains the sensors of the watch and the metallic charging terminal. Along with it, we get the branding beneath the sensors along with a speaker. Now coming to the sides, we get a dial knob that is multifunctional. After unboxing the product, we saw the smartwatch came with a replaceable black silicone strap attached to the body which is again a comfortable one.
Overall the pTron Force X10e is lightweight and comfortable to wear and has a decent dial size with a huge display which again adds a nice look to the smartwatch. The fonts and UI of the smartwatch are unconditionally catchy for the eyes on daily usage. The smartwatch is sturdy and looks premium for its pricing.
Display and UI
As mentioned earlier, the pTron Force X10e comes with a 1.7-inch rectangular display size HD color 2.5D curved display with a Metal Alloy casing with a resolution of 240 x 280 Pixels. The colors on the display look good and the text is sharp to read in any kind of scenario, be it outdoor or indoor. The watch provides an ample amount of brightness and hence I had no problem viewing the screen outdoors under bright sunlight.
The pTron Force X10e has a clean user interface and responsive touch which delivers smooth navigation and effortless control over the contents. The overall watch UI is very user-friendly.
All the applications within the smartwatch are easy to navigate. Swipe down for watch settings like brightness, call connectivity, and others. Swipe up for notification alerts, swipe right for various application pages, and swipe left for the watch menu which is displayed both in honeycomb and 9 square formats.
Connectivity
The pTron Force X10e comes with Bluetooth 5.0 connectivity covering a range of 10 meters. It connects to both Android and iPhone with its compatible app. The watch easily connects with its compatible application in no time.
After the watch is connected to the app, you will continue to receive notifications of incoming calls and other alerts at the very same time. The connectivity range of the watch is also good so even if you are far from your phone, it shall not fail to notify you of important calls and reminders.
Da Fit App
pTron Force X10e can be paired with both Android and iOS devices with its compatible app which is called the 'Da Fit' app. When connected via a device we can get detailed data about the various functionalities of the watch in the Da Fit App such as the record of sleep time for a complete week, the heartbeat, BP, and other health results, the number of calories lost during your last exercise session, etc.
You will get 1 inbuilt pre-installed watch face with one being customizable with photos of your choice from the app. Another watch face can be changed as per your choice along with over 300 downloadable watch faces. You can also customize several features via the app which can not be altered from the watch as well.
Fitness Features
Due to the ongoing pandemic situation, most people have restrained themselves from going to the gym and have started working out in their own homes. pTron Force X10e comes very handy with keeping track of the number of calories you want to burn each day or calculating the duration of your daily exercise time. It can even check your heart rate along with your blood oxygen level and others.
It has the functionalities to record the number of steps, duration, and pace during various outdoor activities and track various other activities like swimming, cycling, skipping, running etc. It has a total of 7 Fitness Modes instilled within it. Detailed information about each fitness mode can be obtained from its compatible app.
pTron Force X11 is both water and sweat resistive with an IP68 rating hence no need to worry about any sort of damage during your favorite training sessions. It can also accompany you during your swimming sessions. Still, it would have definitely been better if more sports modes would have been provided inside the watch.
Health Monitoring Features
pTron Force X10e comes with 24 hours of heath monitoring features which are extremely useful for tracking one's crucial health parameters on a regular basis.
SpO2 Monitor: The smartwatch can be used to measure the blood oxygen level and the details of it can be viewed in the application. It takes just e few seconds to measure your blood oxygen level at any time anywhere without any hassle.
Blood Pressure Monitor: It can be used to measure our blood pressure and comes in handy in keeping a regular check on our blood pressure levels. It gives accurate results in a very short span of time and the details of it can be tracked in the application.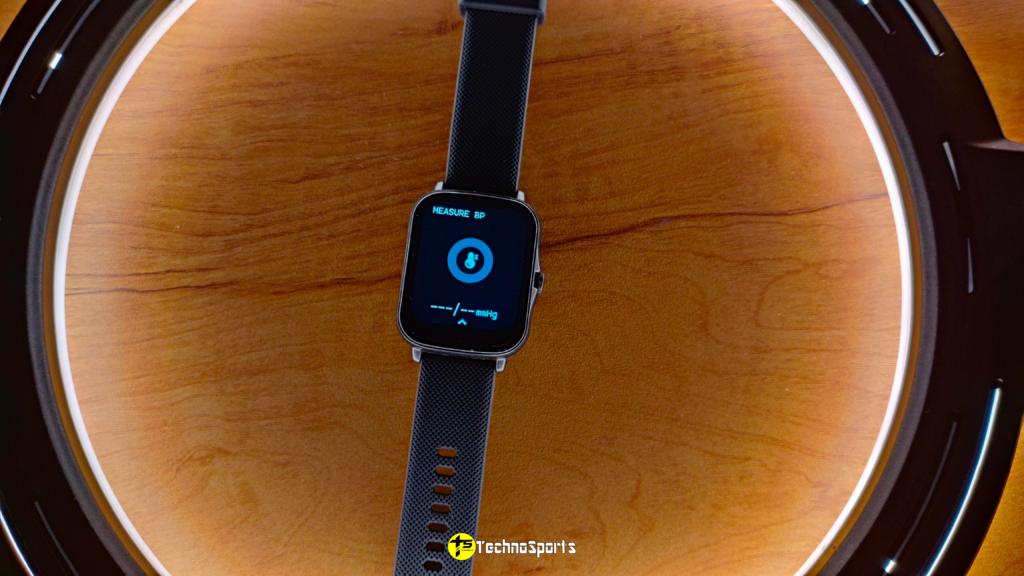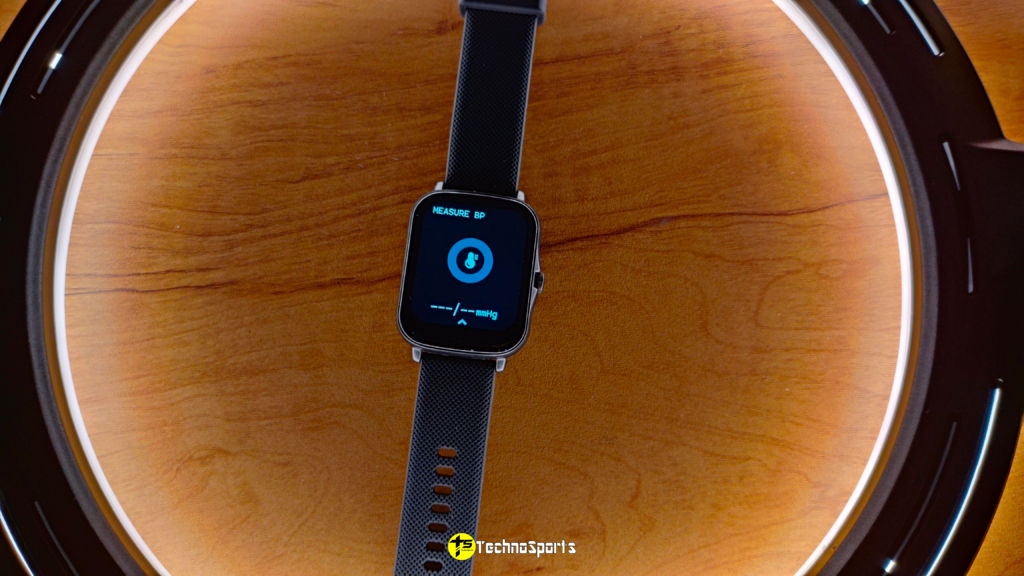 Heart Rate Monitor: It does give accurate results and can be worn all day long as it has 24 hours heart rate monitoring option but this can drain the battery quickly.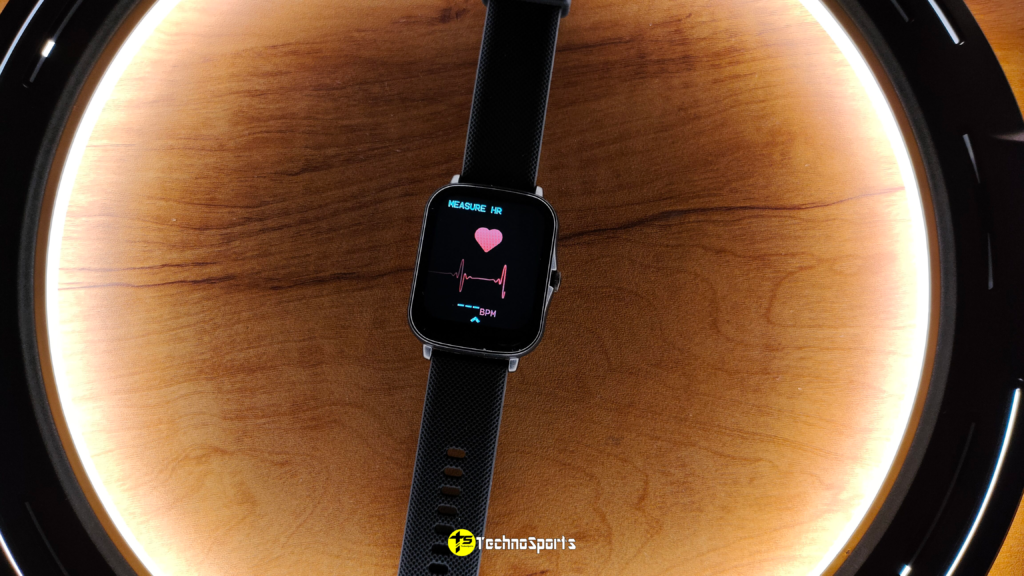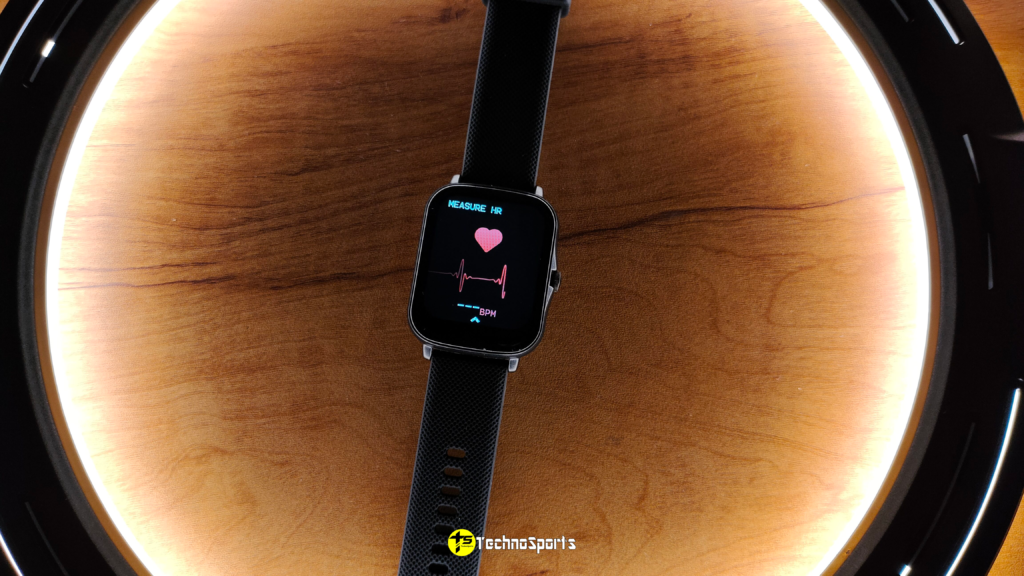 Sleep Monitoring: If you keep wearing your smartwatch while you are sleeping, it will provide the number of hours you have slept on the watch screen and in the application. You will also get the detailed information regarding your sleep pattern in the form of curves and graphs which can help you monitor your sleep patterns well.
Drink Water Reminders: Staying hydrated is extremely necessary for all of us but most of the time, we tend to forget to drink an ample amount of water due to our busy and fast-paced lives. At this time, the watch comes very handily because it can work as a reminder to drink water after regular intervals which needs to be set by the user in the Da Fit app.
Reminder to Move: Due to the current COVID-19 pandemic situation, our lifestyles have changed a lot from before and all of us are working from our homes. Due to this drastic change in our lifestyle, we tend to sit in one place and work for a prolonged period of time which is not at all good for our health. The smartwatch can be used as a reminder to move after fixed intervals of time.
Breathe Training and Stress Management: It can be used to monitor breathing rates and help in reducing stress and improve other vital capacities.
Notifications and Other Apps
pTron Force X10e can be used to receive real-time notifications of incoming calls or other apps from the smartphone-like text messages, notifications, etc. while connected to the smartphone via Bluetooth. You can choose which notifications you want and which you don't want by configuring the settings in the Da Fit App.
The smartwatch also has other features like it can monitor the weather, can be used to set up an alarm, can be used as a remote control for the music player in your phone and camera, and can be used as a stopwatch as well.
Battery Life and Charging
pTron Force X10e features a battery that can give you a proper 12 days around life and if used continuously will last almost 10-11 days which is quite good. The battery life completely depends on its usage brightness levels and the frequency of connectivity. It comes with a dual pin magnetic charger and it grips quite well at the back of the watch. A full charge can be done from 0% to 100% in just 1.5 hours.
In The Box
Smartwatch (Dial and Strap)
Magnetic Charging Cable
Warranty Card
User Manual
Verdict
In the budget segment of smartwatches, pTron Force X10e is one of the most premium-looking smartwatches that you can have within your budget. Packed with most of the basic fitness features and health monitoring tools to make it more attractive. This makes the pTron Force X10e a unique and must-have for any human being who loves wearing budget-segment smartwatches and wants more features like calling from the watch itself.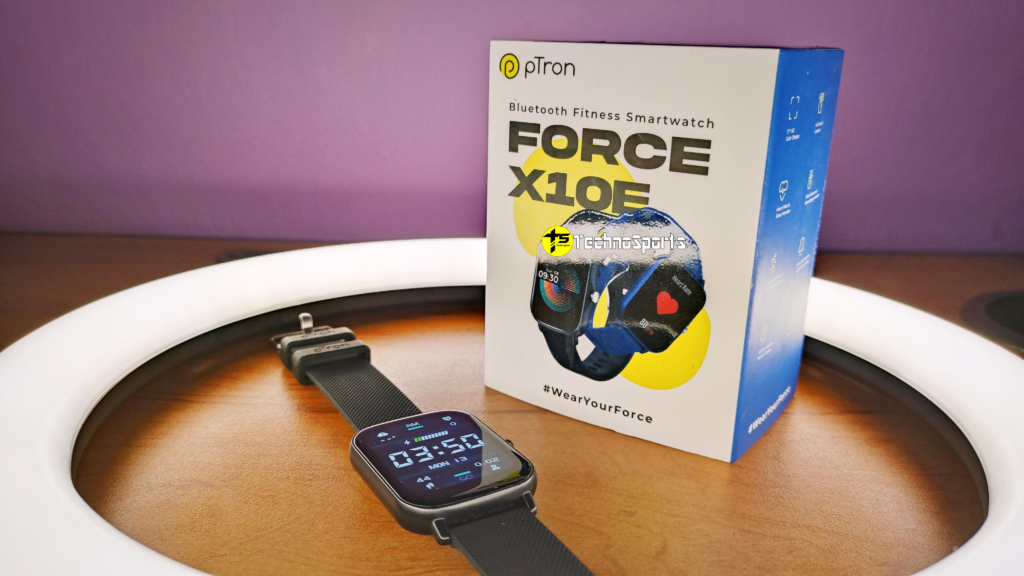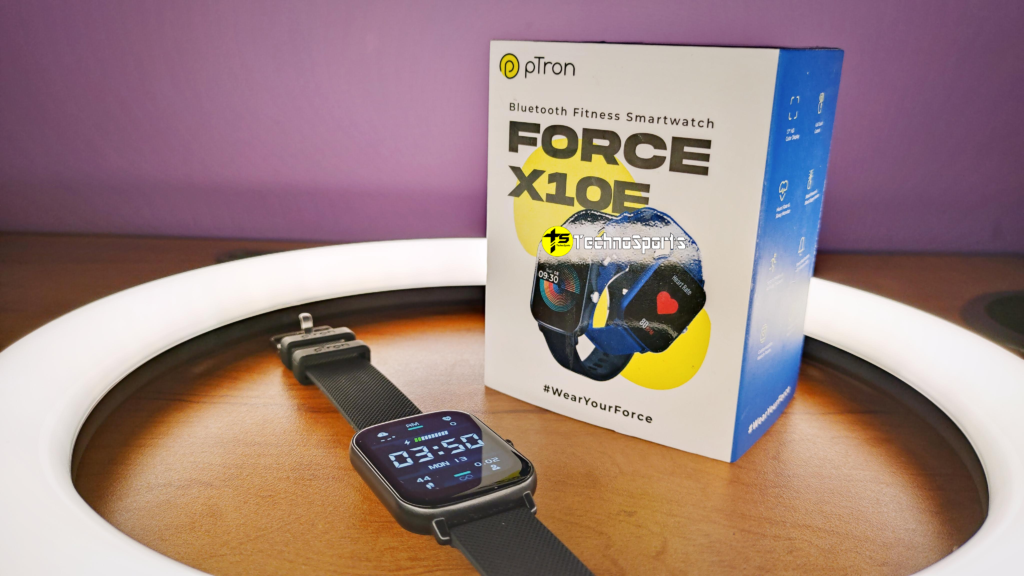 According to my daily usage, I can say that pTron Force X10e has undoubtedly impressed me with its features and smooth user interaction. On a daily basis usage, it helps me a lot to keep track of my health and workouts as well. Overall within a budget segment, pTron Force X10e is a must-pick for everyone.
Buy pTron Force X10e from Amazon: Click Here