Loongson, a Chinese CPU manufacturer, has set a lofty goal for its next-generation chips: to match AMD's Zen 3 performance. Last year, Loongson unveiled its 3A5000 quad-core CPU family, which features support for DDR4-3200 dual-channel memory, a primary encryption module, two 256-bit vector units per core, and four arithmetic logic units, and is based on the Chinese in-house 64-bit GS464V microarchitecture.
The new CPU from Loongson Technology also has four HyperTransport 3.0 SMP controllers, which "enable many 3A5000s to work in unison inside a single system."
The business just introduced its brand new 3C5000 CPUs, which have up to 16 cores and use the proprietary LoonArch instruction set architecture. Loongson also intends to release a 32-core variant based on the same design, dubbed the 3D5000, which will include two 3C5000 dies in a single box.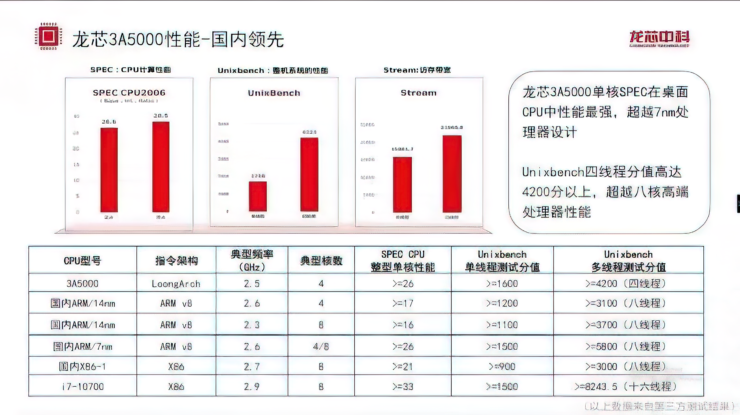 During the unveiling, however, Loongson also revealed that their next-generation 6000 series chips will include a totally new microarchitecture with IPC comparable to AMD's Zen 3 CPUs

That's a big assertion, but we'll have to wait and see where the corporation is right now. In terms of IPC, the Loongson 3A5000 outperforms a variety of ARM chips (7nm) and even an Intel Core i7-10700 in single-core performance applications. The simulated performance of Loongson's next-generation 6000 series CPUs, which offer up to 30% higher fixed and 60% higher floating-point performance than the existing 5000 series chips, was also posted.
A 3A5000 4 core CPU with 2.5 GHz clock speed is compared to a Core i7-10700 'Comet Lake' CPU with 8 cores and 2.9 GHz clock speed in this performance comparison. In Spec CPU and Unixbench, the Loongson chip comes in second or third place, but loses out in the multi-thread tests due to the lack of half of the cores. Even this tier of performance appears to be adequate, especially given that, thanks to domestic production, the prices of these chips will be quite affordable for usage in China's educational and technological institutions.
The company hasn't said what architecture or clock rates to expect, but they're aiming for AMD Ryzen and EPYC CPUs based on the Zen 3 core architecture and will use the same manufacturing process as the current chips.
This development is a huge thing for China's domestic tech industry, and having a chip that matches Zen 3 in IPC will put them on par with modern chips in terms of performance. Furthermore, AMD has stated that AM4 will not be phased out anytime soon, implying that Zen 3 will continue to exist for the foreseeable future.
Loongson plans to release the first 16 core 3C6000 chips in early 2023, followed by 32 core variants in mid-2023, and the 7000 series, which will offer up to 64 cores, a few months later in 2024.
Also Read:
Airtel Users experienced the Company's Second Biggest Outage this Year, with Many Users Experiencing Internet and Signal Outage