KK or Krishnakumar Kunnath, the name is enough to bring a love tornado in any person, the golden voice, the singing style, and versatility make him a genuine and unique singer, but yesterday, he become immortal as the singer-composer KK died in Kolkata on Tuesday at the age of 53. The singer may have died physically, but he will always be alive in the hearts of his fans. The singer has sung in many languages and all are blockbuster hits. The most shocking, the singer who provides a groundbreaking performance on the stage becomes dead within a few minutes, which really shows how unpredictable life is.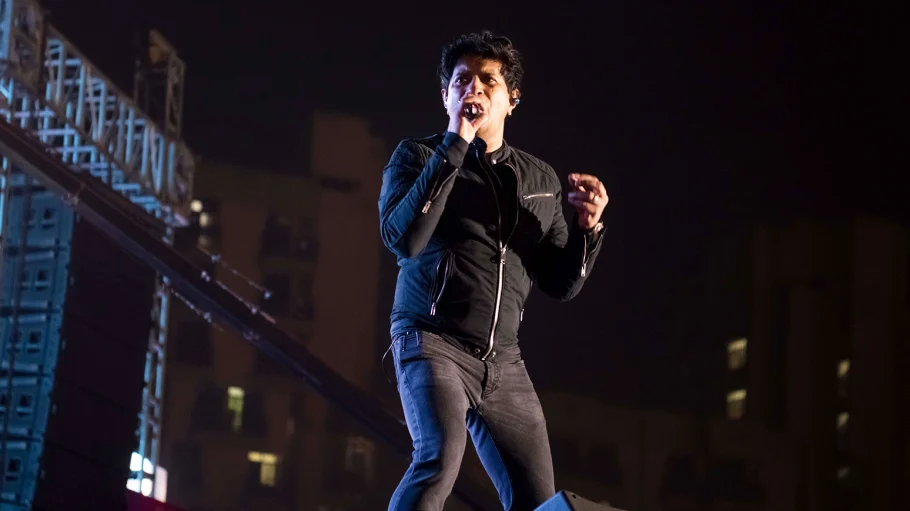 The singer was very excited and said to do fun with her fans. KK was living in the city for the two-day concert, and become ill during the event at Nazrul Mancha. After his health become collapsed, he was taken to the CMRI hospital, but it seems he had not much time as on CMRI hospital staff said, "he was brought dead to the hospital around 10 pm, due to a suspected heart attack."
The sources confirm KK felt unwell since the concert time. The singer also complained about his uneasiness at the interval we have also seen it in various clips, that he is complaining about the AC not working. If you ever visited Nazrul Mancha then you may observe a closed concert hall, if it became more crowded then automatically creates a claustrophobic environment, it may be that he is already feeling about it during the event as he is drinking water backstage after each song.
It was posted that after the concert he was taken to the five-star hotel in Esplanade, the place where his health collapsed, and become dead before reaching the hospital. Before his death, he also shared some images from the concert. He wrote, "Pulsating gig tonight at Nazrul Mancha. Vivekananda College!! Love you all, "
After getting the news from artist Anupam Roy, West Bengal Sports and Youth Minister Arup Biswas was just rushed to the hospital after the death of KK.
After getting the news of all the people giving tribute, Prime Minister Narendra Modi tweeted, "Saddened by the untimely demise of noted singer Krishnakumar Kunnath known as KK. His songs reflected a wide range of emotions and struck a chord with people of all age groups. We will always remember him through his songs, Condolences to his family and fans Om Shanti."
Home minister Amit Shah and Rahul Gandhi condoled his death.
Rahul Gandhi tweeted, "Krishnakumar Kunnath, fondly known as KK who was one of the best versatile singers. His untimely demise is very saddening and a huge loss to Indian music with his golden voice, he just left an indelible impression on the minds of the lovers. My deepest condolences to his family and fans. Om Shanti. "
The actor AK called the death ' a Big Loss. He wrote on Twitter Extremely sad and shocked to know of the sad demise of KK. What a loss! Om Shanti.
If we turn back his amazing musical journey that is literally inspirational.
We have made Top 10 fantastic songs for you that remind us of the romantic phase in our life and how his songs work as a healer. If you are from the '90s, then it's will be easy to relate.
10. Tu Ek Baar jo Pyaar se mujhko chhule: This romantic we have used once for our lovers while the distance becomes high between them.
9. Aankhon mein teri, ajab si ajab si adaayein hain: This song is from the film ' On Shanti OM'. In earlier days in school or college while our hearts start lub dup by seeing the loved ones, then once in mind this song has been played.
8. Maine Dil se Kahan dhoond Lana khusi: The song is for all the lovers, while anyone got betrayed in life, then this song works as a medicine. The song belongs to Awarapan.
7. Sach keh raha hain deewana: These songs dedicates to our young age when we become failed in love and our mind becomes stuck that time and this song really work as a companion.
6. Tadap Tadap ke is dil se: The song got a huge response from the audience. The pain of a broken heart is really felt by the one-sided lover.
5 Labon ko Labon pe Sajao: If you are just entering a new relationship with several dreams and expectations then this song is for you. These songs literally take us to the school college days.
4. Zara sa Dil mai de jaga Tu:
I think there is no one who has not heard this song If you like someone but don't tell directly then the singer also opens up the way to propose to the loved ones. Imraan Hashmi and KK are a fantastic combination, and this song is a milestone for youth
3. Alvida Alvida aab kehna aur kya:
The song reveals our sad part, there are very few mobiles who cannot keep this as a ringtone. The singer seriously said to us Alvida forever.
2. Tuhi meri shab hain Subah Jain:
There is a rare lover who never tries to propose to his girlfriend by singing this song. After marriage, this song is also used to end the quarrel between husband and wife and come close together. In this song, the singer beautifully gives life to one vowel 'O' after that the entire young generation becomes a fan of him.
1. Pyar ke Pal
This is the best song, the song may be a sad song.. whether in a school reunion, college reunion, or anything without this song the farewell is incomplete. After this incident, the emotional song becomes more emotional for all of us.
Hope the soul with a golden voice stays well wherever he is. This is very shocking to all of us. Our deepest condolences to his friends and families.
We will end this with a song of our beloved KK:
A big thanks for the source.
Read: Here is the list of All the Upcoming Films on Netflix in June 2022