Rajasthan Royals have had a terrific performance as a team throughout the entire edition of IPL 2022. However, the player who has highlighted himself is the English player Jos Buttler. He has scored four hundred in a single season and mustered a total of 824 runs. Jos Buttler had recently smashed a hundred in the Qualifier 2 game against Royal Challengers Bangalore that took RR to the Finals of IPL 2022.
Buttler now has the joint record with Virat Kohli of four centuries in one season. He's the third player to muster more than 800 runs in IPL.
Jos Buttler now has four centuries attached to his name (which is the highest) in a single IPL season. Buttler scored his first century against Mumbai Indians in just 68 deliveries. His second ton was against Kolkata in 61 deliveries. Jos Buttler's third century was against Delhi Capitals in 65 balls. In Qualifier 2, against RCB, he smacked 106 runs in just 60 balls.

Sri Lankan cricketer Kumar Sangakkara believes Jos Buttler's performance is the best one produced by any batter in the entire history of IPL.
Jos Buttler to get the Orange Cap in IPL 2022?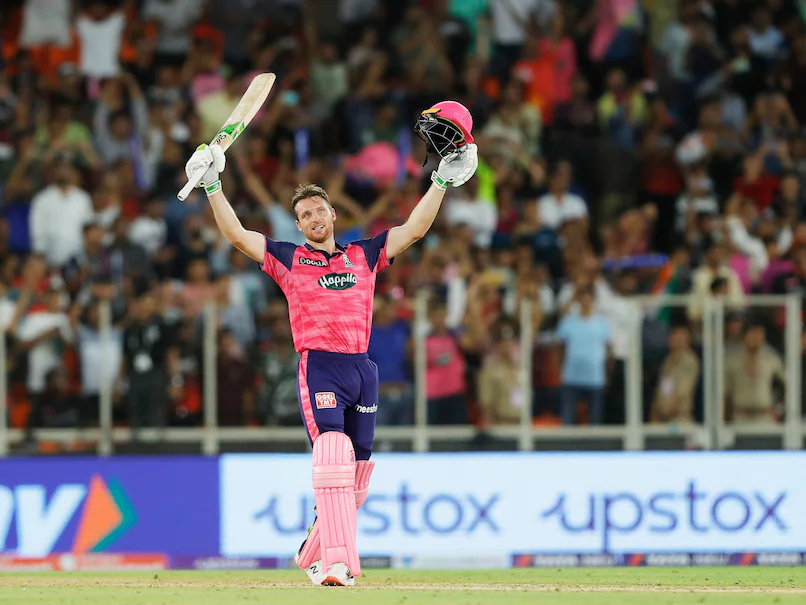 Jos Buttler, playing from Rajasthan Royals equalled the record of most centuries in an IPL season with Virat Kohli. He piled up 824 runs and is the third player after Virat Kohli and David Warner with the most runs in a single season. He's also leading in the Orange Cap race with 824 runs. KL Rahul is in second place with 616 runs in this race. Quinton de Kock is at position no. 3 with 508 runs. Faf du Plessis is at no.4 with 469 runs and Hardik Pandya mustered 453 runs and is currently at the 6th position.
Top 10 players with most runs in IPL 2022
| | | | | | | | | |
| --- | --- | --- | --- | --- | --- | --- | --- | --- |
| POS | Player | Inns | Runs | HS | Avg | SR | 100 | 50 |
| 1 | Jos Buttler | 16 | 824 | 116 | 58.86 | 151.47 | 4 | 4 |
| 2 | K L Rahul | 15 | 616 | 103* | 51.33 | 135.38 | 2 | 4 |
| 3 | Quinton De Kock | 15 | 508 | 140* | 36.29 | 148.97 | 1 | 3 |
| 4 | Faf Du Plessis | 16 | 468 | 96 | 31.20 | 127.52 | 0 | 3 |
| 5 | Shikhar Dhawan | 14 | 460 | 88* | 38.33 | 122.66 | 0 | 3 |
| 6 | Hardik Pandya | 14 | 453 | 87* | 45.30 | 132.84 | 0 | 4 |
| 7 | Deepak Hooda | 14 | 451 | 59 | 32.21 | 136.66 | 0 | 4 |
| 8 | David Miller | 15 | 449 | 94* | 64.14 | 141.19 | 0 | 2 |
| 9 | Sanju Samson | 16 | 444 | 55 | 29.60 | 147.5 | 0 | 2 |
| 10 | Shubman Gill | 15 | 438 | 96 | 31.29 | 136.02 | 0 | 4 |
read more: IPL: Top 5 fastest half-centuries in the history of the tournament