YouTube has been evolving itself from being the place where everyone posts random content to becoming the giant when it comes to a new era of social media. Since the ban of TikTok in India, a lot of players have been busy filling that void but indeed YouTube with its major campaigning and influence is trying to make YouTube Shorts the next-gen short video platform.
Be it the Jugnu challenge or some other, YouTube is promoting new challenges to post on its short video platform and budding creators, as well as common people, are accepting it as well. You will probably know the Javelin superstar of India, yes, Neeraj Chopra, since winning the gold medal he has become the idol of many.
So, YouTube has also collaborated with Neeraj to bring the new YouTube Shorts Challenge called the #JavRun inspiring people to try to throw javelin.

Javelin champion and youth icon, Neeraj Chopra, is showing viewers a new way to run through life with the launch of an exciting challenge exclusively on YouTube Shorts. Fans can join the champion by doing the #JavRun and replicating his distinctive run-up before he throws the javelin.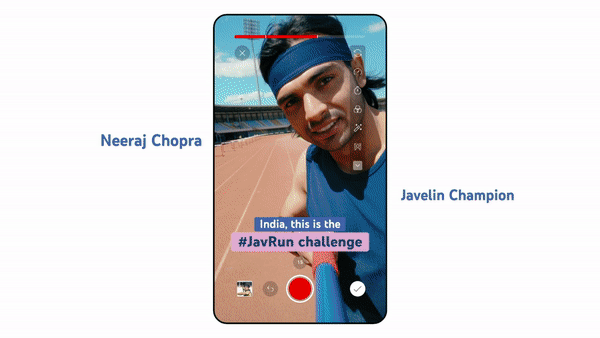 Modelled on Neeraj Chopra's medal-winning technique, the #JavRun challenge symbolizes forging forward towards one's goals with determination and a healthy dose of fun, whether that's getting through your daily chores or chasing one's ambitions.
Neeraj Chopra's latest YouTube Shorts give fans a unique glimpse of how he does the #JavRun, in various real-world situations. Fans can create a 15-second YouTube Short right from the YouTube mobile app and add their own touch of creativity to the challenge. 
Speaking on the release of #JavRun Challenge, Neeraj Chopra said, "YouTube helped bring the world's best javelin throwers right before my eyes, and allowed me to learn from them. That is why having my own channel on the platform, through which I hope to motivate emerging athletes, is a special milestone for me.
The #JavRun challenge is my own fun way to use my sport as inspiration for viewers to always run after their dreams. YouTube Shorts is a great way for me to interact with my fans even more closely and I am looking forward to seeing how people #JavRun in their lives."
As part of the challenge, Neeraj Chopra will host a meet and greet with a few lucky fans who upload unique and creative Shorts. For their creations to be considered, participants are encouraged to use the Let's Nacho track and hashtags #JavRun and #YouTubeShorts.*
Born into a farming family in Khandra, Haryana, Neeraj Chopra's quest to excel at Javelin throw led him to YouTube, where he gained access to content and training videos he would not have had access to otherwise.
On YouTube, he watched and learnt from internationally renowned athletes, as he honed his own skills and perfected his technique. Neeraj Chopra's historic win has been an inspiration to millions of Indians, and in March 2022, he launched his own YouTube channel to motivate the next generation of athletes and the country's youth.
Through his channel, Neeraj has begun giving viewers a behind the scenes glimpse into his fitness and training regimen. 
How to Create your own #JavRun Shorts:
Tap the "( + ) create icon" on the bottom navigation bar and select "Create a Short."
Tap the "Add Music" button and select Let's Nacho from the music picker and set your video to 1:13 – 1:29 seconds.
Hold the "Capture" button (red circle) to record your Short video clip. 
Tap "Done" followed by "Next" to add video details. Be sure to include hashtags #JavRun and #Shorts
Upload your #JavRun videos between 25th May '22 and 23rd June '22 and win a chance to meet Neeraj Chopra