The day is finally here! Qualcomm has finally launched its highly anticipated flagship chip, the Snapdragon 8+ Gen1 chipset in China for smartphones earlier yesterday. This is amazing if you are looking to buy a new phone in 2022 as the company has promised improved performance, improve power efficiency, and even better thermals for the brand new SoC. The chip has been manufactured under TSMCs 4nm power-efficient process.
Qualcomm Snapdragon 8+ Gen1 is an upgraded version of the Snapdragon 8 Gen1 chip:
The predecessor to this chip was revealed in November of last year, it features the same octa-core architecture set up along with a single ultra-high-performance Cortex-X2 core, three Cortex-A710 cores, and four Cortex-A510 efficiency cores. There are some small changes that have been made in order to provide the best smartphone experience for flagship users.
The new chip has been overclocked, especially the Cortex X2 Core has been overclocked from 3.00 GHz to 3.20GHz. This means that it offers a 10% bump in CPU performance in comparison to the Snapdragon 8 Gen1. The GPU also has been overclocked in order to boost the GPU performance by 10% for gamers.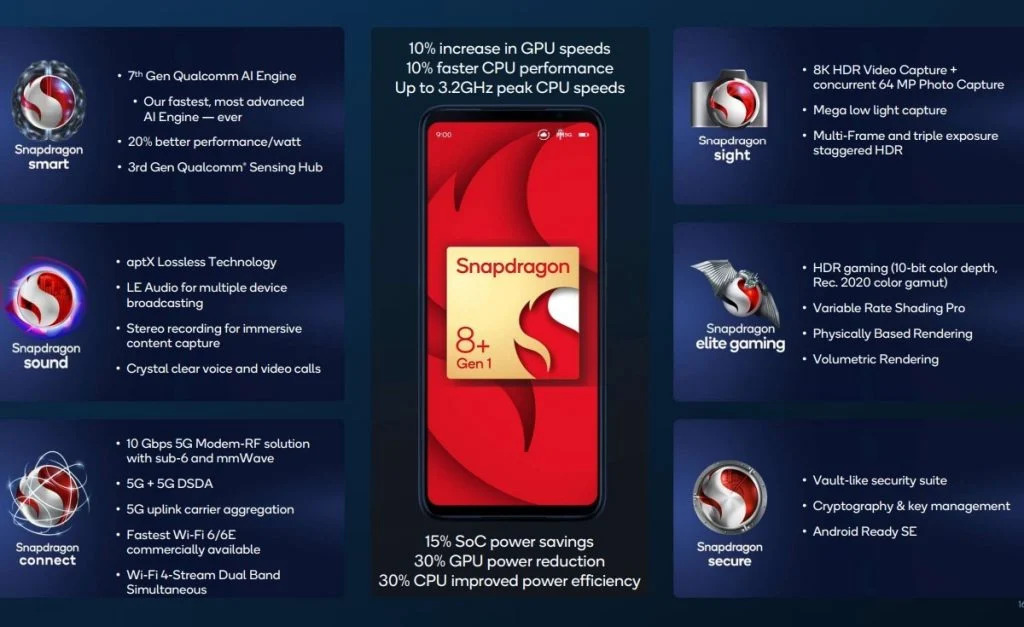 In terms of power efficiency, the company has switched over from Samsung to TSMC, Qualcomm has been able to improvise its power efficiency by up to 30% for the new chip. This means it consumes less power overall which leads to lesser heating issues and longer battery life, both of which are a win-win.
Apart from this, there is not much difference between the new chip and the old one. It supports up to 16GB of 3,200MHz of LPDDR5 RAM and UFS 3.1 storage. The display driver manages the support for QHD+ up to 144Hz or 4K at 60Hz with support for 10-bit rendering and HDR10+ support.
The Snapdragon X65 modem has the capacity to deliver peak 5G speeds of up to 10GBPS while the FastConnect 6900 WiFi modem runs WiFi 6/6E at up to 3.6GHz. The chip also arrives with support for Bluetooth v5.3 connectivity that includes Qualcomm's latest aptX Lossless technology and Bluetooth LE Audio.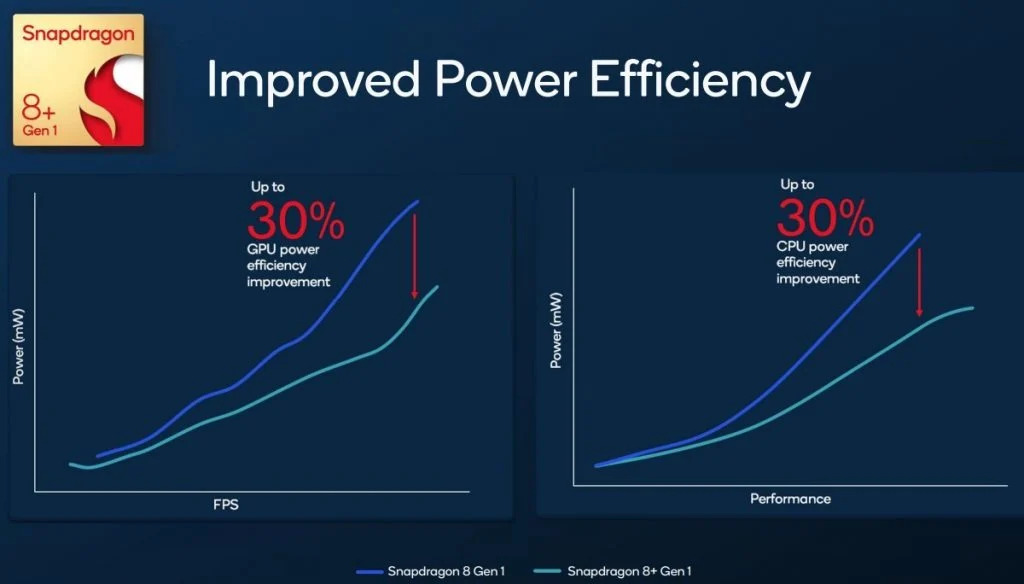 In terms of optics, the chip has the same 18-bit Spectra ISP that has the capacity to handle up to 200MP sensors and 8K video capturing at 30fps and 4K at 120fps. In addition to this, there are image processing tricks such as a multi-frame noise reduction and staggered/DoL HDR. It also arrives with support for a dedicated bokeh engine and support for HLG, HDR10+, and Dolby Vision formats.
Qualcomm has announced that its partners, Xiaomi, Realme, Motorola, and OnePlus will be integrating the Snapdragon 8+ Gen1 chip into its smartphones and will start releasing them from Q2 of 2022. For more details about the chip, you can check out this link.
Also read: