Now that AMD and Intel no longer sell their chips in Russia, the country must find alternatives to avoid falling back into the stone age. Dannie, a motherboard manufacturer with locations in Russia, China, Lithuania, and Turkey, unveiled a new motherboard based on China's Zhaoxin system-on-chip this week. While this chip cannot compete with modern AMD and Intel CPUs, it is compatible with the vast majority of software and operating systems, allowing it to replace these processors.
Zhaoxin, on the other hand, told Tom's Hardware that the company only does business in China. Zhaoxin has no plans to sell its products to other countries at this time. Zhaoxin has also sent out announcements to its partners, highlighting the company's strategy and ensuring that they are aware of it.
Zhaoxin's eight-core KaiXian XK-6640MA system-on-chip with the Lujiazui microarchitecture, a 4MB L2 cache, and a frequency of 2.10 GHz – 2.70 GHz is included on Dannie's MBX-Z60A micro-ATX motherboard. A built-in graphics processor, 16 PCIe 3.0 lanes, a built-in SATA controller, an integrated USB 3.0 controller, and other critical I/O technologies are also included in the SoC. Because the chip is designed for desktops and laptops, its maximum thermal design power is limited to 25 watts.

According to Habr, the MBX-Z60A motherboard offers two DDR4 memory slots as well as two PCIe x16 slots for add-in boards, one M.2-2280 slot for SSDs, an M.2-2230 slot for Wi-Fi/Bluetooth adapters, and three SATA ports. When it comes to external I/O, the platform features USB ports, DisplayPort, HDMI, and VGA/D-Sub outputs, a GbE connector, 3.5-mm audio input/output, and even PS/2 connectors.
The KaiXian XK-6640MA is slower in terms of performance than the KaiXian XK-U6780A CPU, which is higher in the product stack and which we examined a few years ago. Still, the lower-end model is likely to be less expensive, which is important for many clients, especially those who mainly use office programs and do not require high performance.
Zhaoxin has the advantage of running on x86 architecture
The x86 instruction set architecture is one of the benefits that processors built by Zhaoxin, a joint venture between Via Technologies and the Shanghai Municipal Government, have over other CPUs designed in China. As a result, they work with tens of thousands of apps and dozens of operating systems (including Windows). As a result, while Zhaoxin's processors are somewhat slower than AMD and Intel's CPUs, they have nevertheless been considered a viable alternative due to compatibility.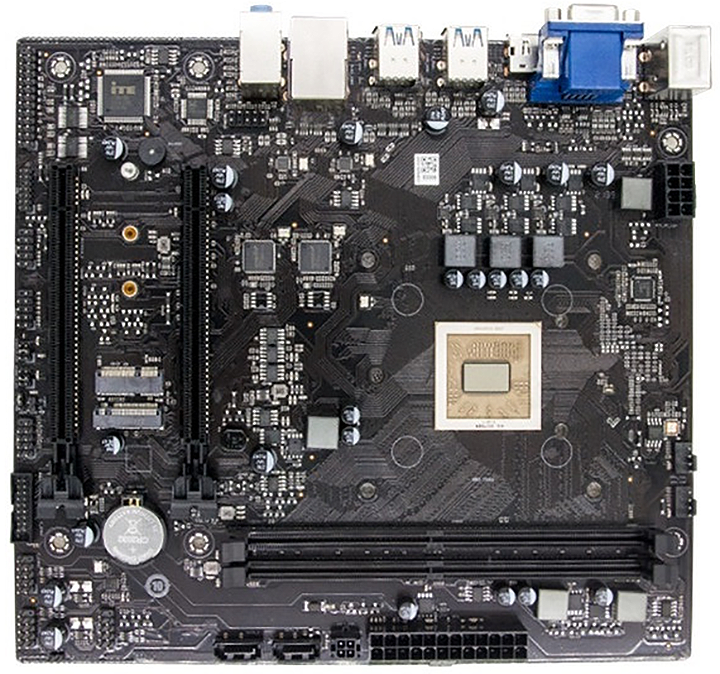 Indeed, we've seen increasing adoption of Zhaoxin's CPUs by multinational brands in recent quarters, despite AMD and Intel's low-end SoC supply being tight. About a year ago, Qnap released a NAS with a Zhaoxin CPU. Then Lenovo chose one of these CPUs for its thin-and-light computer geared for the Chinese market and developed for government and government-controlled firms that must use software designed exclusively for the Chinese market.
Will Dannie's MBX-Z60A motherboard, which uses Zhaoxin's eight-core KaiXian XK-6640MA SoC, assist Russia in mitigating the effects of international sanctions and the lack of AMD and Intel CPUs? Yes, probably for some purposes. Dannie can build 'tens of thousands of motherboards every month,' which should suffice for the time being to accommodate demand from various government agencies. Additional sales are beneficial to Zhaoxin. Zhaoxin's SoCs will not be able to replace AMD and Intel CPUs for any performance-demanding workloads.
also read:
Pictures of NVIDIA GeForce RTX 4090 Ti Founders Edition Graphics Card surface Online