Western Digital and Kioxia have announced cooperation to produce a 162-layer NAND utilizing a method known as bit column stacked or BiCS NAND. This method allows the drive to store 162 layers on a single NAND flash chip.
Micron's ambitions for a 232-layer NAND flash drive were also unveiled at their press conference last week. Western Digital and Kioxia's sixth-generation BiCS NAND flash will have 162-layer stacks, which is lower than other competitors' 176-layer stacks on their NAND flash devices.
It's worth noting that both businesses offer the same capacity NAND chips as other vendors. Because the two businesses' die sizes are smaller than those of other manufacturers, they will be able to provide more dies per wafer area.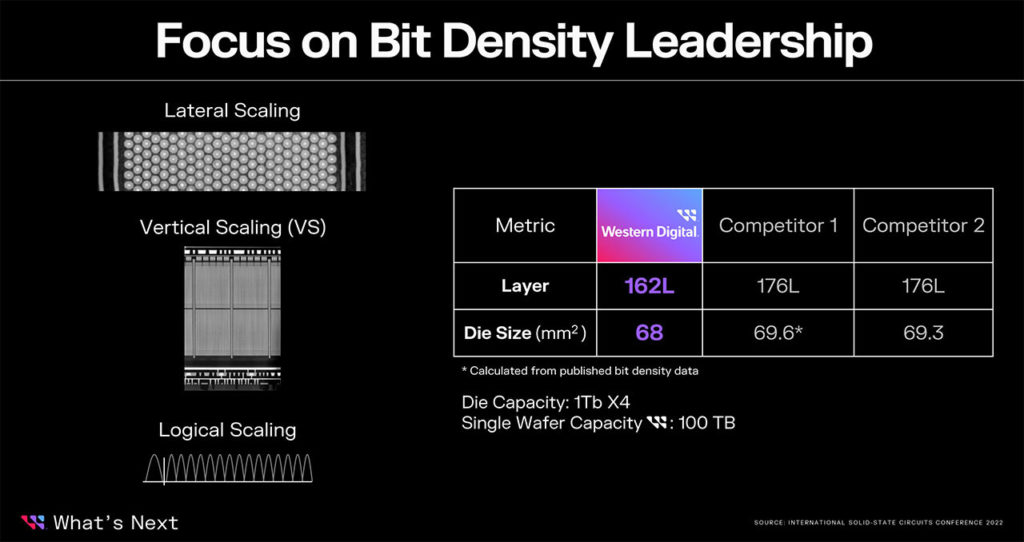 WD unveiled a single wafer capacity that is substantially larger than its prior offering during its investor conference presentation, boosting the size from 70TB to 100TB per wafer from 2020 to the present. The firm claims to have the finest charge trap cell in the world, allowing it to outperform its competition.
Kioxia and Western Digital have stated that the cost of increasing capacity was significantly lower
Despite this, the market indicates that the two firms are failing to stay up with the competition in terms of stacking layer production. However, with WD and Kioxia working on a BiCS+ NAND flash that will have 200 layers by 2024, Micron will need to come up with something similar in the coming years. By 2032, WD and Kioxia want to have a 500-layer NAND flash available, according to their multi-year strategy.
In the data center segment, enterprises will use WD and Kioxia's leading BiCS+ NAND. According to WD, the technology's first product will see a 60% boost in data transfer speeds, a 15% increase in program bandwidth, and a 55% increase in bit growth per wafer over current BiCS6 NAND chips.
also read:
Implications of China's Covid-19 lockdowns are being felt across the Globe