According to a chart shared on Twitter by Frank Azor, AMD's Chief Architect of Gaming Solutions and Marketing, the latest graphics cards from AMD give the highest performance for the money when compared to Nvidia's latest Ampere graphics cards.
Except for the newly introduced RX 6x50XT series and RTX 3090 Ti, the table includes practically every model from both the RX 6000 and RTX 3000 series. According to the graph, the Radeon RX 6950XT outperforms the GeForce RTX 3090 by 80 percent and consumes 15 percent less power. These assertions, however, have yet to be verified.
Although those prices may change, this is a nice way to understand how the current market favors Team Red's wares over Team Green's, at least in terms of pricing – especially given how expensive graphics card prices are in general.
AMD has just released the beta version of its Graphics drivers for its Radeon Series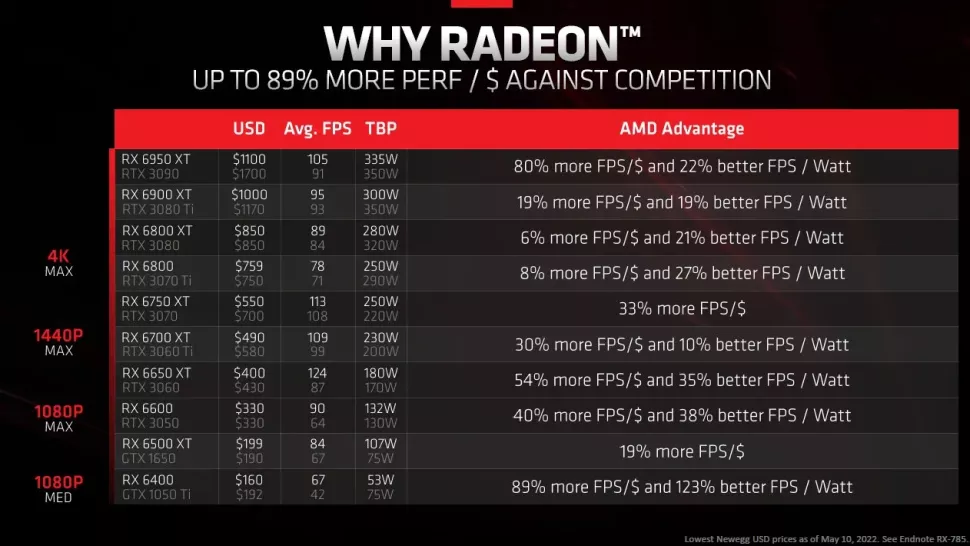 AMD also released a beta version of its new graphics driver for its Radeon series, along with the assertion that its graphics cards offer greater value for money. Some games appear to benefit from it, like World of Warcraft: Shadowlands, which runs up to 30% faster, and Assassin's Creed Odyssey, which experiences a 28 percent boost. Take the claims of better performance with a grain of salt, as these aren't the latest and best.
also read:
Western Digital announces its plan of mass-producing 162-layer NAND by the end of 2022