By the end of the year, Western Digital aims to begin mass-producing 162-layer BiCS6 3D NAND, which will most likely be utilized in PCIe 5 SSDs. The company is also developing 200-layer NAND for data center storage, as well as PLC and techniques to link multiple 3D NAND wafers together to increase the number of layers.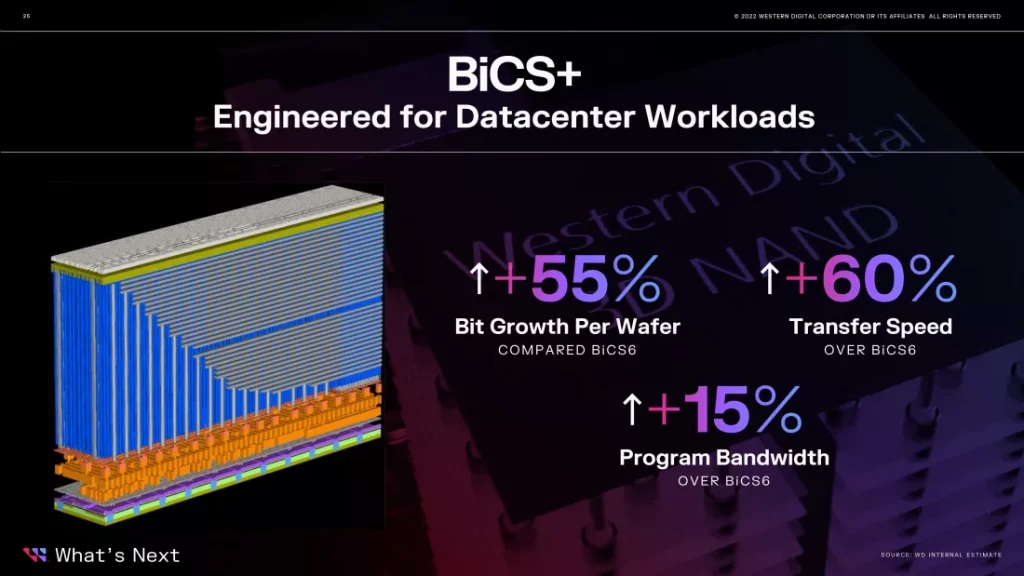 Western Digital, in collaboration with Kioxia, recently revealed their NAND development strategy for the next few years. The business expects to release its 6th generation BiCS shortly, with 162 layers in TLC and QLC configurations.
Western Digital plans to use a new Material to reduce the Die size
While that may not seem significant given that competitors like Micron have had 176-layer NAND for some time, WD believes that by employing a new material, they will be able to lower the memory cell size, resulting in smaller die sizes.

The company expects that this will enable them to produce storage devices that are both cheaper and more capable. BiCS6 3D NAND mass production is expected to begin in late 2022, with WD expecting to employ the chips in anything from low-cost USB drives to PCIe 5.0 SSDs.
WD also discussed their forthcoming BiCS+ memory, which will have over 200 layers and be available in 2024. In comparison to BiCS6, it will have 55 percent more bits per wafer, a 60 percent faster transfer speed, and a 15% faster write speed.
It's worth mentioning that BiCS+ is only intended for usage in datacenter SSDs, while the business wants to release BiCS-Y, a new 2xx-layer NAND for consumer storage. Western Digital also revealed that they are working on a variety of technologies to boost density and capacity, including PLC, and that they intend to manufacture NAND with 500 layers or more within the next decade.
also read:
AMD Instinct MI300 is rumoured to be the company's first Exascale APU Powered By Zen 4 CPU Cores & CDNA 3 GPU Cores