The homegrown automaker Tata Motors recently dropped a new trailer of Tata Nexon EV Max. We are already aware that Tata Nexon EV has reached a milestone. However, Tata Motors, at last, reveals the first glimpse of the Nexon called Nexon EV Max. This is Tata's new electric SUV with a better range in comparison with existing models, and the model also supports fast charging facility.
The battery pack ranges from 30.2kWh to 40.5kWh, just imagine an increase of more than 30 percent, this feature opens a positive direction of the claimed range for the vehicle.
Today, at 11:30 AM IST Tata Motors dropped a trailer that starts with an electrifying countdown, after that Vivek B Srivasta give a warm welcome to all the media, colleagues, and members. He is very confident about the future of EVs. He opens up about the journey of Tata Motors EV by winning the prestigious EESL tender to available EVs for government usage.
In January 2022, the company built its foray into the personal segment with the launch of Nexon EV. And within five months they sold more than 25,000 EVs which are dominating Indian roads. On sharing infrastructure Tata Motors partnered with Tata Powers which helps to provide fast charging service by setting up 50 chargers in 5 cities and about 1300 charging stations across more than 200 cities mostly the prominent cities. He opens up about their aim to bring a holistic electric ecosystem. He also reveals the specification of the unique Electric Vehicle.
All the Specifications of Tata Nexon EV Max:
Safety Features
1. ESP with I-VBAC
While you went off to a new destination, the Nexon EV Max's ESP (Electronic Stability Program) helps you to keep the course. The system works under the innovative I-VBAC (Intelligent Vacuum-less Boost & Active Control), a system to cut down stopping distance by developing brake mechanisms.
2. All Four-Disc Brakes
The Max contains front and rear wheel disc brakes that can enhance braking efficiency, and give you more control.
3. Fortified Cabin
The Nexon EV MAX holds a high-strength reinforced street design that is able to absorb impact energy, and also provide comprehensive safety.
4. ABS with EBD and BA
With these features, the car will take charge of the road while all the other control comes with Anti-lock Braking System with Electronic Brake Force Distribution and Brake assist.
5.IP67 Rated battery Pack and Engine
The latest Nexon EV Max has been powered by the start of the art Ziptron technology, the comfortable IP67 rated battery pack provides high standards of ingress protection, making it shock, water, and definitely dust resistance.
6. Hill Hold Assist
The latest Nexon EV Max comes with a unique and intuitive feature that can sense gradation and holds 2 seconds while you want to stop an incline, giving you more time to control the EV.
7. Hill Descent Control
The latest HDC system helps the Nexon EV Max's speed on decline slop, leaving you to handle the steering of your EV.
8. Auto Vehicle Hold (AVH)
This feature comes into the field due to stop-and-go conditions on city roads along with inclines. It is able to control brake pressures after your foot is off, that's literally amazing, the brake literally reduces the driver's tension and provides assurance at the same time.
9. Panic Brake Alert
If you are in an emergency situation and press the brake hard, the system automatically triggers the hazards lamps to alert your fellow motorists to develop their response time
10. ISOFIX Anchorage
The Nexon EV Max comes with a pre-installed ISOFIX anchorage for child seats as you can drive peacefully.
11. Dual front airbags
The Nexon EV max contains dual frontal airbags with standard variants to provide some added safety.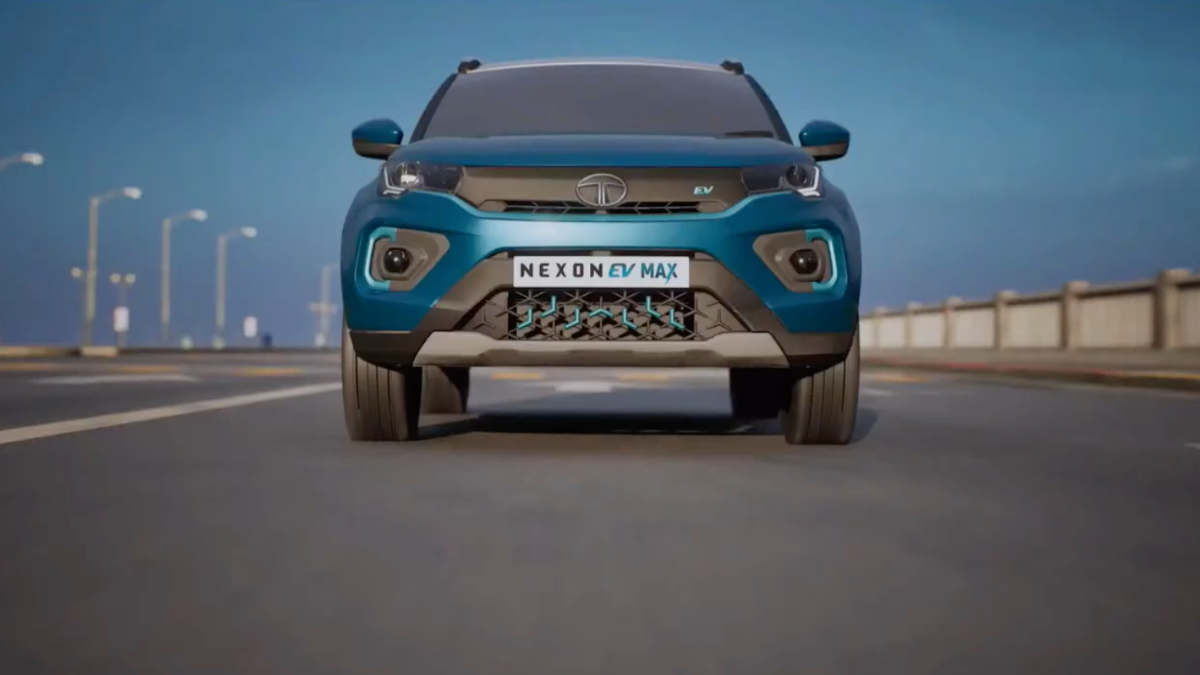 Nexon EV vs. Nexon EV Max
The ordinary Nexon EV is just certified by an ARAi that ranges 312 km while on the other side Nexon EV Max can stretch with the figure of 437Km ARAi certified which is 100km extra than the standard Nexon EV. In real-world testing, the Nexon EV does 208 km and we are expecting the Nexon EV Max will deliver at least 300 km. The booking of Nexon EV Max already opened and deliveries are under process. Tata Motors also started their production to satisfy the buyers as well as possible.
Powers and Battery
Tata Motors already certified the previous version of the Nexon EV along with 136bhp, sources now confirm that the latest Nexon EV Max will arrive with 143bhp and 250Nm, you can say it is 14hp and 5Nm more over the standard of Nexon EV SUV.
The Nexon EV Max provides an offer of a 3.3kW charger and a 7.2kW AC fast charging facility. if you choose the 7.2kWh option that can cost extra Rs. 60,000-70,000. Normally, Nexon EV Max needs 15-16 hours for a full charge on a 3.3kWh unit, while you choose the 7.2kWh fast charger that can reduce the charging time to 6 to 5 hours. The fast-charging DC can be supported on the vehicle and take only one hour to reach 80 percent charging. If the battery size increase then it has been just coupled along with a stronger motor that produces 140.7 bhp and 250Nm.
The battery capacity will be 40.5kWh unit which is more than 10kWh than the standard Nexon EV. The Nexon EV Max has been powered by a 105kW permanent magnet synchronous motor that delivers 250Nm with a fantastic acceleration of 0-100 km per hour within 9 seconds.
Multi-Drive Modes
The new Nexon EV Max has a multi-drive mode. Whether you are cruising comfortably or enjoying a more exhilarating drive, customize your experience by switching between Eco, City, and Sporty Modes.
Refined Suspension System
This system helps you to maintain the right balance between superior handling and exceptional conform with the refined suspension system of the Nexon EV Max.
Design
The design of Nexon EV Max is just marvelous that anyone can attract on it. The design of the car is very bold and sporty. The designers of the car focus more on priorities form and function just like equally a cleverly integrated feature.
1. Front DRLs
The front side of the car is literally very good as there is a tri-arrow DRLs on the headlights, giving Nexon EV Max an elegant look.
2.R16 Diamond-cut Alloy Wheels
The Nexon EV Max equipped with such R16 Diamond cut aerodynamic Alloy Wheels makes its appearance more sharp and striking to stand out anywhere.
3. Dual Tone Body Colour
The body colour of the EV makes it unique as the all-new signature Intensi-teal body colour along with, Pristine White, and Daytona Grey roof that simply add an electrifying aura of the SDUV enates.
Technologies
The new SUV features many advanced technologies that create a driving experience that you remember forever.
1. Wireless Smartphone Charger
While you become the owner of the wheel, the Qi-certified wireless charger confirms that your smartphone device always stays charged.
2. Electronic Parking Brake
Many may think what's new it, but in Nexon EV Max, the function is automatic, the drivers also can engage it manually and disengage it with a switch mounted in the middle of the consoles
3. Auto-Dimming IRVM
This feature makes your driving easier wherever you go rage Electro Chromatic Inside Rear-Views Mirror is able to detect the brightness of the coming age lights and dim such reflecting light.
4. Harman Infotainment System
The technology is entertainment that provides an immersive surround sound and a floating Dash-top that is a 17.78 cm touchscreen of the 4-speaker + 4-tweeter Harman Infotainment System. You also can seamlessly connect it with your smartphone with Apple Car Play & Android Auto.
Ease
We will like to know that charging of Nexon EV is seriously hassle-free and effortless as you can drive it. It comes with multiple charging options, and you can select the best that's suited you the most.
Luxurious Facilities
1. Electric Sunroof
This is a pure luxurious approach that makes your journey more scenic, and also even soak in a bit of sun while you are at it with Nexon EV Max's electric sunroof.
2. Elegant Cockpit Design
This is a mixture of a spacious cockpit design and sophisticated Makarana Beige interiors that can add a rich plush feel to this electric vehicle.
3. Grand Console with Rear AC Vents
The grand Console of the EV boosts cabin aesthetics and includes a luxurious feel. The AC vents just confirm that passengers in the backstay as fresh and cool and comfortable during the entire journey.
4. Ventilated Leatherette Seats
The EV comes with front ventilated push leatherette seats. This mainly helps to maintain a comfortable seating temperature that will not depend on outside weather.
5. Air Purifier
This is also one of the best luxuries you can get as you can breathe easy and effortlessly with an Air Purifies that has been designed to hold cabin air quality levels in measure.
6.Jwellers Control Knob
It is like adding a touch of opulence to driving along with the new state-of-the-art, tri-arrow patterned Jwelled Control Knob. Basically, it's a digital display that makes the readability very easy.
Convenience
The new Nexon EV Max comes with a collection of features that include tons of convenience that is already very amazing for the driving experience.
1. Cruise Control
The new feature makes long trips practically just effortless in this Nexon EV Max.
2. Ergonomic Boot Space
The new EV holds 350 liters but the space is enough large to carry everything you need to go.
3. Cooled Glove Box
The latest EV comes with a multi-utility cooling storage unit for keeping things dress and cool.
4. i-TPMS
i-TPMS OR Indirect Tire Pressure Monitoring System always track the tire pressure and provide an update.
Variants
Today Tata Nexon EV Max launched two variants one is XZ+ and XZ+ Lux. The Nexon EV Max comes with many unique features.
1. Tata Nexon EV Max XZ+
This is one variant of Tata Nexon EV Max that the company unveiled today. The EV has been powered by a 40.5 kWh battery pack. XZ+ contains 105kW or 143 PS Permanent Magnet Synchronous AC Motor, multi-mode regens, all 4-disc brakes, ESP with I-VBAC, Electronic Parking Brake with Auto Hold, multi-drive modes, wireless smartphone charger, jewelled control knob, and cruise control. The owner will get an option of 3.3kW & 7.2kW AC Fast Charger. The 3.3kW is normal and will take 15 hours to charge the battery, if you choose a 7.2 kW Fast Charger then it will take less than five or six hours.
2. Tata Nexon EV Max XZ+ Lux
After knowing the name, we all understand that this is an advanced version of XZ+. This variant inherits all the features of XZ+, but additionally, it contains an electric sunroof, leatherette front seats with ventilation, all the latest Makrana Beige interiors, and an auto-dimming IRVM, air purifier. In this type also you get the option of 3.3kW & 7.2kW AC Fast Charger, and you have to choose one among the two to charge the car.
Pricing Details
The company clearly declared that the Nexon EV Max has commenced in phases, and will launch in late May or early June this year. The most interesting fact is the company will give 8 years or 160,000km Battery and Motor warranty that's pretty cool. As per the growing demands, we expect the Nexon EV Max will start around Rs. 21 lakhs in maximum cities. the latest reports confirm that Tata Nexon EV Max XZ+ with 3.3 kW costs Rs. 17.74 lakh, if you choose 7.2kW then the cost will be Rs. 18.24 lakh, the second one Max XZ+ Lux with 3.3kW costs Rs. 18.74 lakh, and if you choose 7.2kW then it will cost Rs. 19.24 lakh.
Source.
Read: Tata Motors launched Tata Ace EV to give a push in the retail business