Marvel Studios has now focused on the latest Marvel character Ms. Marvel. Marvel Studios now exposed a brand new poster of the Ms. Marvel series on Disney Plus. After watching the poster it assumes that instead of focusing on her powers or the powerful villains, this poster has been the focus on the entire Kamala Khan family and also her close friends.
The latest Marvel adaptation has been slated to release this summer. In the last trailer, we have seen a Pakistani girl who is a fan of Captain Marvel, and always loves to stay in the dreamland in fact in reality she used to see all her friends in her dreamy characters. The year was 2013, the first time Ms. Marvel was introduced back in 2013. Now just like the other classic teenager superheroes, Kamala also starts to spend a part of her life with her family's questions that contain such secret heroic exploitation.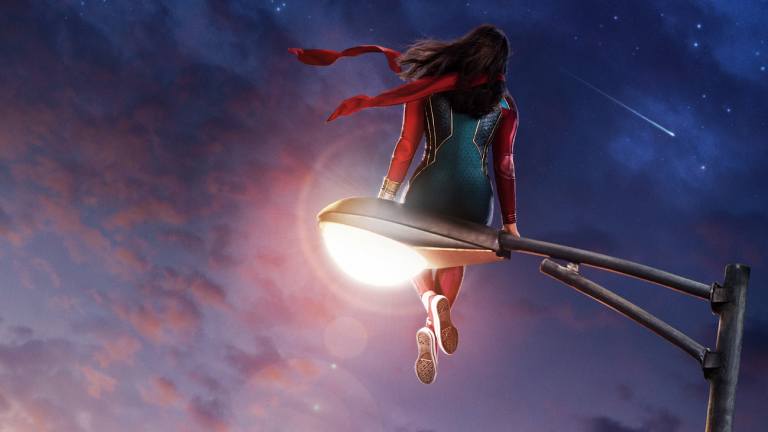 Ms. Marvel: Poster Updates
The new poster reveals Kamala's front-and-center with her entire Ms. Marvel attire, and you also can also watch a smaller glimpse that has been made on copying Carol Danvers Captain Marvel look in the first movie. Now it seems that Flanking Kamala on either side is just revealing her older brother and also a best friend.
On the left side, we have seen Nakia Bahadir one of her best friends who has been revealed as Yasmeen Fletcher. Nakia who is already known as a school friend of Kamala and has been hailed from a Turkish family, now Nakia has belonged to the same Mosque from which Kamala's entire family and social activist belongs. If you follow the comics, the huge void in between her and Kamala also grows like the latter and becomes a superhero.
Now the contrast started with Bruno Carrelli who also has appeared on the left Nakia, Bruno who has been played by The Walking Dead, and The Alienist Matt Lintz as Kamala's other best friend. Apart from Nakia, Bruno is also included in Kamal's heroic adventures rather than early ones that also act as her confidant from the side of Ms. Marvel's life.
On the right side, the name of the boy is Amir Khan who is the brother of Kamal Khan, but in the main source, he always avoids getting a job for focusing more on the religion just like much of that annoying the parents. Now it's still not clear whether the storyline will be going to play out in this series or not. The future wife of Amir named Tyesha Hillman-Kahn also has been appeared just below him in the poster. The role of his wife is played by Travina Springer.
On the right next to Amir is another primary character Kamran that is played by Rish Shah. The last time Shah was seen as Ravi in All the Boys: Always in Forever. Now Kamala already developed a crush on the young heartthrob who is also attending her school. The poster indicates such a heroic future for Kamran in such an original comic as he already turns into an Inhuman the same way Kamala becomes. Now it seems that her powers also come from such a different origin in the series, so the Kamran's character also might be taken such a different direction.
In the next, there are Kamala's parents Muneeba Khan and Yusuf Khan. The mother of Kamala, Muneeba has been played by The Big Sick's Zenobia Shroff, and the role of the father is played by Mohan Kapoor who is a popular Indian host and also the voice actor. Kamala's parents are starts to immigrants from Pakistan and also trying to find a life for their family in New Jersey. There is still confusion about her double life like Ms. Marvel and simply indication about her absences and also the actions from that more mundane resources.
In this film, Zoe Zimmer has been played by Laurel Marsden. Zoe is also the most famous girl in her school of Kamal's and also bullies early. She has become the first person as Kamala spacing, prior to that became Ms. Marvel. Now later in such main comics, Zoe also becomes friends along with Kamal even if strikes up with the one-sided love interest in Nakia.
Ms. Marvel: Cast
Iman Vellani features Kamla Khan as Ms. Marvel. The new cast also contains Aramis Knight, Saagar Shaikh, Rish Shah, Zenobia Shroff, Mohan Kapur, matt Lintz, Yasmeen Fetcher, and Laith Nakli, Azhar Usman, Travina Springer, and Nimra Bucha.
The episodes have been directed by Adil El Arbi & Bilall Fallah, Meera Menon, and Sharmeen Obaid-Chinoy. Kevin Feige, Luis D'Esposito, Victoria Alonso, and Bisha K. Ali are the executive producers. Sana Amanat and Trevor Waterson, and Bisha K. Ali is the head writer.
Ms. Marvel: Release Date
Ms. Marvel also will be hit on Disney Plus featuring 8th June.
A big thanks for the source1 & source2
Read: London Files: Arjun Rampal finding the Solution of Mysterious Case Outside that Maybe Hidden Inside