Kamala Khan has revealed her fantastic look as Ms. Marvel. Disney+ has dropped the first trailer of the MCU series. In 2013, Marvel Comics was the first time introduced Pakistani American teenager Kamala Khan who belongs to New Jersey and idolizes Carol Danvers Captain Marvel. In 2014, the teenager was seen to get superhuman abilities in her single series. She is the first Muslim superhero headlined in Marvel comics.
Ms. Marvel: Plot
The story of the series is based on a 16-year-old Pakistani American from New Jersey City. She is an aspiring artist, an efficient gamer with a voracious fan-fiction scribe as she is a huge of Avengers mainly Captain Marvel. It gets always find struggles to make her place in the world until she possesses the superpowers like the heroes that she always looking to be.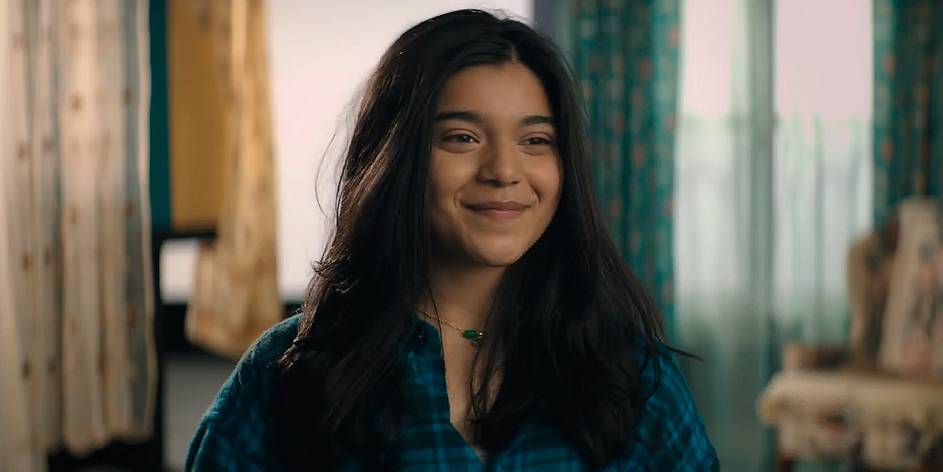 Ms. Marvel: Trailer Details
The new trailer reveals Kamala in this high-school guidance counselor's office by doodling of the speech bubbles. It also represents such a fantastic crash course into the mind of Kamal Khan who has been seemed to be spending a lot of her time along with her head in the clouds, daydreaming, and also one of her favorite superheroes that harboring privately a crush on a boy whom she likes.
As a high school Muslim American she is literally juggling the family commitment with her love of video games, fan-fiction, and also superhero obsession. She starts to see her classmates as some kind of weirdo with a red horn in the head.
She used to start in the window in her own fantasy land and finds herself as one of the superheroes and costumes like Captain Marvel.
After Kamala Khan has taken the decision that she needs to come back to reality again is the time while she has been ending up getting such end of the incredible powers and looking like their origin also has been tweaked little from the comics after she wears the power bracelet and starts to feel the ability to make and also harness the energy instead of changing the size or also with the ability to stretch in her limbs and running into the air.
The trailer ends with Kamala Khan with such comic-accurate, red-and-blue costume, a blue mask covering her eye, fighting for justice with the mystic shield, and throwing some cosmic punches with her huge and glowing fist.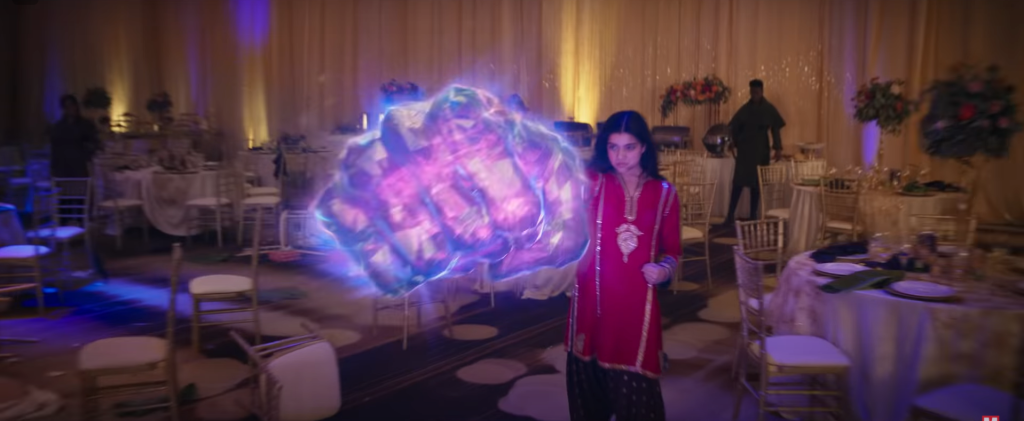 Ms. Marvel: Production Status
The production of the Disney+ series contained back in May of 2021. It seems we will also get such excitement as that same month with Kamala would be going to make such an appearance in the Captain Marvel sequel The Marvels. It seems that the Marvel version while the titles also had been official reveals.
Additionally, it fills Brie Larson's Carol Danvers in the superhero sequel also feature another Marvel in Teyonah Parris' Monica Rambeau the lady who had made he debut in Disney+ show Wanda Vision last year.
Ms. Marvel: Cast
This new Marvel casts Aramis Knight as Kareem/Red Dagger, Saggar Shaikh as Kamala's older brother Amir, Matt Lintz as Kamala's best friend Bruno Carrelli, Rish Sha as Kamran, Laural Marsden as Zoe Zimmer, and Zenobia Shroff and Mohan Kapur as Kamala's parents.
We will also see Tasmeen Springer, Nimra Bucha, Aly Khan, and Alysia Reiner playing the roles which are still unknown. This week recently declared about the new cast of  Marvel's Runaways alum and Overwatch voice actress Anjali Bhimani.
We will see Bisha K. Ali serving as head writer and executive producer across the Kevin Feige, Louis D'Esposito, and Victoria Alonso. It seems that co-executive producers are Sana Amanat and Brad Winderbam. The directors for the season are Adit El Arbi and Bilall Fallah, Sharman Obaid-Chinoy, and Meera Menon.
Ms. Marvel: Release Date
Ms. Marvel also will premiere on Disney+ with the incredible six episodes on 8th June 2022.
Here is the trailer:
A big thanks for source1, source2, & source.
Read: "Doctor Strange in the Multiverse of Madness": The New Trailer Reveals Things Just Got out of Hand