The top Intel Arc Alchemist graphics card clocks in at 2.4 GHz in a new OpenCL benchmark. Nonetheless, Nvidia's GeForce RTX 3070 (Ampere), one of the most powerful graphics cards on the market, was no match for the DG2 graphics card.
Intel's DG2 series of discrete desktop graphics cards will be available in the second quarter of this year, barring any setbacks. Up to 512 execution units (EUs) and 16GB of GDDR6 memory will be available in the top Arc Alchemist SKU. In the new Geekbench 5 submission (via Benchleaks), the graphics card has scaled up to 2.4 GHz, which is most likely the graphics card's boost clock. The clock speed, of course, isn't final because it's an engineering sample.
On paper, the flagship Arc Alchemist should be capable of delivering roughly 20 TFLOPs of FP32 performance. Of course, it isn't the most accurate metric for gaming, but it is the only data accessible. The DG2-512 theoretically performs similarly to the frequently quoted GeForce RTX 3070 based on FP32 performance. Radeon RX 6700 XT is the AMD equivalent (Big Navi).

The OpenCL test gave the Arc Alchemist 85,448 points, which isn't the best indicator of gaming performance. Nonetheless, the flagship Arc Alchemist's version would be on par with the GeForce RTX 2070 for OpenCL applications. Intel's graphics card is roughly 40% slower than the GeForce RTX 3070 compared to Nvidia's current offerings. We should take the performance estimates with a grain of salt because they are engineering samples and unreleased hardware.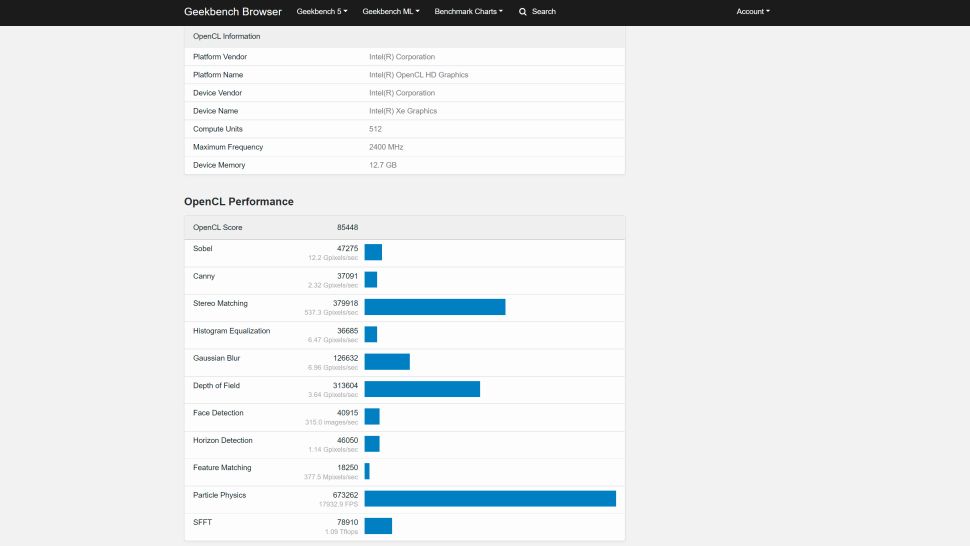 A similar DG2-512 sample, which ran at 2.1 GHz, outperformed Nvidia's GeForce RTX 3070 Ti in several tasks in another test. Intel appears to have made progress in improving the clock speeds of the Arc Alchemist. The flagship DG2 component was rumoured to have a maximum boost clock from 2.4 GHz to 2.5 GHz.
In December, an Ashes of the Singularity submission was the sole benchmark that came close to a gaming workload. A secret Arc Alchemist sample, on the other hand, had put up statistics that were extremely close to a GeForce RTX 3070, giving some validity to the claim that the DG2-512 SKU might potentially deliver gaming performance comparable to Nvidia's mid-range versions.
Also Read:
Here's everything we know about the upcoming 13-Inch MacBook Pro