Intel's Arc Alchemist GPUs have been rumoured to be "coming soon" for a while, but the release date was finally confirmed today. Intel stated during its Investor Meeting 2022 that mobile Arc GPUs would be available this quarter or within the next month and a half. Meanwhile, desktop GPUs will not be available until Q2, with workstation solutions following in Q3. Beyond the first Arc GPUs, there's a lot more to report.
Intel's commitment to sell 4 million discrete GPUs this year is the most significant development. This is a sizable figure, but it pales compared to the overall market. According to Jon Peddie Research, about 95 million discrete GPUs were deployed in 2021 (give or take), nearly half of that amount coming from laptops. Given Intel's laptop-first approach with Arc, we estimate laptop GPUs to account for the vast majority of GPUs shipped this year, with desktop GPUs accounting for significantly fewer.
Aside from the mobile vs desktop divide, there's the matter of what kind of graphics hardware Intel plans to sell. We know that numerous Arc Alchemist GPUs are in the works, ranging from entry-level models with only 128 Vector Engines (previously known as EUs) to high-end variants with up to 512 VEs. Each VE has eight shaders ALUs, allowing Intel to cover the range from 1,024 to 4096 "GPU cores." That's a much lesser number than AMD or Nvidia give at the top of the spectrum, with AMD's Radeon RX 6900 XT topping out at 5,120 cores and Nvidia's GeForce RTX 3090 giving 10,496.

Of course, differences in architecture play a role. Still, multiple leaks and reports imply that the entry-level Arc solutions will be comparable to the GTX 1650 Super and RX 6500 XT, while the fastest options would be comparable to the RTX 3070 and RX 6800 — give or take. Until we get our hands on real hardware, we won't know for sure, which might suggest Intel will release desktop Alchemist around Computex 2022.
Intel is expected to ship considerably more laptop Arc GPUs than desktop Arc GPUs, and those will almost certainly be lower-spec 128 VE variants. That's not inherently a terrible thing, but if you were hoping for Intel to save us from the present glut of GPUs, you'd be disappointed. But Alchemist is just the start.
After Alchemist, Battlemage will be released between 2023 and 2024, followed by Celestial somewhere in the 2024 or beyond range. Battlemage will be associated with future Meteor Lake and "Next Gen" CPUs, which will require a new CPU socket and motherboards. In contrast, Alchemist will be related to existing Alder Lake and future Raptor Lake systems. One fascinating tidbit about Battlemage is that Intel considers including a GPU tile in its standard processors.
In his presentation, Raja Koduri, Intel's graphics director, stated that Meteor Lake would perform discrete graphics class with an integrated graphics solution. Discrete GPUs will also be available for the enthusiast market, where they will compete against the upcoming Ada Lovelace (Nvidia RTX 40-series) and RDNA 3 (AMD RX 7000-series) graphics cards. Of course, while AMD may embed RDNA 3 GPUs into its CPUs using 3D chip stacking, similar to what Koduri described with a GPU tile, Nvidia currently lacks a direct competitor, least for x86 processors.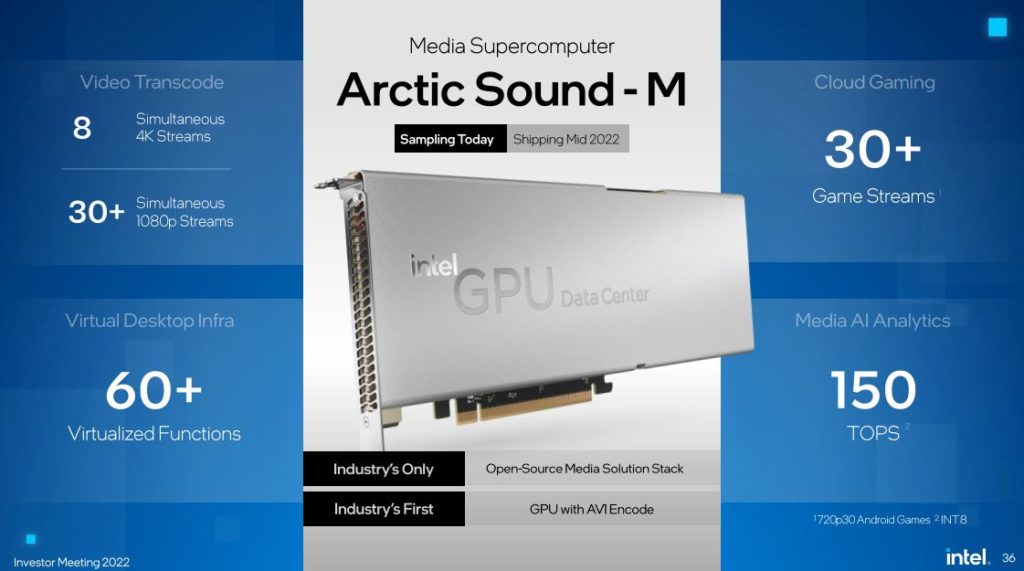 Video processing is one of Intel's significant prospects in the GPU market. Video consumes about 80% of internet bandwidth. Thus, there's substantial demand for better video processing. The Arctic Sound-M will be the first GPU to enable AV1 hardware encoding and handle up to eight simultaneous 4K video stream transcodes and 30+ 1080p streams. This appears to be a data centre component aimed towards companies like YouTube. However, there are other possibilities, such as game streaming services.
Intel had this to respond about the hardware foundation of Arctic Sound, "Both products [Ed: Alchemist and Arctic Sound] are based on the Xe HPG microarchitecture and are productised uniquely to meet specific market needs across client and data centre. Arctic Sound-M is a discrete GPU for the data centre that is targeted for both android and PC cloud gaming, as well as virtual desktop (VDI), media delivery, visual inference, and media analytics, with features (HW SRIOV, ECC, long-life support, server OSs) necessary for a server solution. Alchemist discrete graphics is also based on Xe HPG microarchitecture and is targeted at high-performance gaming and creation for consumer markets."
It appears that Arctic Sound-M may use the same chips as Nvidia's GeForce vs professional (previously Quadro) solutions, with some tuning and drivers tailored to a different market. Arctic Sound-M also likely employs other silicon for the intended market, including additional video processing units.
Also Read:
Nvidia forecasts its first-quarter revenue to be around $8.1 Billion
Roposo and Reliance Retail to enter into a Social Commerce related arrangement