Microsoft might be planning to launch the new Surface Laptop 5 anytime soon and the leaks point out that it might be planning to release it with newer Ryzen 6000U based APUs. The previously launched Surface Laptop 4 featured Ryzen 4000U custom chips and this would be a handsome upgrade as they skipped the Ryzen 5000 series.
It is being reported that the upcoming Surface Laptop 5 will be offered in 13.5″ and 15″ options while still retaining its signature 3:2 aspect ratio with an amazing 1500:1 contrast ratio. As per MyLaptopGuide, the new display will be the same as its predecessor except now it will have a refresh rate of up to 120 Hz, making the experience even more fluid.
The 15-inch variant will either feature a powerful Intel Core i7-1280P with up to 14 cores or feature AMD Ryzen 7 6980U processor suspected to come with up to 8 cores. This is a healthy upgrade over the older Surface Laptop 4's Intel Core i7-1187G7 (Tiger Lake-U) and Ryzen 7 4980U (Renoir-U).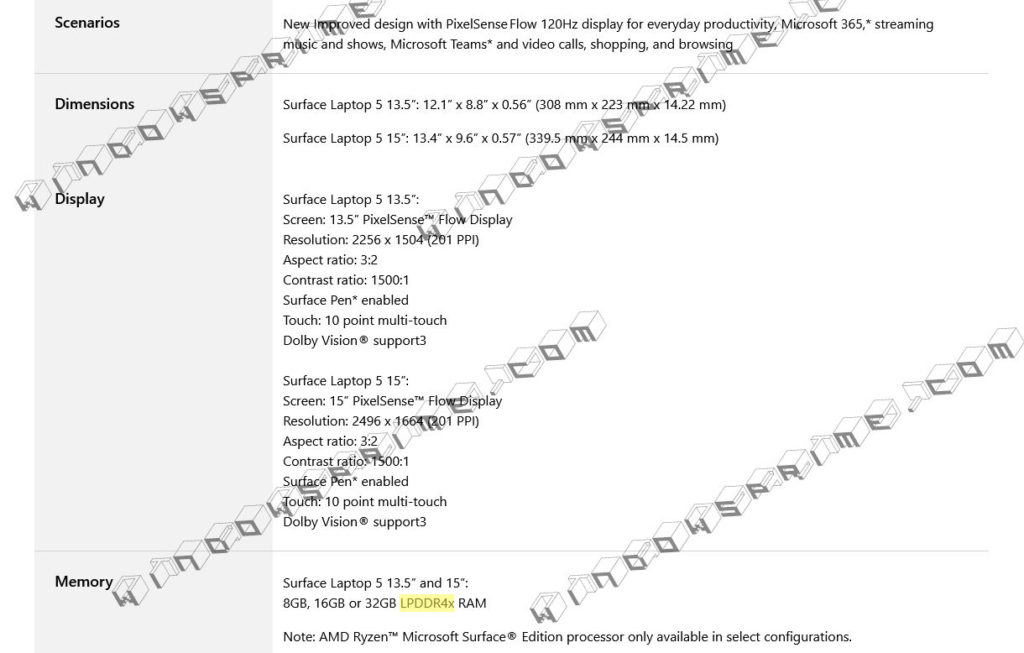 The more affordable variants will sport up to AMD Ryzen 5 6680U processor with 6 cores and 12 threads, on the other hand, for the Intel variant you could either see a Core i5-1240P or Core i7-1280P Alder Lake CPUs. The Surface Laptop 5 will finally get upgraded with Thunderbolt 4 because previously it would sport USB Type-C that supported power delivery.
Instead, the most surprising fact from the specs leaked so far shows that AMD Ryzen 7 6980U supports LPDDR4X memory which is a bit strange as the other FP7 socket doesn't support DDR4 memory. So, this might be a custom-designed chip with support for DDR4 memory, with more leaks and news we can get a better picture as we head towards launch.
via Videocardz
Read More: