At last Ajay Devgn's debut series Rudra: The Edge of Darkness got its official release date. Now there are just only a few times left from appearing of the actor in the Disney +Hotstar series. We have previously seen Abhishek Bachchan, Saif Ali Khan, Raveena Tandon, Sushmita Sen, and more appear on the digital debut. Now it is the time of Ajay Devgn while the actor himself is so much hex cited about the show. The makers currently revealed the new poster with the official release date. It is the second trailer of the upcoming Disney+Hotstar Specials series.
Rudra: The Edge of Darkness: Plot
The second trailer reveals Ajay Devgn to play the role of a DCP Rudra Veer Singh who used to solve the most cases for SCU. It is a special crime unit. In the past, before he comes to confront such new problems, his marriage start to fall apart as his wife is seeing someone else. Rudra mainly chasing over a villain who has a particular dislike for the police In such a great challenge, he has been confronted by the mysterious Aliyah who also becomes wondered about how Rudra catches such criminals who have not to sip up.
This show is basically a race against the psyche of highly intelligent criminals and also about the detective who set to hunt them. Each of the episodes features such of the latest threat as even like the overarching series is that also has been continued to reveal the grave personal cost at which DCP Rudra Veer Singh pursuing the criminals and killers unlike the friendship that he makes with Aliyah a brilliant sociopath. In this darkness, Rudra still believes there is still love to exist in this world between good and evil.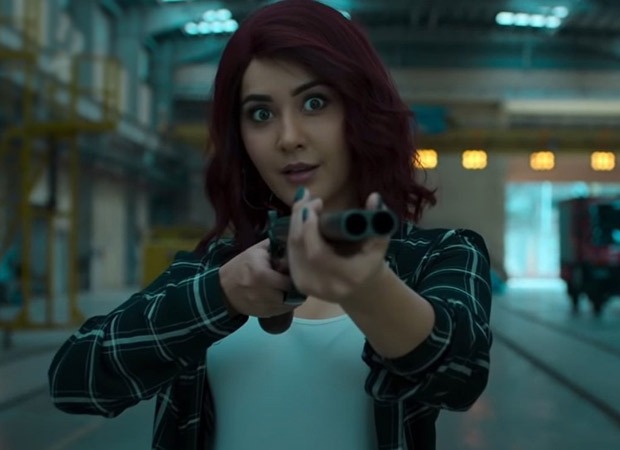 It seems that some of what has been sounded eerily that is because this series is an official remake of the British crime drama series Luther and it was featuring Idris Elba ad continued for five seasons on BBC One and set to get such film to follow up In France, Russia, and South Korea. Its ems that the trailer is not quite promising as Devgn has been spouting with such generic dialogues and is unable to show Elba's grittiness. This show is going to be Ajay Devgn's other action drama series.
After sharing the poster Disney + Hotstar wrote, " Crime Is officially out of time".
Rudra: The Edge of Darkness: Cast
This film is featuring Ajay Devgn as DCP Rudra Veer Singh, Khanna as Aliyah, and Eesha Deol as Mrs. Singh. This series also features Atul Kulkerni as a Colleague of Ajay Devgn, Ashwini Kallesekar, Ashish Vidyarthi, Milind Gunaji, and Luke Kenny. This series has been directed by Rajesh Mapuskar. The writer is Jay Sheela Bansal. It is mainly production of Applause Entertainment and BBC Studios India with BBC India's Sameer Nair and Applause content such as chief Deepak Segal
Devgn said in a statement, " My character in Rudra: The Edge of Darkness is possibly the greyest character you may have ever witnessed before," he continues, " This has been both challenging and inspiring for me, and I am elated to share the magic of Rudra with my fans along with the world. I hope they fall in love with the show as intensely as we have worked towards the making of it."
Mapuskar also added, " Rudra spins a darker and grimmer tale to the usual cop and crime drama. The psyche of criminal minds is explored unusually with a hero who is quite dark himself, all through his pursuit of the truth. It was absorbing and enthralling to make and I hope it fees like that in the viewing."
Rudra: The Edge of Darkness: Release Date
It seems that Rudra: The Edge of Darkness will hit on 4th March 2022 on Disney + Hotstar in India and also on Hulu in the US.
Here is the trailer
A big thanks for source1 & source 2.
Read: "Ginny and Georgia (Season 2)": All the Latest Updates and Release Date