Looking for a new smartwatch? Hunting for the best deals in the market? Look no further as Amazon's Great Republic Day Sale is here and that brings a ton of deals on the latest smartwatches. On top of these deals, you have an instant 10% instant discount on SBI credit cards to make these deals even sweeter.
Here are all the great deals on Smartwatches to explore on the Great Republic Day Sale that begins from tonight for Amazon Prime customers:
Noise ColorFit Pulse
Deal Price: ₹1,999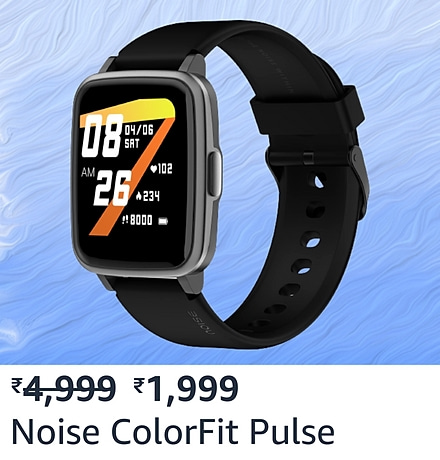 [10-day battery]: With a battery backup of 10 days, just concentrate on your game without stopping.
[Noise Health Suite]: Automatically monitor your blood oxygen (Spo2 levels), real-time heart rate, and provide comprehensive analysis of your sleep quality (deep sleep,light sleep and wake up time) on this smart watch.
[Personalise your look]: Choose from 60+ cloud-based watch faces or customise them as per your preference.
[1.4'' Full Touch HD display]: Get the perfect viewing experience on the 1.4'' display with 240*240 pixels.
8 sports modes: Choose from 8 sports modes and give it your best.
Buy from here: https://amzn.to/3qv6n1T
Fire-Boltt Ninja 2
Deal Price: ₹1,899
【SPO2/ Oxygen, Heart Rate Monitoring】 – Fire-Boltt Ninja 2 Smatwatch comes with real time 24*7 SPO2 / Blood Oxygen tracking, Track your heart rate on the go with best in class technology. Get faster, accurate results
【Track each sport | 30 Workout Module】 – Sweat that fat out with each sports mode tracked and monitor. Enjoy your favourite sport and let the machine do the tracking
【IP68 Rating Water Resistant】- Fire-Boltt Ninja 2 comes with an IP68 Rating allowing you to enjoy mild rains with the watch! Sweat and Water Resistance at its Best!
【HD Large Screen Full Touch 】- Fire-Boltt Ninja 2 smartwatch is a 1.3 inches Color screen full touch display, with 240*240 pixel HD clarity, the material, design and craftsmanship are all exquisite. Full capacitive touch, supporting taps and swipes.
【Upto 7 Day Battery Life】 – Powerful battery to concentrate on the game without stopping. 【Set Up Alarms】- Set alarms and never be late for that meeting.
【Music & Camera Control】- Fire-Boltt Ninja 2 now lets the user remote control all the mobile function on the wrist!
Excellent Menu Control】- With a Honeycomb menu, the user can land to any activity with just one swipe and one tap
Buy from here: https://amzn.to/3tvlHxa
Fire-Boltt Ring
Deal Price: ₹3,999
【Bluetooth Calling Watch】- Fire-Boltt Ring enables you to make and receive calls directly from your watch via the built-in speaker and microphone. This smartwatch features a dial pad, option to access recent calls & sync your phone's contacts.
【How to activate Bluetooth Calling】- To enable Bluetooth Calling Function, first connect it to the compatible app. Once connected, manually go to the phone's Bluetooth settings and pair this smartwatch (Bluetooth Name: BSW005). Upon pairing, you will get a notification: Connected for calls and audio.
【SPo2 & Heart Rate Tracking】 – The Smartwatch tracks your real time Blood Oxygen Spo2 and has 24*7 Heart Rate Tracking. It also has Sleep and Fitness Tracking.
【1.7 inch HD Full Touch】 – Industry Best Display of 1.7 Inches Size 【Full Metal Body with Changeable Strap】 – Sleek & Fashionable Metal Body The one-click control mode and honey comb menu helps you quickly navigate
【 Battery Life】- The watch can work for 24 Hours with Bluetooth Calling ( Normal Usage )*, 8 Days without Bluetooth Calling
【Music Experience On The Go】 – Equipped with an inbuilt speaker, this smartwatch lets you play your favourite tracks on the Watch without having to take out your phone.
【Multiple Watch Faces & Smart Controls】 – The Smartwatch has multiple Watch Faces. It has Smart controls like Weather Forecast, Alarm, Remote Control Camera. Get a 1-year assured warranty from FIRE-BOLTT
Buy from here: https://amzn.to/3qv5l63
Amazfit GTR 2e
Deal Price: ₹7,499
[Alexa Built-in]: To set alarms, check the weather, control your smart home devices, ask questions and more, just raise your wrist and tell Alexa what you need.
[Offline voice control]: The Amazfit GTR 2e smart watch now has an offline voice control feature, enabling you to perform voice operations on your watch without internet access.
[A Work of Art on Your Wrist]: Amazfit GTR 2e has a large 1.39-inch AMOLED HD screen which means information on your wrist is easy to read.
[50+ Watch Faces]: Our watch face store provides 50+ styles, along with 40+ matching Always-on Displays, you can even upload your own pictures as the watch face background.
[90 Built-in Sports Modes]: Activate +90 sports modes and GTR 2e will produce a detailed workout report to help you improve your exercise plan.
[50 Meters Waterproof]: GTR 2e is also water resistant to up-to 50 metres in depth which means you can wear it worry-free while you swim.
[PAI health assessment]: Amazfit GTR 2e includes the PAI health assessment system to convert complex health and activity data into a single score, to help you understand your physical state.
[Lightweight & Extended Battery Life]: Slim body, high-capacity battery, the GTR 2e sports watch features an extended battery life which covers you for up-to 24 days.
[Endless Features] Amazfit GTR 2e is packed with advance features including customizable alerts, rotatable and lockable screen, Do-Not-Disturb modes,
Buy from here: https://amzn.to/34Vk1TF
OnePlus Watch
Deal Price: ₹13,999
Classic Edition – Stylish Design & Comfortable watch band: 46mm hand-polished round watch case with 2.5D curved glass & Fluroelastomer band which is comfortable to wear.
Seamless Connection: Bluetooth 5.0, hand-free calls, message notification, music control, find your phone, remote camera etc. Display:1.39 inch AMOLED, 454×454
Warp charging: Good battery life combines with Warp Charge, gives you a day's power in 5 mins, or a week's power in 20 mins. Watch Case material – 316L stainless steel
Smartphone-free Music: 4GB standalone storage to hold up to 500 songs & Compatible with OnePlus TWS/TWSZ and other Bluetooth earbuds
Workout Partner : 110+ workout types, 5ATM + IP 68 water and dust resistance, automatic workout detections for jogging, running & swimming posture recognition
Health Monitoring: Manage all your health data on one App with Blood Oxygen saturation monitoring, step & heart rate tracker, sleep & stress Tracker , sedentary reminder etc.
Seamlessly connected with OnePlus TV : As a remote controller to turn up/down the volume and turn on/turn off the TV, automatically turn down the volume when receiving phone calls , automatically turns off TV after watch detects you are falling sleep after 30 mins
Up to 14 days for typical use. (The typical usage scenarios are decided based on the user habits. The specific battery life depends on the user habits and usage frequency.) 5 days with sleep blood oxygen monitoring 25 hours with continuous exercise with GP
Buy from here: https://amzn.to/320jtKX