This year, AMD will release two new desktop processors for the consumer market. To begin, AMD will deliver the first chip using its brand new 3D V-Cache cache stacking technology, which will be followed by a brand new CPU family based on the Zen 4 core architecture and built on the next-generation AM5 platform.
AMD Ryzen 5000X3D Desktop CPUs: 3D V-Cache, Zen 3 Architecture, AM4 Platform For Spring 2022
The AMD Ryzen 7 5800X3D, an 8 core and 16 thread CPU based on the Zen 3 core architecture, will be released in Spring 2022, marking the first Ryzen upgrade. The CPU will have a single 3D V-Cache stack with 64 MB of L3 cache, which will sit on top of the TSVs seen on existing Zen 3 CCDs.
The cache will be added to the existing 32 MB of L3 cache, giving each CCD a total of 96 MB. On the top Ryzen SKU, the initial outing will have one 3D V-Cache stack per chiplet, for a total of 192 MB cache.
However, AMD claims that the V-Cache stack can support up to 8-hi, implying that a single Zen 3 CCD could theoretically support up to 512 MB of L3 cache in addition to the 32 MB cache (though this is reserved for the future generation of Zen CPUs).
The Zen 3 CCD and V-Cache have been thinned out to match the Z-height of modern Zen 3 processors, rather than having different heights between the cores and the IOD. The V-Cache does not affect the core's heat output and has low power up ticks because it sits on top of the CCD L3 cache.
The AMD Ryzen 7 5800X3D will have 8 cores and 16 threads, according to the specifications. It will have a 3.4 GHz base clock and a 4.5 GHz peak clock, which is slightly lower than the 4.7 GHz of the Non-3D Ryzen 7 5800X.
Within the vertical stacks, the CPU will have 32 MB of L3 cache on the die and 64 MB of cache off-die. The CPU will keep its 105W TDP and is expected to be the only Ryzen 3D V-Cache chip for the AM4 platform when it launches in Spring 2022.
AMD Ryzen 'Zen 3D' Desktop CPU Expected Features:
Minor optimization on TSMC's 7nm process node
Up to 64 MB of Stacked cache per CCD (96 MB L3 per CCD)
Up To 15% Average performance improvement in gaming
Compatible With AM4 Platforms and existing motherboards
Same TDP as existing consumer Ryzen CPUs
AMD promises a 15% performance boost in gaming over their current portfolio, and the new CPU's compatibility with the existing AM4 platform means that consumers with earlier chips may update without having to replace their entire platform.
AMD Ryzen 7000 Desktop CPUs: Zen 4 Core Architecture, AM5 Platform For 2H 2022
The success of AMD's Vermeer-X is a matter of timing, as the chip will be released just a few quarters before AMD's next major upgrade to the Ryzen platform, which is a substantial one. Raphael is the next generation of Ryzen Desktop CPUs, incorporating the Zen 4 core architecture, which is backed by an all-new AM5 platform and uses the brand new 5nm process technology.
AMD even showcased a working prototype of its Ryzen 7000 series Zen 4 CPU running at 5 GHz across all cores in Halo Infinite.
AMD Ryzen 7000 'Zen 4' Desktop CPU Expected Features:
Brand New Zen 4 CPU Cores (IPC / Architectural Improvements)
Brand New TSMC 5nm process node with 6nm IOD
Support on AM5 Platform With LGA1718 Socket
Dual-Channel DDR5 Memory Support
28 PCIe Gen 5.0 Lanes (CPU Exclusive)
105-120W TDPs (Upper Bound Range ~170W)
Raphael will be the codename for the next-generation Zen 4 based Ryzen Desktop CPUs, which will replace the Vermeer dubbed Zen 3 based Ryzen 5000 Desktop CPUs. Raphael CPUs will be based on the 5nm Zen 4 core architecture and will feature 6nm I/O dies in a chiplet design, according to the information we currently have.
AMD has hinted that the core counts of its next-generation standard desktop CPUs would be increased, so we may expect a small increase from the present maximum of 16 cores and 32 threads.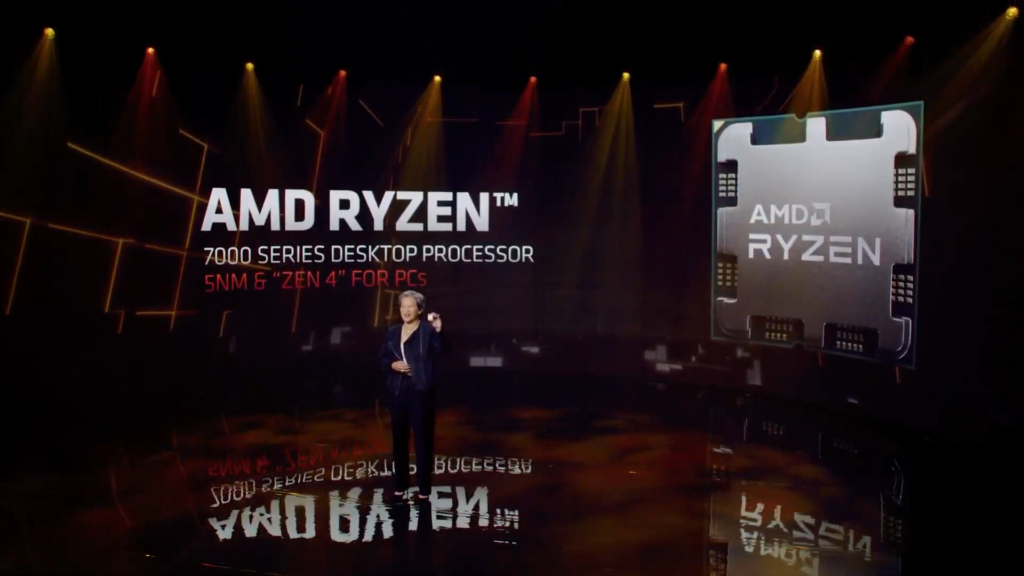 The Zen 4 design is expected to give up to a 25% increase in IPC over the Zen 3 architecture and clock speeds of roughly 5 GHz. Stack chiplets will be present in AMD's future Ryzen 3D V-Cache processors based on the Zen 3 architecture, and that design is expected to be carried over to AMD's Zen 4 line of chips as well.
The AMD AM5 CPU platform will have six different TDP segments, beginning with the flagship 170W CPU class, which is suggested for liquid coolers (280mm or higher). It appears that this chip will be aggressively clocked, with higher voltages and support for CPU overclocking.
This is followed by 120W TDP CPUs, which should be cooled with a high-performance air cooler. The 45-105W variations are categorized as SR1/SR2a/SR4 thermal segments, which indicates they'll only need conventional heatsink solutions while running in stock mode, so they won't need much additional to stay cool.
The AMD Ryzen Raphael Desktop CPUs will have a perfect square design (45x45mm) but will have a pretty chunky integrated heat spreader or IHS, as seen in the photos. It's unclear why it's so dense, but it could be to spread the thermal load across numerous chiplets or for some other reason. The sides are identical to the IHS found on Intel's Core-X HEDT processors.
In terms of the platform, AM5 motherboards will use the LGA1718 socket, which is expected to survive a long time. DDR5-5200 memory, 28 PCIe lanes, extra NVMe 4.0 and USB 3.2 I/O, and native USB 4.0 capability may be included in the platform.
The X670 flagship and the B650 mainstream will be the first two 600-series chipsets for AM5. The X670 chipset motherboards are likely to support both PCIe Gen 5 and DDR5 memory, although ITX boards are expected to only use B650 chipsets due to the increased size.
The Raphael Ryzen Desktop CPUs are also likely to include RDNA 2 onboard graphics, implying that, like Intel's mainstream desktop range, AMD's mainstream desktop lineup will offer GPU graphics.
The number of GPU cores on the upcoming chips is expected to range between 2-4, according to speculations (128-256 cores). This will be less than the RDNA 2 CU count found on AMD's next Ryzen 6000 APUs 'Rembrandt,' but it will be enough to keep Intel's Iris Xe iGPUs at bay.
The Raphael Ryzen CPUs based on Zen 4 isn't anticipated until late 2022, so there's still plenty of time. The processors will compete with Intel's Raptor Lake 13th Generation Desktop CPUs.