If you have the need for speed, the lightning-fast 240Hz refresh rate of the new Lenovo Legion Y25-30 Monitor could be your ticket to the big leagues. Bringing 99 percent sRGB color gamut with Delta E<2 color accuracy, its mid-size 24.5-inch Full HD In-Plane Switching (IPS) panel helps players keep their concentration as they catch every detail on a gaming monitor certified by VESA DisplayHDR 400 for a more vivid viewing experience.
While competitive gamers benefit the most from this monitor's smart variable refresh rate (VRR) technology capable of delivering a more professional experience, its high color performance plus integrated 2 x 3W speakers means it also works great for graphic design, video editing, browsing or multitasking, as well as for enjoying entertainment and streaming content in high-definition. Built to help deliver more wins and a smoother gaming experience free of screen tearing or stuttering, the monitor comes equipped with AMD FreeSync Premium to enhance gameplay further, and to capture big moments when streaming, the Legion Y25-30 supports our high-quality modular camera. Eliminate streaking and ghosting with a 0.5ms moving picture response time (MPRT) and 1ms extreme response time for even more accuracy.
Lenovo announces new Gaming Monitors at CES 2022
The powerfully sleek design of this ergonomic stand features textured detailing on the back and a pop of color inside the cable management cutout giving it a vibe that's distinctly cool and unmistakably Lenovo Legion. To help protect gamers from dry eye after long battle sessions, Lenovo's gaming monitors have built-in natural low blue light technology to provide a superior viewing experience without eye strain or color distortion – the Legion Y25-30, as well as the new entry-level Lenovo G27qe-20 and Lenovo G24qe-20, are all certified by Eyesafe.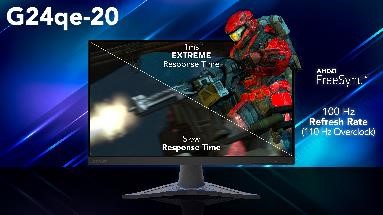 Designed for casual gamers of all walks of life, the Lenovo G-series monitors deliver uncompromised gaming monitor performance with a 1m MPRT response time for social players and young professionals alike while balancing their at-home learning, working, (and when there's spare time) gaming needs too.
When it comes to playing games or watching action movies, it is hard to beat an up to 100Hz refresh rate for the price with up to 110Hz overclock refresh rate on both monitors to help eliminate streaking and ghosting. Simply tilt to adjust the monitor to a more comfortable position, and to adjust your control display attributes or customize color settings for specific games – enjoy Lenovo Artery's simple graphical interface for a better user experience.
Pricing and Availability
The Lenovo Legion Y25-30 Gaming Monitor is expected to be available starting May 2022 and will start at $339.99.
The Lenovo G27qe-20 monitor is expected to be available starting March 2022 and will start at $299.99.
The Lenovo G24qe-20 monitor is expected to be available starting March 2022 and will start at $259.99.
Read: Here's everything you need to know about the Lenovo Legion 5 and Lenovo Legion 5i