At last, the trailer of Code Name Abdul has been released. The actress Tanisha Mukherji has once again started her acting career after the 2003 famous films Sssshhh.. and also was very active at the time of  2000s. Some of us also don't know one of her identities as she is the sister of the famous Bollywood actress Kajol Devgan. After the 2010 film, Tum Milo Toh Sahi, we have not seen Tanisha much on the big screen, but she was very active on the small screens.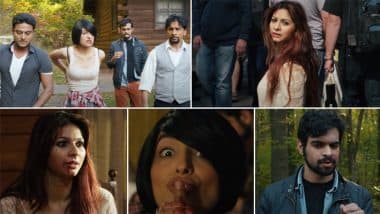 Now the actress has once again made a come back to the Hindi movie that is a spy thriller film Code Name Abdul, it has been written and also helmed by Eshwar Gunturu. It is like CAN that is a spy thriller film category. It revolves around the story of the mission of moving the terrorists from the U.S. to India.
Code Name Abdul: Story
Code name Abdul reveals mainly the mission of the four agents of the Research & Analysis Wings, who have summoned for return back to the notorious terrorist Tariq from the United States of America to India, everything was fine, then the twist has come as after the arrival of his sister-in-law, Salma, who has to bring the twist in this film.
You have to watch the film to know the ultimate result like the four will be able to complete their mission successfully. The mysterious girl Salma who is actually the relative of the criminal and how she knows the maximum master plan.
Code Name Abdul: Cast
The film is featuring Tanisha Mukherji in the lead role, besides Akku Kulhari as CAN, Ashok Chaudhary as a debutante, Khatera Hakimi, Sumend Wankhede, Anshuman Sharma, Anil Sachdeva, Bharat Tiwari & Aman Singh Mukar. The producer is the Hemangi Shah.
Code Name Abdul: Release Date
The actress has taken her Instagram account and has been released on the date of the move. The new poster has been written of CAN in which, " A Simple Mission Until They Met Her". This film will hit on 10t December 2021.
Here is the trailer:
A big thanks for the source.
Read: If you like spy thriller then you can check it.