Statistics on the Q3 of 2021 says Amazfit ranked third globally for smartwatch shipment. This data is published by Counterpoint Research as a part of the Global Smartwatch Model Tracker.
During the third quarter, Amazfit shipped around 9.9 million units around the globe, and it's an 89% super healthy growth compared to Q3 2020. In the first quarter of this year, the brand came fourth for the first time based on the same point, global smartwatch shipment, according to data from market research company International Data Corporation.
According to Amazfit, the main boost it got from the new additions to the portfolio, which are GTR 2e and GTS 2e, during the CES 2021. Along with that, the Amazfit T-Rex Pro also contributed a lot, which was launched in March.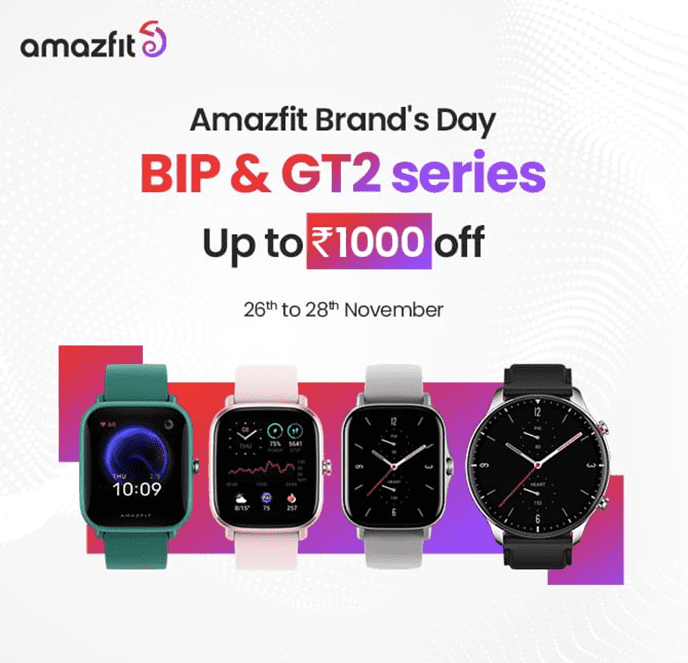 To celebrate the achievement and also for successfully retaining the same, Amazfit has announced an exclusive Brand Day Sale from 26th November to 28th November via Amazon and Amazfit's official website.
All the Amazfit Brand Day Sale offer prices along with the buy links are given below –
| | | | |
| --- | --- | --- | --- |
| Model | BAU Price (Rs) | BF Price (Rs, Nov 26-28) | Buy Link |
| Bip U | 3,999 | 2,999 | https://amzn.to/3HTdTdz |
| Bip U Pro | 4,999 | 4,499 | https://amzn.to/3FObgba |
| GTS 2 Mini | 6,999 | 6,499 | https://amzn.to/3xvG91a |
| GTS 2e | 9,999 | 8,999 | https://amzn.to/3cSLWEc |
| GTR 2e | 9,999 | 8,999 | https://amzn.to/3CYZ3yE |
| GTS 2 | 12,999 | 11,999 | https://amzn.to/3rhGFOW |
| GTR 2 | 12,999 | 11,999 | https://amzn.to/3DSJ06L |