The Red team will laucnh ultra-affordable RDNA2 based GPUs in the coming days as the entry-level GPU has been left unexplored by both AMD and NVIDIA for quite some time. Now, the well-known Japanese leaker @KOMACHI_ENSAKA has claimed that the leaker has already discovered these unannounced entery-level AMD GPU options.
There could be two options in cards by AMD including the Radeon RX 6500XT and RX 6400 SKUs sporting 4GB of GDDR6 memory. This is the first step down in memory from the minimum 8GB GDDR6 memory we have seen in the RX 6600 series GPUs.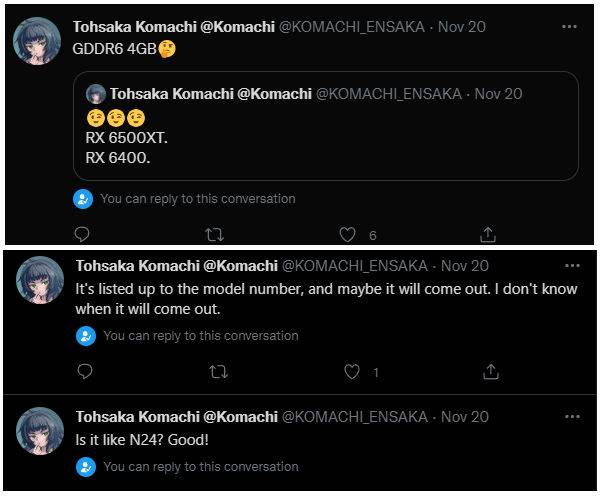 It will feature the first Navi 24 GPU that is rumored to feature 16 Compute Units along with a total of 1024 Stream Processors, just 50% cores we see in Navi 23. While for desktops you won't find these entry-level GPUs very pleasing, however, low-end gaming laptops will definitely make sense.
While we do not know the exact configurations of the RX 6500XT and RX 6400 GPUs, however, you could expect the former GPU to have the full fledged Navi 24 GPU while the other being a simple cut-down variant. These GPUs do exist and that has been confirmed because Navi 24 already appeared in Linux patches with a codename of "Beige Goby".
So, essentially, AMD is planning for some big releases soon and the nearest big event to announced them is CES 2022 and there we could see Navi 24 GPU getting launched alongside its new Ryzen 6000 series processors for laptops. If you are an entry-level gamer then do wait before buying as even NVIDIA is rumoured to announced RTX 3050 series GPUs in January to expand its portfolio.