Demir's best chance of earning a second wind is with the arrival of Xavi. Much Puig's fresh start works in his favor, allowing him to catch up to the competition. His versatility and ingenuity are sure to appeal to the boss, ensuring a slew of cameos and even starts for the teenager to establish his value.
Yusuf Demir will undoubtedly be grabbing at straws to earn a multi-year contract due to his lack of long-term commitment to the club. Xavi's mid-season appointment is a once-in-a-lifetime opportunity. There is, after all, a ray of hope at the end of the tunnel.
Barcelona's Rehabilitation
The restructuring in question is far more than tactical. Barcelona is currently undergoing a comprehensive, methodical refurbishment to aid its recovery. The arrival of the 41-year-old is sure to have a tactical and mental influence on the garnet and blue.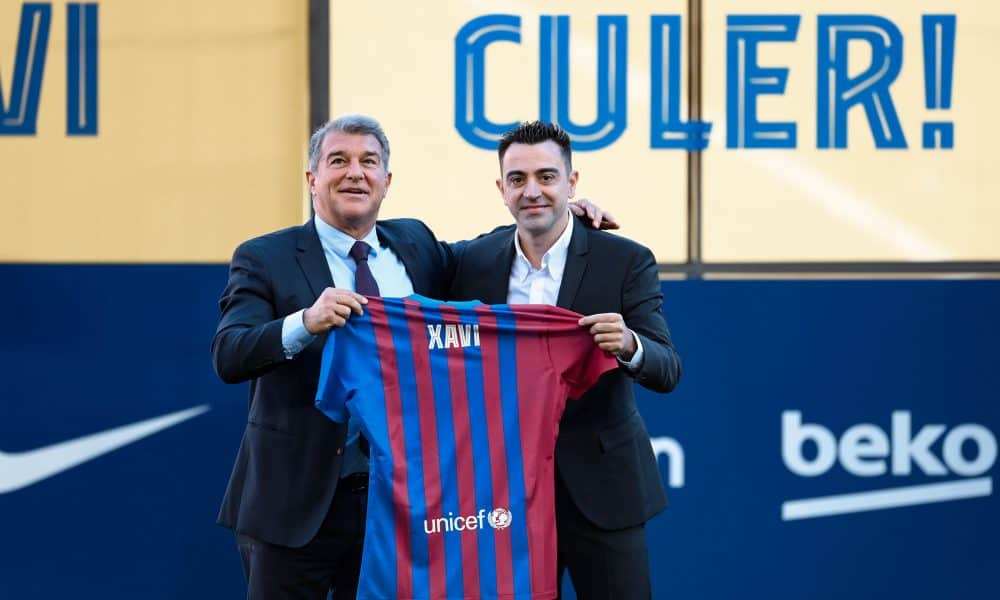 The key priorities are unquestionably improving group performance and optimizing the team's approach. Xavi will undoubtedly be up to the task, with new ideas and a more well-defined worldview than his predecessors. The Catalan's competence is undeniable on all fronts, and he is firm in his opinions and captivating in his presentation.
A collective-oriented strategy, on the other hand, usually entails a boost in individual efficiency. As a result of the introduction of a new concept and system, some players are expected to come out of their shells.
Players who will be benefited the most
Ousmane Dembele
Ousmane Dembele's contentious name has surely come to mind up to this point. Xavi has demonstrated a liking for players of his stature and has regularly expressed his respect for the 24-year-old. The arrival of Dembele, a former midfield leader, might be his saving grace.
For players with his price tag, the ability to accomplish complex tasks on the field is a must. Dembele, on the other hand, has shown that he is incapable of performing even the most basic of tasks. Is Xavi capable of nurturing his tactical, physical, and mental growth? The only way to find out is to wait and watch, but he has a good chance. It's either do or die for the 24-year-old.
Frenkie de Jong
Finally, the chances of the flying Dutchman having a breakout season are favorable. Frenkie de Jong has had a rough time in Catalunya so far, with none of his coaching tutors able to tap into his almost boundless potential.
The capacity of the former Ajax man to live up to expectations has always been a point of dispute. However, Xavi's arrival may be the spark for him to mature. Because of De Jong's importance and high talent, bringing out the best in him is equivalent to improving team performance. The 24-year-old is a master of all trades, excelling in all aspects of the sport. Xavi should not construct a team around De Jong and hopefully will not do so. The team will develop around him if the ideal conditions are met.
Xavi is the only one who is capable of solving the problem. As a natural pacesetter, he understands how much weight Frenkie de Jong's meticulous accommodation would carry. Everything suggests that now is the time for the number 21 to shine. A player of his ability is capable of quantum jumps, and Frenkie de Jong appears to be on the verge of fully extending his wings.
Riqui Puig
Riqui Puig's peculiar condition has caused much consternation among the club's supporters. Riqui Puig's strange case has often created controversy among the club's supporters. Formerly a castaway, now with a genuine opportunity at contending for a starting XI berth, Riqui Puig's bizarre case has caused an uproar among the club's followers.
The 22-year-old has been on the bench for the past two years, with Ronald Koeman giving no support. Everyone, on the other hand, will have to gain the manager's faith from the start, putting him on par with his midfield opponents.
To be honest, Puig did not make life easy for himself this season. In comparison to de Jong and Pedri, he never provided enough balance, as though he was always in a rush to complete each motion.
That's logical, considering the restricted amount of options: it's only natural for the 22-year-old to attempt to squeeze every last second out of each minute. These strenuous attempts to persuade Ronald Koeman, on the other hand, only hurt his chances.
Here's where Xavi's appointment could come in handy. Previous performances will be immaterial, according to the 41-year-old. This implies that everyone will have the opportunity to begin at the same moment.
Memphis Depay
Memphis Depay is commonly considered to have been signed solely at Ronald Koeman's insistence. While his recruitment was aided by the now-former Blaugrana coach, the 27-year-old also made a lot of strategic sense.
Depay possesses a one-of-a-kind skill set. He has flamboyant flare, but he balances it up with experience, great vision, and a devastating finish. In all offensive areas, he can play in the half-space, between the lines, or as a focal point. This means that the Dutchman should be the driving force behind his team's decisions.
Memphis Depay was largely expected to excel at Barça; it is just the circumstances that have prevented him from doing so. If the correct management is in place, he will unavoidably progress in lockstep with the rest of the team. It'll only be a matter of time before the lion roars.
Yusuf Demir
The young Austrian's Barcelona career has gotten off to an unforgivably terrible start. As he sits at the bottom of the bench, Demir's future is already in jeopardy. Lady Luck may have finally sided with the kid with the arrival of Xavi. At initially, Ronald Koeman exhibited genuine trust in the 18-year-old newcomer, and he deserved it. Yusuf Demir is a talented footballer who excels at his position.
The arrival of Xavi represents Demir's best chance of gaining a second wind. Much to Puig's advantage, his new start allows him to catch up to the competition. His adaptability and creativity are certain to impress the boss, resulting in a series of appearances and even starts for the adolescent to prove his worth.
Due to his lack of long-term commitment to the club, Yusuf Demir will be grasping at straws to secure a multi-year deal. The mid-season appointment of Xavi is a once-in-a-lifetime chance. After all, there is a glimmer of hope at the end of the tunnel.
Players who will be benefited the least
Philippe Coutinho
Coutinho's Barcelona career has been awful, to put it mildly. The €135 million that went down the drain with his signing has wreaked havoc on the club, while the Brazilian has done little to justify even a quarter of that sum.
The widespread consensus is that the 29-year-old is living on borrowed time, regardless of who is in control. The signing of Coutinho was undeniably a strategic blunder. That does not, however, absolve the gamer of all responsibility. If his salary and price tag were the only factors preventing him from leaving, it's hard to see Coutinho staying at the Camp Nou for much longer under Xavi.
The new manager appears to be planning to bring in even more players to the first squad. Many rookies will inevitably obstruct Coutinho's position on the team. If his current form is to be believed, knocking him off his perch will not be difficult.
Luuk de Jong
Luuk de Jong and FC Barcelona aren't exactly a match made in heaven. Signing a player with such a narrow profile, even on loan, was unimaginable in any case.
Ronald Koeman, on the other hand, found something interesting in his game, which is why he signed in the first place. Regrettably, the Dutch manager may be the only one who values his contribution to the team.
When the side was on the back foot, the Dutchman was usually employed as a last resort to avoid relying on his non-existent contribution on the ball. Even when it came to scoring goals, the Luuk loanee struggled under duress.
Everything, predictably, points to the 31-year-departure. old's His time in Blaugrana colors was only supposed to be temporary in any case, but the potential of an immediate exit cannot be ruled out. The clock is ticking; Luuk de Jong's days are running out.
Gerard Pique
Every year, the same debate takes place: when will Gerard Pique be replaced, and by whom? And every time, the 34-year-stay old's at the club is extended. To his credit, the vice-captain has maintained a remarkable quality to keep his starting position. However, it appears that the time has come to turn the page.
Pique's spot has already been pushed on a hair-trigger this season by the younger and more proactive Eric Garcia, and he isn't the only one banging on his door. Barcelona has a plethora of young, talented center-backs who could be ready to step up when the time comes. Given the vice-injury captain's problems, it appears only a matter of time until he is replaced.
In terms of Xavi, there is no doubt that he will be ready to replace Pique in the starting lineup if necessary. He understands the necessity of setting the groundwork for a brighter future. Whether the person affected likes it or not, making room for the next generation is a necessary part of the process.
Marc-Andre ter Stegen
It may seem far-fetched, but there is every reason to believe that the German's worth to the squad will continue to dwindle. Meritocracy has long been a forgotten value at Barça since several players have had their roles established. This has impeded the team's success by putting unneeded self-restrictions in place.
He's no longer a consistent presence between the sticks, and the quantity of his gravity-defying displays has plummeted. Inaki Pena and Arnau Tenas, two of La Masia's most talented goalkeepers in recent decades, have yet to make their senior debuts, and this is unlikely to happen anytime soon unless ter Stegen's role is reconsidered.
Xavi's evaluation will be based only on merit, which means there will be plenty of competition. For the Germans, it's now or never.
Ronald Araujo
Xavi's appointment, controversial as it may be, could be Ronald Araujo's undoing — at least temporarily. That, however, is due to managerial preference rather than quality. Even if the fans dislike it, profile and suitability take precedence over quality.
Xavi has displayed a proclivity for proactivity, which is shared by all practitioners of positional play. This quality is only found in the repertory of a few players, but it is extremely valuable.
It's what allows teams to avoid danger and predict strikes from their opponents. Because pressing limits build up alternatives and close down space, it is also fuelled by proactive thinking.
Surprisingly, the main strength of Ronald Araujo's opponents appears to be proactivity. La Masia has historically bred aggressive defensive players, whereas the 22-year-old grew up in the polar opposite footballing environment. While he could yet grow in that area, the Uruguayan is also expected to spend some time in and out of the team.
Without a doubt, this is merely a theoretical appraisal. The coach has the authority to assess his players' improvement and deservingness of a chance.
One thing is certain: upon his arrival, Xavi is going to mess up the pecking order for several reasons. Those on the verge of leaving may be able to come back, while others will surely lose value. An amazing internal role change is going underway.
Read: Xavi Simons planning PSG exit in June 2022