With the first half of the financial year 2021-2022 coming to an end in September, India witnessed a 234% year-on-year growth in Electric car sales, with the Tata Nexon EV being the best-selling model in this segment.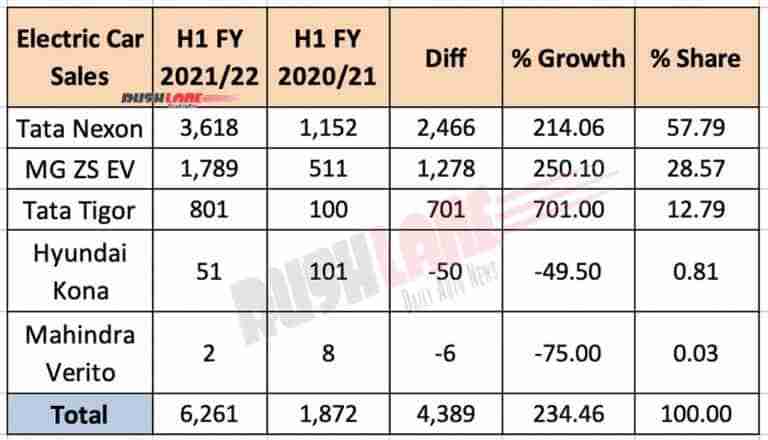 The EV industry in India has changed a lot in the last year alone. Sales of electric vehicles in the country are on the rise. Although the industry is still in the budding stage, the interest in purchasing EVs has significantly increased.
With that being said, let us take a look at the sales performance of EVs in India for H1 of FY 2022.
A total of 6,261 units were sold during this period, up 234% over the 1,872 units sold from April-September 2020. This was a difference of 4,389 units. Leaders in this segment include automakers such as Tata Motors (Nexon and Tigor EV), MG Motors (ZS EV), Hyundai (Kona), and Mahindra (Verito).
Tata Motors, the Indian automobile giant, remains dominant with their Nexon (SUV) and Tigor (Sedan) models, making up for 70% of total private EV sales in H1 of FY21-22.
Both the Nexon and Tigor models enjoyed growth in sales by 214% and 701%, respectively, in comparison to H1 of last year.
The Tata Nexon topped the charts with a total of 3618 units being sold, single-handedly making up for almost 58% of India's total private EV sales for H1 of FY2021-22. Tata Motors also revealed the plan to launch ten more electric cars in India over the next five years.
Rs.7,500 crores or $1 billion has been raised for this venture, and out of these ten EVs being planned, at least seven cars will be launched over the next four years.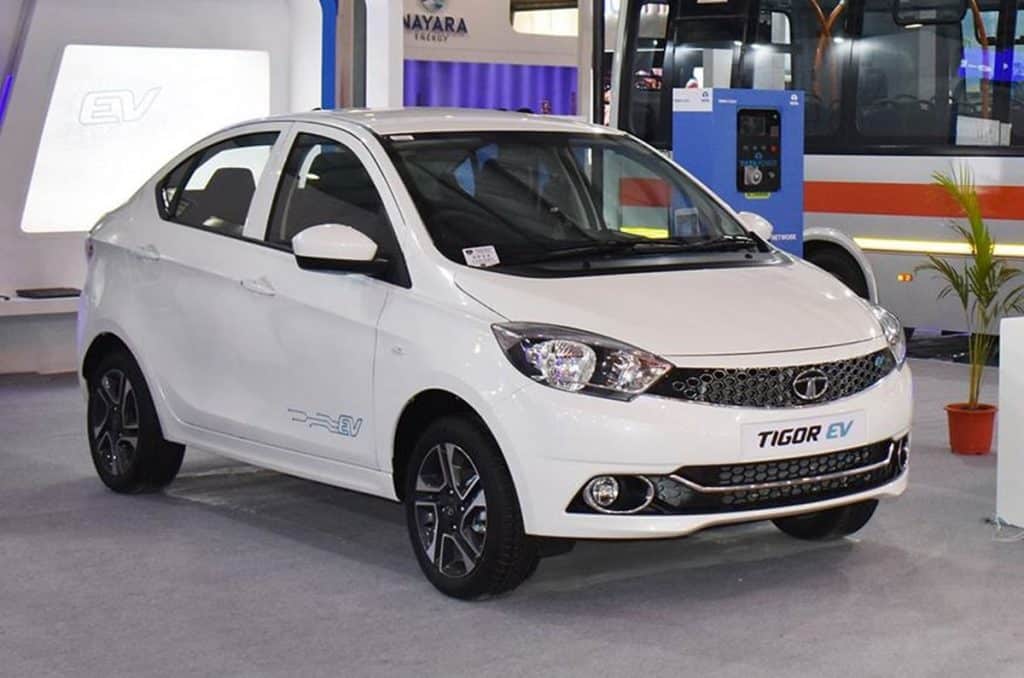 MG ZS EV was at No.2 with 1,789 units sold in the April-September 2021 period, an increase of 250% or 1,278 units over just 511 units sold during the same period last year.
At third place was the Tata Tigor EV with sales of 801 units in April-September 2021, up 701% from 100 units sold in the April-September 2020 period. This jump in sales can be accredited to the updates the vehicle received in the battery and other departments earlier this year.
Hyundai Kona came in 4th, the sales of this particular EV have dipped 50% from 101 units sold in April-September 2020 to 51 units in the same period of this year. At the last position of private EVs was the Mahindra Verito with just two units sold in the April to September 2021 period, down from 8 units sold in the same period of 2020, relating to a 75% regrowth.
With the EV charging stations reaching 500 (427 operational) across the country, government subsidies on EV purchase, and the ever-rising fuel prices, India might soon emerge as a leading EV market.
Also read: