It does come not as a surprise that the recently launched OPPO Reno6 5G is termed the battery champion by DXOMARK. Personally, I did buy this smartphone and reviewed it; having used it every day as my primary Android phone, I know how well-poised this OPPO smartphone is.
However, OPPO did share with us that officially, the OPPO Reno6 5G was awarded a total score of 96, making it the highest-scoring smartphone among 40 phones tested to date. Also, if you do not know, the OPPO Reno6 5G uses its 65W fast charging, and you can charge this smartphone from 20-100% in around 20 minutes. Essentially, if you charge it once for half an hour in the day, you are good to use it for an entire day!
As you know, DXOMARK is an independent French technology company and the international leader in the quality assessment of smartphone cameras, display, audio and battery, and other consumer electronics, such as cameras and speakers, to help consumers to choose the best-performing products.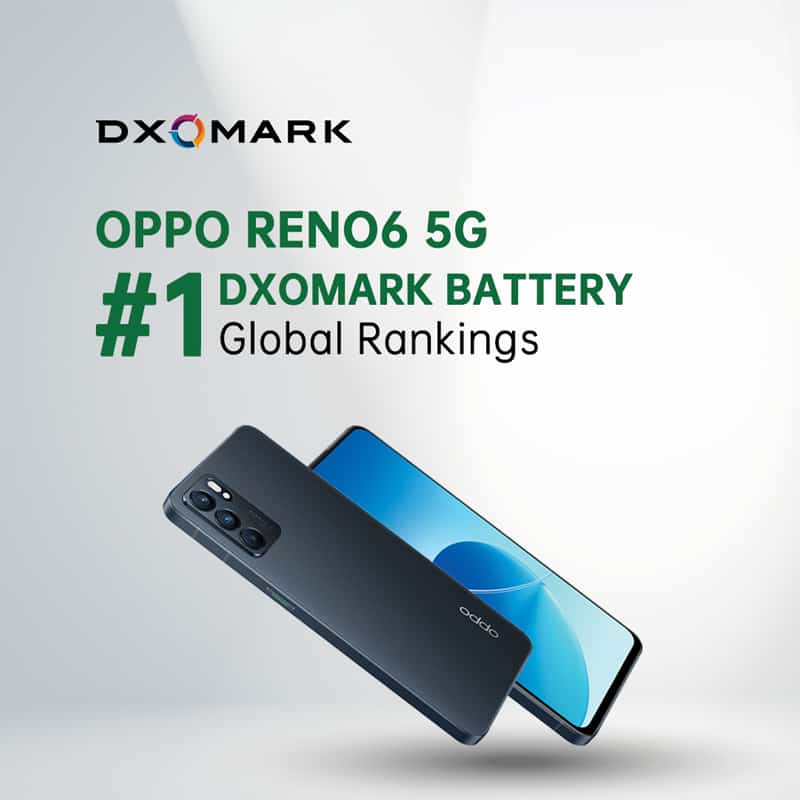 For its rigorous battery test, DXOMARK measures battery performance in three factors – charging, autonomy, and efficiency – through over 150 hours of testing and 70 measurements. The OPPO Reno6 5G's efficient Dimensity 900 chipset plays a key part in consuming less power and ColorOS on top of it to increase battery life with optimization.
Read more: EXCLUSIVE: ColorOS 12 will be available on the OPPO Find X2 series and Reno6 series in India
"OPPO Reno6 5G turned in a stellar battery performance, taking top marks in certain categories and coming in first globally among all devices," cited DXOMARK in its review. "The device is very well-balanced and well-designed and provides a good comprehensive experience."
Of the three factors tested, OPPO Reno6 5G came first in both charging and efficiency tests, securing the global top spot in DXOMARK's global database for overall battery performance. Equipped with 65W SuperVOOC 2.0 fast-charge technology, Reno6 5G can be charged to an indicated 100% in 29 minutes and an actual full charge in 35 minutes, resulting in its score of 109 in the charging performance category.
DXOMARK's test also shows that the device can gain over 10 hours of autonomy with just a 5-minute charge when the battery level is under 50% capacity, providing quick-boost autonomy ahead of any other smartphone. OPPO Reno6 5G has the best charge-up performance in its category, earning it a first-place score of 101 for overall efficiency across the entire Battery protocol database to date.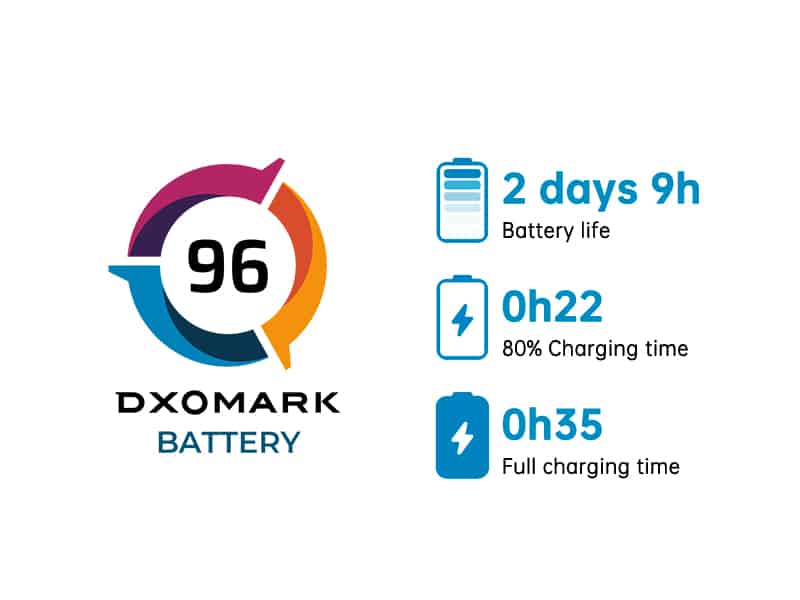 OPPO Reno6 5G was Awarded a Total Score of 96 with a Stellar Battery Performance
The DXOMARK test also shows OPPO Reno6 5G performs well in battery autonomy and that the phone would deliver 57 hours of autonomy with moderate use. OPPO Reno6 5G outshines the category average battery performance when using social apps, gaming, streaming music, and streaming video (both cellular and Wi-Fi), highlighting its strong performance under typical day-to-day usage.
The OPPO Reno series has proven to be a hit with smartphone users worldwide. Released in 2021 as the AI Portrait Expert, Reno6 5G is the latest edition in the series. It offers outstanding all-around performance on top of a suite of cutting-edge portrait imaging features, the iconic Reno Glow design, and rapid 5G connectivity.
Alongside the Reno6 5G's leading battery performance, OPPO's proprietary 65W SuperVOOC 2.0 fast-charge technology also provides a superior charging experience for users. Since the introduction of VOOC Flash Charge in 2014, OPPO has released over 30 devices that support the technology, bringing this fast, convenient, and safe charging technology to more than 195 million people worldwide.
Buy from here: https://amzn.to/3Ft2mjb, if you are an OPPO Reno6 5G user, do share your battery life experience in the comments down below…😁