Zlatan Ibrahimović has played alongside some of the best players in modern football, including Lionel Messi, Ronaldinho, and Andres Iniesta.
That's what happens when you play for one of the world's most prestigious clubs. In his career, the Swede has played for Juventus, Inter Milan, Barcelona, AC Milan, PSG, and Manchester United. And after so many years – Ibrahimović is now 40 years old – he's amassed an amazing roster of former teammates.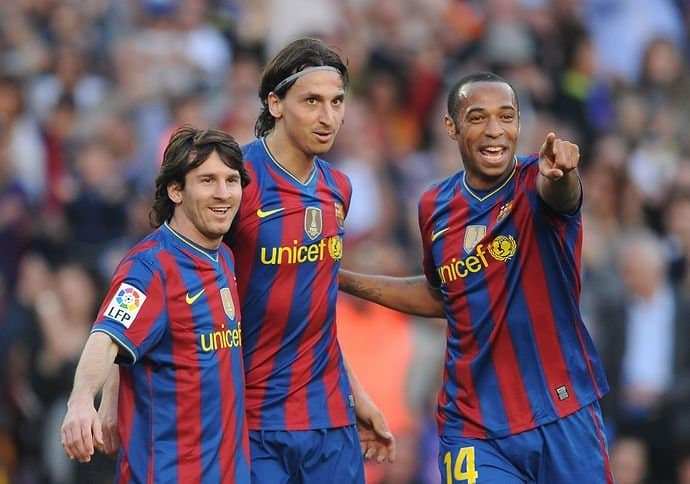 Ibrahimovic named his 'Dream Team'
It doesn't matter if it's Cristiano Ronaldo or Zinedine Zidane. Of course, Messi made it, but Iniesta, Fabio Cannavaro, and Clarence Seedorf were forced to sit on the bench as substitutes.
Zlatan's dream XI: Gianluigi Buffon(GK), Lilian Thuram(RB), Thiago Silva(CB), Alessandro Nesta(CB), Maxwell(LB), Xavi(CDM), Patrick Vieira(CM), Pavel Nedved(CM),
Lionel Messi(RW), Zlatan Ibrahimović(ST), Ronaldinho(LW).
Substitutes: Julio Cesar, Andres Iniesta, Fabio Cannavaro, Gennaro Gattuso, Clarence Seedorf.
An Incredible Team
Consider how many awards they've won over the course of their careers. It's no surprise that Zlatan chose himself in the front row. This is a player who believes he is still the best in the world, even at the conclusion of his career.
"If you're talking about intrinsic qualities, I have nothing less than them," Ibrahimović told France Football in September, per Goal, 'them' being Messi and Ronaldo.
"Deep down, I think I'm the best in the world. I don't think it's relevant to compare players with each other."
Ibrahimović has won league titles in the Netherlands, Italy, Spain, and France because of his positive approach. The charming Swede, though, has yet to win the Ballon d'Or – not that he cares.
"[Do] I miss the Ballon d'Or? No, it's Ballon d'Or who misses me!" he added.