At the recently held Supercomputing 2021 event, intel gave a brief session where the chip discussed its next-generation data centre roadmap and also talked about its upcoming Ponte Vecchio GPUs & the Sapphire Rapids-SP Xeon CPUs.
The company has already revealed much of the technical details regarding its next-gen data centre CPU & GPU lineup at Hot Chips 33 and at SC21, Intel re-iterated what it has already said and also revealed a few more tidbits at SuperComputing 21.
The current generation of Intel Xeon Scalable processors has been extensively adopted by our HPC ecosystem partners, and we are adding new capabilities with Sapphire Rapids – our next-generation Xeon Scalable processor that is currently sampling with customers. This next-generation platform delivers multi-capabilities for the HPC ecosystem, bringing for the first time in-package high bandwidth memory with HBM2e that leverages the Sapphire Rapids multi-tile architecture. Sapphire Rapids also brings enhanced performance, new accelerators, PCIe Gen 5, and other exciting capabilities optimized for AI, data analytics, and HPC workloads.
HPC workloads are evolving rapidly. They are becoming more diverse and specialized, requiring a mix of heterogeneous architectures. While the x86 architecture continues to be the workhorse for scalar workloads, if we are to deliver orders-of-magnitude performance gains and move beyond the exascale era, we must critically look at how HPC workloads are run within the vector, matrix, and spatial architectures, and we must ensure these architectures seamlessly work together. Intel has adopted an "entire workload" strategy, where workload-specific accelerators and graphics processing units (GPU) can seamlessly work with central processing units (CPU) from both hardware and software perspectives.
We are deploying this strategy with our next-generation Intel Xeon Scalable processors and Intel Xe HPC GPUs (code-named "Ponte Vecchio") that will power the 2 exaflop Aurora supercomputer at Argonne National Laboratory. Ponte Vecchio has the highest compute density per socket and per node, packing 47 tiles with our advanced packaging technologies: EMIB and Foveros. There are over 100 HPC applications running on Ponte Vecchio. We are also working with partners and customers including – ATOS, Dell, HPE, Lenovo, Inspur, Quanta, and Supermicro – to deploy Ponte Vecchio in their latest supercomputers.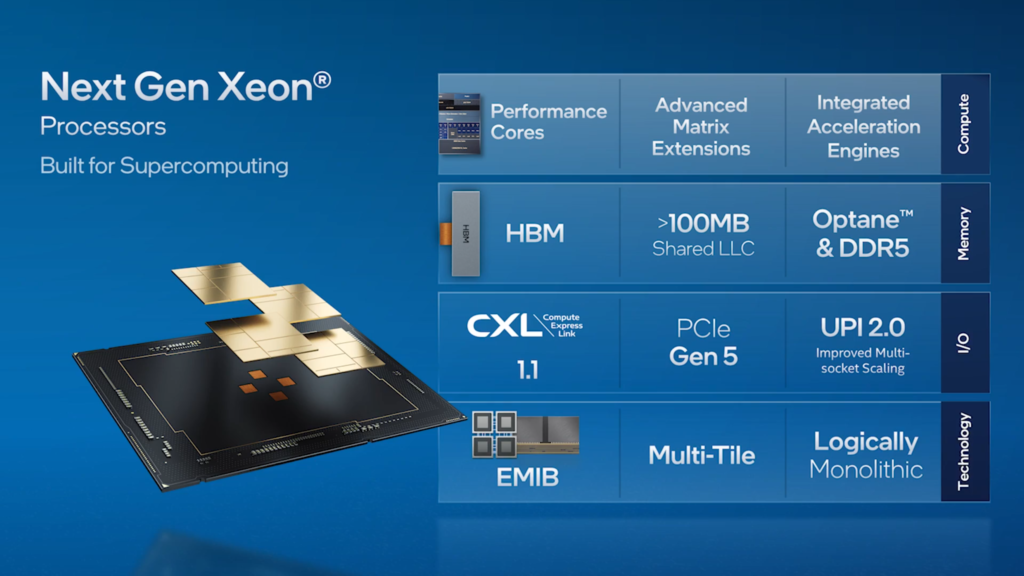 First coming to the Sapphire Rapids-SP and the processors will be coming in two package variants, a standard, and an HBM configuration. Firstly the standard variant will be featuring a chipset design that is composed of four CXC dies featuring a die size of around 400mm2.
The four HBM2E memory packages will feature 8-Hi stacks so Intel is going for at least 16 GB of HBM2E memory per stack for a total of 64 GB across the Sapphire Rapids-SP package.
Intel Sapphire Rapids-SP Xeon (Standard Package) – 4446mm2
Intel Sapphire Rapids-SP Xeon (HBM2E Package) – 5700mm2
AMD EPYC Genoa (12 CCD Package) – 5428mm2
Intel Xeon SP Families:
Family Branding
Skylake-SP
Cascade Lake-SP/AP
Cooper Lake-SP
Ice Lake-SP
Sapphire Rapids
Emerald Rapids
Granite Rapids
Diamond Rapids
Process Node
14nm+
14nm++
14nm++
10nm+
Intel 7
Intel 7
Intel 4
Intel 3?
Platform Name
Intel Purley
Intel Purley
Intel Cedar Island
Intel Whitley
Intel Eagle Stream
Intel Eagle Stream
Intel Mountain Stream
Intel Birch Stream
Intel Mountain Stream
Intel Birch Stream
MCP (Multi-Chip Package) SKUs
No
Yes
No
No
Yes
TBD
TBD (Possibly Yes)
TBD (Possibly Yes)
Socket
LGA 3647
LGA 3647
LGA 4189
LGA 4189
LGA 4677
LGA 4677
LGA 4677
TBD
Max Core Count
Up To 28
Up To 28
Up To 28
Up To 40
Up To 56
Up To 64?
Up To 120?
TBD
Max Thread Count
Up To 56
Up To 56
Up To 56
Up To 80
Up To 112
Up To 128?
Up To 240?
TBD
Max L3 Cache
38.5 MB L3
38.5 MB L3
38.5 MB L3
60 MB L3
105 MB L3
120 MB L3?
TBD
TBD
Memory Support
DDR4-2666 6-Channel
DDR4-2933 6-Channel
Up To 6-Channel DDR4-3200
Up To 8-Channel DDR4-3200
Up To 8-Channel DDR5-4800
Up To 8-Channel DDR5-5600?
TBD
TBD
PCIe Gen Support
PCIe 3.0 (48 Lanes)
PCIe 3.0 (48 Lanes)
PCIe 3.0 (48 Lanes)
PCIe 4.0 (64 Lanes)
PCIe 5.0 (80 lanes)
PCIe 5.0
PCIe 6.0?
PCIe 6.0?
TDP Range
140W-205W
165W-205W
150W-250W
105-270W
Up To 350W
Up To 350W
TBD
TBD
3D Xpoint Optane DIMM
N/A
Apache Pass
Barlow Pass
Barlow Pass
Crow Pass
Crow Pass?
Donahue Pass?
Donahue Pass?
Competition
AMD EPYC Naples 14nm
AMD EPYC Rome 7nm
AMD EPYC Rome 7nm
AMD EPYC Milan 7nm+
AMD EPYC Genoa ~5nm
AMD Next-Gen EPYC (Post Genoa)
AMD Next-Gen EPYC (Post Genoa)
AMD Next-Gen EPYC (Post Genoa)
Launch
2017
2018
2020
2021
2022
2023?
2024?
2025?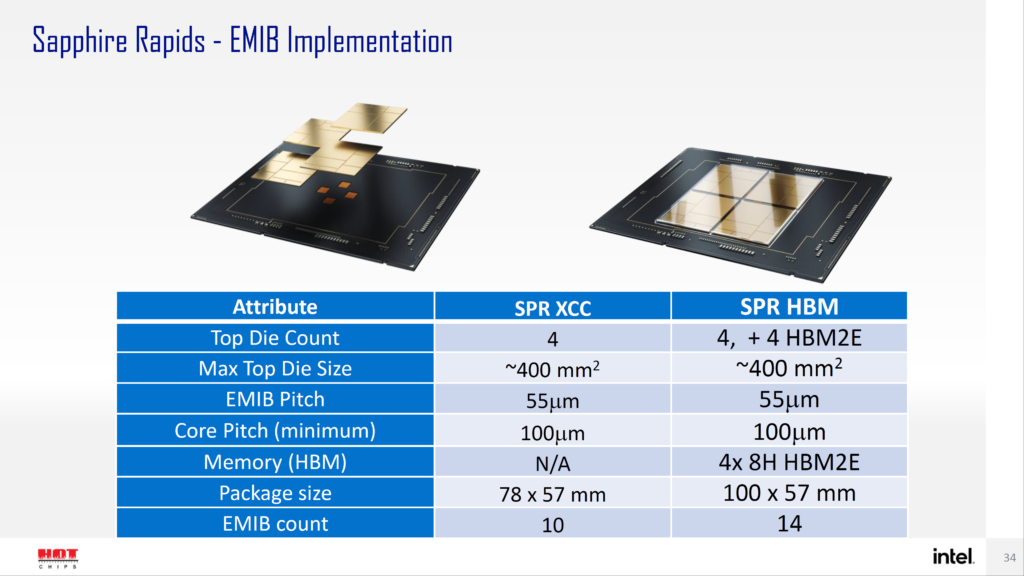 Secondly, we have the Ponte Vecchio, and the chip maker outlined some key features of its flagship data centre GPU such as 128 Xe cores, 128 RT units, HBM2e memory, and a total of 8 Xe-HPC GPUs which all will be connected.
This chip will be featuring up to 408 MB of L2 cache in two separate stacks that will connect via the EMIB interconnect. This flagship from intel will also be featuring multiple dies based on Intel's own 'Intel 7' process and TSMC's N7 / N5 process nodes.
Intel also has several next-generation solutions for advanced packaging designs such as Forveros Omni and Forveros Direct as they enter the Angstrom Era of transistor development.
Next-Gen Data Center GPU Accelerators
GPU Name
AMD Instinct MI200
NVIDIA Hopper GH100
Intel Xe HPC
Flagship Product
AMD Instinct MI250X
NVIDIA H100
Intel Ponte Vecchio
Packaging Design
MCM (Infinity Fabric)
MCM (NVLINK)
MCM (EMIB + Forveros)
GPU Architecture
Aldebaran (CDNA 2)
Hopper GH100
Xe-HPC
GPU Process Node
6nm
5nm?
7nm (Intel 4)
GPU Cores
14,080
18,432?
32,768?
GPU Clock Speed
1700 MHz
TBA
TBA
L2 / L3 Cache
2 x 8 MB
TBA
2 x 204 MB
FP16 Compute
383 TOPs
TBA
TBA
FP32 Compute
95.7 TFLOPs
TBA
~45 TFLOPs (A0 Silicon)
FP64 Compute
47.9 TFLOPs
TBA
TBA
Memory Capacity
128 GB HBM2E
128 GB HBM2E?
TBA
Memory Clock
3.2 Gbps
TBA
TBA
Memory Bus
8192-bit
8192-bit?
8192-bit
Memory Bandwidth
3.2 TB/s
~2.5 TB/s?
5 TB/s
Form Factor
Dual Slot, Full Length / OAM
Dual Slot, Full Length / OAM
OAM
Cooling
Passive Cooling
Liquid Cooling
Passive Cooling
Liquid Cooling
Passive Cooling
Liquid Cooling
TDP
Q4 2021
2H 2022
2022-2023?