The 2nd Intel Alder Lake-P Core i7-12800H computer CPU has leaked out inside the Geekbench five database and its overall performance appears the first-rate in single-threaded tests.
The leaks are courtesy of Gigabyte who has been leaking their upcoming AORUS and AERO line of laptops for some time now. The brand new access is from an AORUS 15 YE4 laptop which goes to be a high-end component and functions the Intel Core i7-12800H Alder Lake-P CPU alongside sixteen GB of DIMM gadget memory.
According to sources, Intel Core i7-12800H features the same core configuration as the previously leaked Core i7-12700H and the processor also packs 14 cores and 20 threads, which is 6 Golden Cove cores & 8 Gracemont cores that are clocked at 2.80 GHz base frequency making it 100 MHz faster than the 12700H and 100 MHz slower than the Core i9-12900H.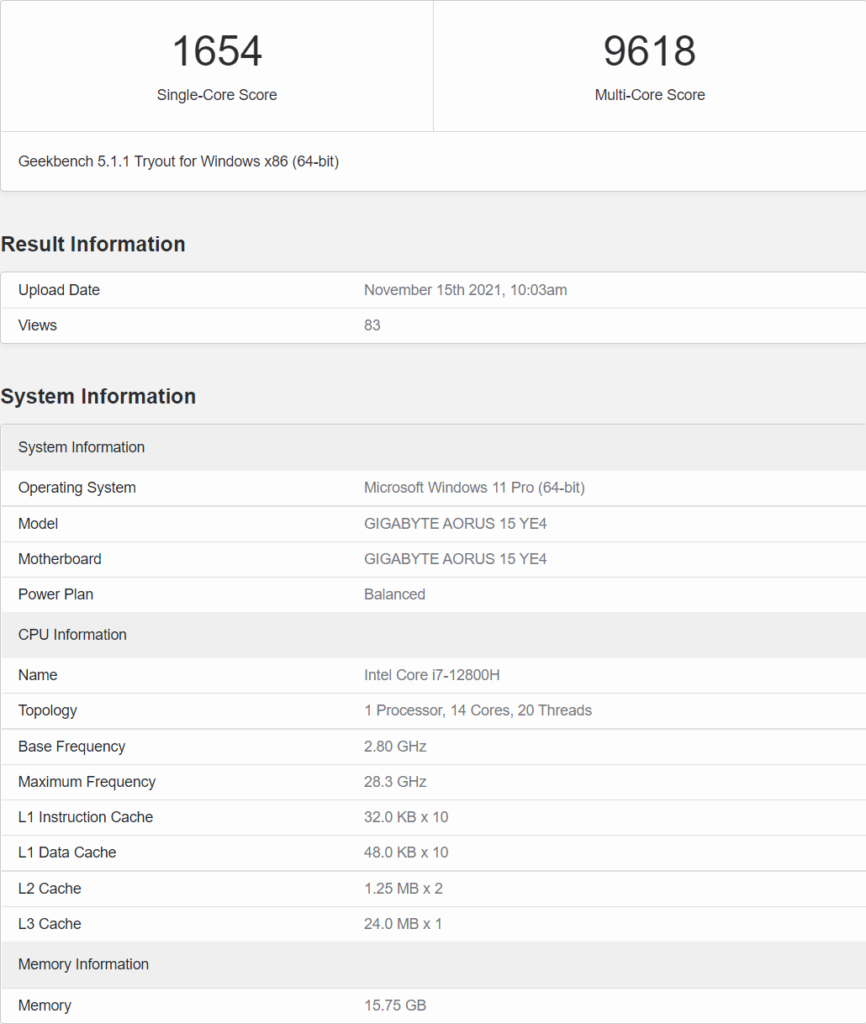 Coming to the leaked performance numbers, Intel's Core i7-12800H Alder Lake CPU scored 1654 points in the single-core and 9618 points in the multi-core test. Firstly in the single-threaded tests, the Core i7-12800H is up to 25% faster than the AMD Ryzen 7 5800H and also 17% faster than the AMD Ryzen 9 5900H.
However, in terms of multi-threaded tasks, this CPU from Intel is faster than both AMD Ryzen 5000H chips, but, this isn't its final performance as the chip scores fewer MT points than the Core i7-12700H.
This must be because of the chip being an early ES chip that was tested by Gigabyte that always has some trouble with its all-core boost clocks. The Core i7-12700H had similar issues in the single-core tests where it scored lower in the ST test but was a lot faster in the MT test.
Alder Lake is Intel's answer to its rival, AMD's processors based on Zen3 architecture, and Intel's 2nd generations new hybrid design has put the company on par or even better than AMD's Zen 3 lineup, especially in the mainstream segment where Alder Lake is beating the shit out of AMD Ryzen 5000 CPUs by up to 20-30% gains.
The same is to be expected from Intel's Alder Lake-P mobility platform and the flagship Core i9-12900HK is predicted to become the fastest laptop chip that you will be able to get your hands on for quite some time.