The Intel Core i9-12900KF chip comes without an integrated GPU, and the new SKU is now topping both the PassMark CPU Mark chart for desktop CPUs and the UserBenchmark chart for the average bench.
The PassMark CPU Mark benchmark had been headed by Apple Silicon for many months before Alder Lake's release, however, with the arrival of Intel's Core i9-12900K the reign of Apple's champion has finally ended.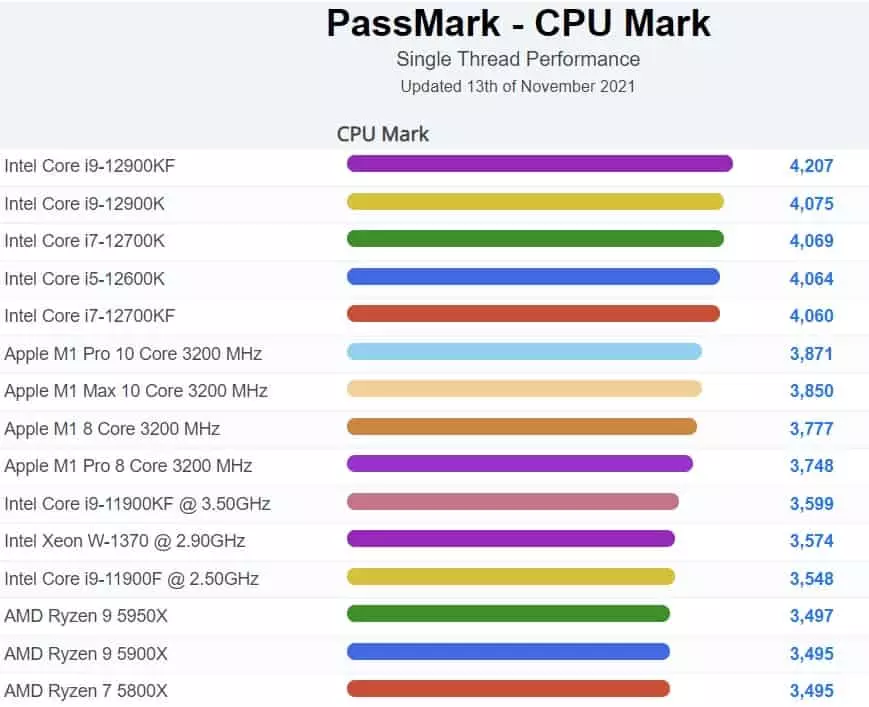 Now that Intel processors have been replaced by its "F" variant we can also see new appearances for the i7-12700K and i7-12700KF at the top end of the single-thread performance chart. UserBenchmark also stated that Alder Lake's performance paints a much better picture of the CPU's capacity, which will come as no surprise to anyone familiar with the benchmark.
However, the three "K" processors grabbed the top spots based on very few samples and in these top spots, Intel's Core i9-12900KF leads the benchmark with an average of 120%, while hundreds of i9-12900K, i7-12700K, and i5-12600K samples have been tested to make their positions fixed at the top of benchmark charts. At the top six places, they are joined by the Intel Core i7-12700KF and the Intel Core i5-12600KF.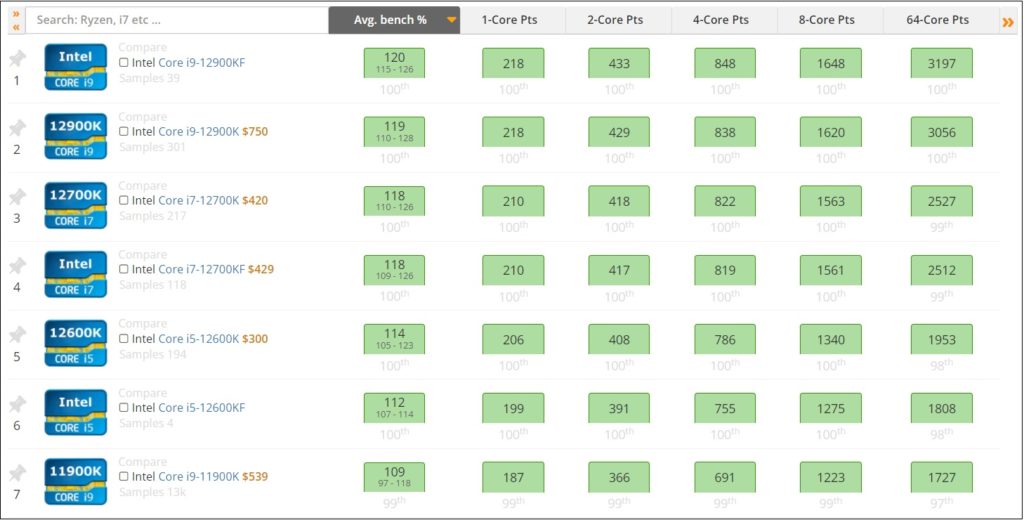 As Intel had expected the Alder Lake to be the way, Alder Lake has delivered a much greater positive response than what Intel was expecting. This new family from Intel is team blues answer to the rising threat of AMD's Zen microarchitecture.
But, we all know that UserBenchmark is notoriously Ryzen-unfriendly, and AMD'S Ryzen 9 5900X is pushed down to 16th place as the best performer on this site from AMD. PassMark has also had issues with Ryzen processors when the SKUs were practically wiped out from its charts in 2020 after the version 10 update was introduced.