Back in 2017, HUAWEI introduced MateBook E series 2-in-1 notebooks, and in 2019, HUAWEI's MateBook E 2019 model powered by Qualcomm Snapdragon 850 processor, built-in 4G LTE, was introduced. Now the company has started teasing a new MateBook E 2-in-1 notebook that will be released on November 17th.
Huawei teased the new iteration of the MateBook E convertible via its Weibo account today. This device will be unveiled during a November 17 event along with the Watch GT Runner and other products from the smart ecosystem. With all the restrictions and bans Huawei had to go through recently, the MateBook E series has not seen a refresh since 2019.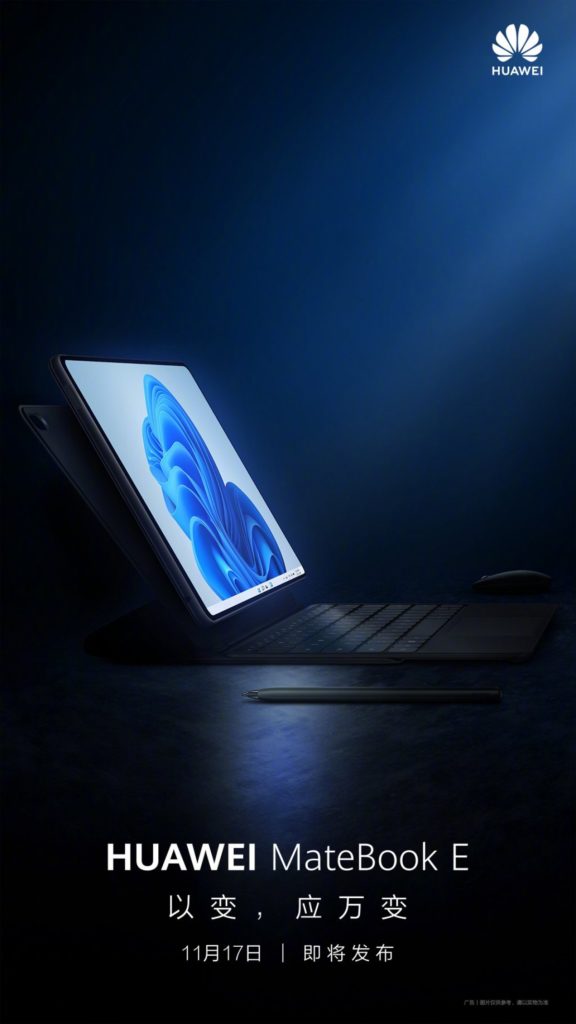 This shows the device with a screen that has rounded corners, a matching keyboard cover, mouse and stylus, and it also confirms Windows 11. It will also come with a rear camera, possibly with flash, according to the cutout in the keyboard cover.
The teaser image shows that the new version still features a detachable keyboard and also comes with a Huawei M Pencil stylus and mouse. The tablet itself appears to have narrower bezels and the screen corners are now slightly rounded, while the back side now appears to feature a fingerprint sensor.
Huawei unveiled the first generation MateBook E on Windows 10 in 2019. The hybrid device received a 12-inch LCD touchscreen with a QHD resolution and an aspect ratio of 3: 2, 4/8 GB of LPDDR4x RAM and a 128/256 GB storage drive. In addition, the MateBook E has a detachable keyboard and M-Pen stylus support. The laptop was priced at $ 599 for the base version.
Also Read: