Huawei will be holding the Smart Life Product Launch event at 7:30 (local time) on November 17th. Fresh posters released by the brand confirm that it will be announcing the Watch GT Runner through the upcoming unveiling event.
As the name goes, the Watch GT Runner is designed for professional runners. The frame has a 'Sport-Lap' text engraved on the right.
The smartwatch will provide users with data such as running power index, pace, heart rate, and distance.
It has a round-shaped dial and promises 135% better GPS antenna performance. As per Why Lab, it is the industry's first smartwatch to feature a floating antenna design.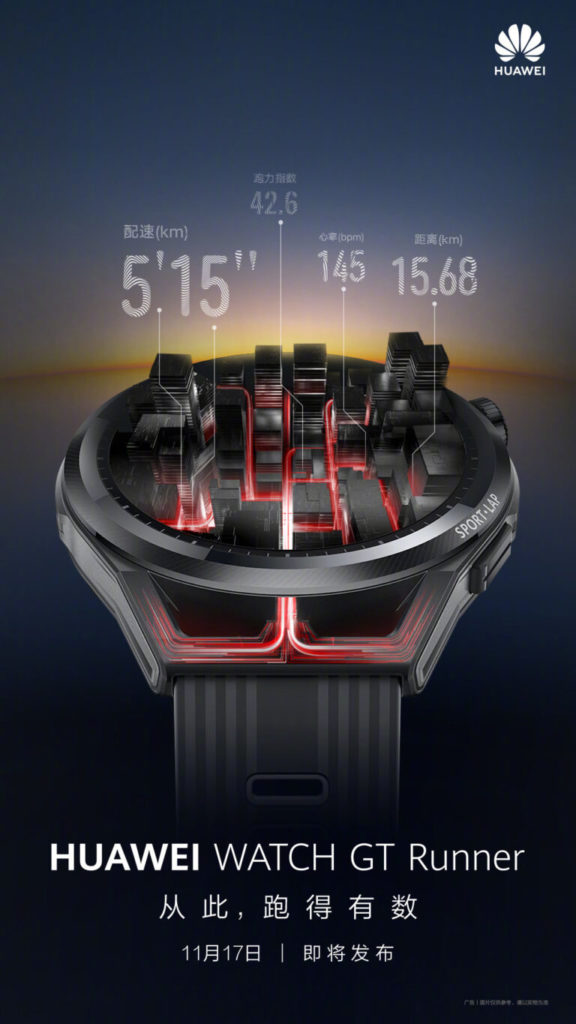 It supports dual-frequency 5-star precise positioning and offers marathon track-level precise positioning. He also mentioned that the device is equipped with the HarmonyOS System.
Apart from this, there is not much known about the Huawei Watch GT Runner, including the pricing.
The Watch GT Runner moniker was first spotted at the Bluetooth SIG certification site last month. The listing revealed support for Bluetooth 5.2. Last month, Huawei announced the Watch GT 3 in the UK.
Hence, it is likely that the company will also announce the Watch GT 3 alongside the GT Runner on November 17th in China. It was reported at the beginning of this month that Huawei's next smartwatch will be able to measure blood pressure. It is not clear whether the Watch GT Runner has a bloop pressure tracker.
Will you consider buying the Huawei Watch GT Runner?
Also read: