At last, WhatsApp started to roll out for multi-device support for both Android and also iOS. It is reported that this latest addition also will permit all the users to run WhatsApp on four linked devices without any requirement for the connection of the smartphone.
This new feature will allow the secondary devices like the computers for sending and receiving messages on WhatsApp even while the primary smartphone will associate with the account that is offline and each of the secondary devices will link with the WhatsApp account for the communication with WhatsApp deservers independently now.
It is reported that the latest WhatsApp web will be used for the connection with computing to the primary smartphones that also would then communicate with WhatsApp servers.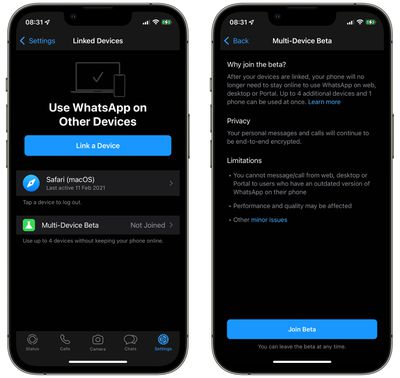 After the devices become lined up messages can be sent and also received along with the WhatsApp desktop app or web-based service and you don't need to be online to receive the messages all time, although it is recently unable to delete messages or conversations threats from the linked device.
It is just worth nothing for your smartphone for more than 14 days to link the devices and you can be disconnected. In the beat version feature, WhatsApp warns that bit can affect the performances and also the quality of its service along with the users who can also exit beta at any time.
If you are wishing to get the new feature of WhatsApp then you will have to enable multi-device support from the setting of the App. All you have to do is have to launch the WhatsApp application on your iPhone and then just select Settings > Linked Devices> Multi-Device Beta> Join Beta. After that, you can able to access multiple devices from the same WhatsApp account.
Here is the Twitter post:
A big thanks for the source.