The trailer of Aisha Ahmed and Yashaswini Dayama featuring series adulating has returned for the third season. Dice Media has dropped the trailer of the series, and it is the third instalment of the series. The story of the series follows the lives of the two bachelor girls living together in the new city and trying to grow up with their careers and relationships.
The trailer reveals Nikhat and ray's new chapters of life and their journey after living together for more than a couple of years. It starts with the fun banter between the two where the former has said that do not show your faces before 7 pm when the latter mentions ": you cannot treat someone like this on their birthday".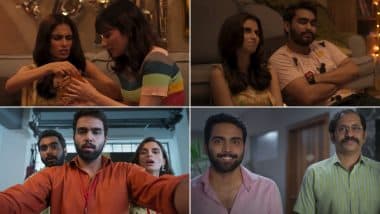 We will see Nikhat be crushing over the latest employee in the office when her friend, played by Viraj Ghelanui will help her conquer this person's heart. Another side Ray would be working hard to become the project head in her company, like crushing over a new employee in her office just like the former. The best friend duo will be seen partying and also taking a trip together as well.
This latest series will gear up for releasing simultaneously on the YouTube channel of Dice Media and also Amazon's latest vertical miniiTV. Yashwini has shared the new trailer on Instagram with a quirky caption that will read, "Sorry not sorry for being MIA. It has been very tough but so worth it, and you'll know about it better while you watch #AdultingS3".
Here is the trailer:
A big thanks for the source.