The Indian U-23 football team finished second in Group E of the AFC U-23 Asian Cup 2022 Qualifiers. Despite having done very little in terms of preparation, the Blue Colts put in some encouraging performances and ended up with some unexpected results.
Unfortunately, coming in second place in their group did not enable them to qualify for the main event. They were not one of the top four second-placed teams to advance. Despite this, the Blue Colts outperformed expectations, especially since they were playing for the first time since 2019.
Igor Stimac's team was excellent defensively while also playing some exciting attacking football. They demonstrated that the national team's future is in good hands with their performances.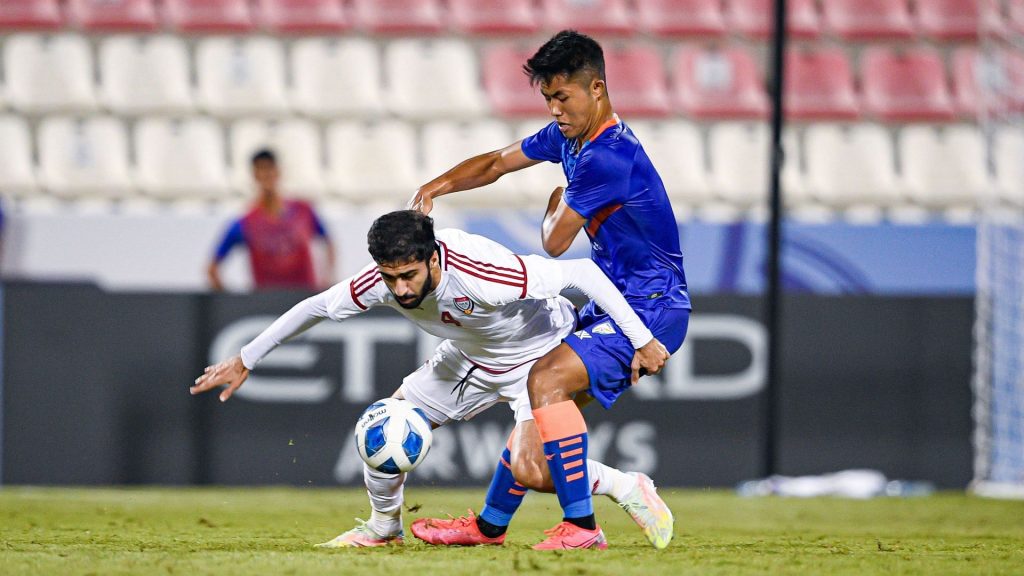 About the Matches
In their first game at the qualifiers, India U-23 faced Oman U-23 in their first competitive game since 2019. Igor Stimac's side, on the other hand, exhibited no indications of rust. They blew away Oman in the first half with some superb offensive football.
The Blue Colts' first goal came from a penalty kick by Rahim Ali. Following that, Vikram Partap Singh scored a stunning finish to give India a comfortable half-time lead. Oman equalized late in the second half, but India's strong defense helped them to a crucial victory.
Stimac's men played the strongest team in the group, UAE U-23, in their second encounter. India, to their credit, went head-to-head with the UAE's excellent team. They were able to frustrate the hosts by defending well and creating some decent chances.
However, India paid the price for being too defensive, as the UAE got a penalty late in the game, which they converted into a goal. The Blue Colts lost a hard-fought 0-1 decision. As a result, going into the last game, all of the teams in the group were tied on points and goal differences.
In their final qualifier, India faced an uncertain Kyrgyzstan U-23 team. The Blue Colts put up a spirited effort but were unable to score against their tenacious opponents. Both teams had to settle for a draw in the end.
However, after full-time, a penalty shootout was held to determine which team finished second in the group. In the shoot-out, Dheeraj Singh Moirangthem came up big, saving two penalties to help his team finish strong in the qualifiers. India finished second in the group as a result.
Best Performers of the Team
Rahim Ali
Rahim Ali led the U-23 side's attack after some strong performances with the Indian senior national team. He took on his new role with pride and showed his skills as a #9 with some impressive performances. Ali had two goals in the first half, scoring a superb penalty and also setting up Vikram Partap's goal.
In the next two qualification matches, he didn't have many chances, but he worked tirelessly whenever he was on the field. Ali also put in a strong defensive effort, aided in the coordination of brilliant assaults, and used his physicality to dominate defenders, establishing a strong case for him to head India's offensive line in the future.
Dheeraj Singh
To minimize their opponents in these qualifications, India U-23 knew they needed to be defensively superb. The defense performed an excellent job, but it was Dheeraj Singh who stole the show. In the first two games, the young goalkeeper was unlucky not to keep a clean sheet, losing one goal from open play and one penalty.
Dheeraj, on the other hand, was not about to let the qualifiers end without a clean sheet. He kept a clean sheet against Kyrgyzstan, making a series of spectacular saves to keep them at bay. In the penalty shootout, the youngster emerged as a hero, saving two penalties to secure a second-place finish for his team.
Lalengmawia
Because of his amazing composure in possession, Lalengmawia nearly acted as India U-23's "senior player" in the qualifiers. Despite not starting the first half of any of the games in which he appeared, Apuia put in some impressive performances.
He assisted India in maintaining a strong midfield line, providing solid defensive support to his backline, and moving the ball forward. Throughout the qualifications, the youthful midfielder continued to impress by controlling play in the midfield for India and outwitting numerous opponents.
Coach's Evaluation
Due to the obvious SAFF Championship, Igor Stimac didn't have much time to prepare for the AFC U-23 Asian Cup qualifiers. However, his choice to include a large number of youthful players in the SAFF Championship squad paid dividends in the end.
Stimac molded up his side to resemble the senior team's uncompromising shape. He was able to bring out the best in several young people, inspiring them to put in some outstanding performances.
The India U-23 team put in a lot of effort in every game to avoid being outclassed. They also showed some encouraging attacking play, particularly in the first half. Stimac, on the other hand, will need to improve his players' finishing skills and make his team(s) more ruthless in the final third.
Lessons to be Learned
India's U-23 team proved in the qualifiers that they can compete with some of Asia's finest. However, if the U-23 team does not play more matches regularly, there will be minimal progress. That has to be the most important lesson learned – to make sure the youthful team plays more games in the future.
Stimac must also learn to give his players more leeway and permission to play daring, attacking football. At any level, India cannot rely on its defensive stability and goalkeepers to get results.
In the qualifications, India U-23 struggled at times after changing their shape or strategy midway through games. This was most damaging in their loss to UAE, where a defensive substitute and the decision to switch to a back-five configuration enabled the hosts to win late.
Igor Stimac should learn not to change his formation too much throughout games. This frequently throws his team's momentum off and causes teammates to fear. The India U-23 team could win more games in the future if they stick to a specific style or system.