Yes, finally the time has come for India's homegrown company Reliance Jio to launch its very first affordable, 'Made in India' smartphone forming a partnership with Google. Not as a strategical move to grow subscribers, but actually helping those who still do not have access to a smartphone is a game-changing move for Jio.
Jio, which has now become a household name in India within a span of 5 years, has amassed a whopping number of 430 million users so far. Its services and a broad ecosystem of products is the key success of its growth, though, some people might think this to be a monopoly for Jio, but I say this is a much-required change that India needed.
From being a distant country to accessing the internet and data, Jio has made India become the highest data consuming country in the world. If taken on a positive note, more people are staying connected with the cheapest data rates in the world and have access to the internet.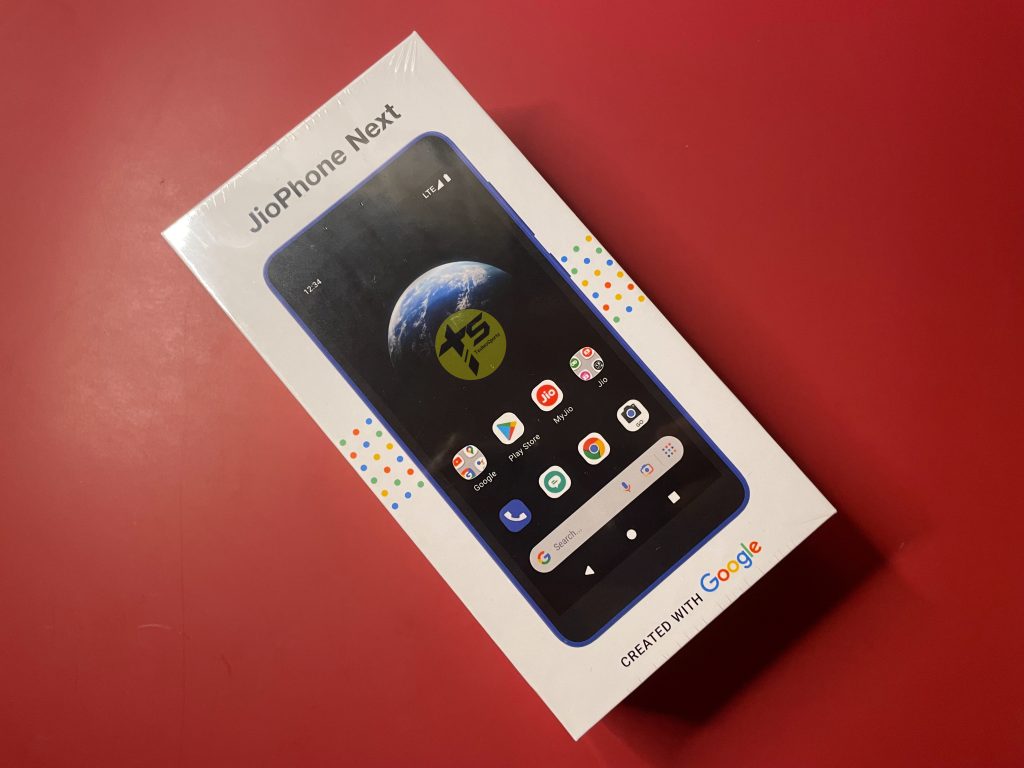 A pool of knowledge, entertainment, information is the internet and Jio helping people to get data laid the ground for other telecoms to follow and some to disappear. However, starting with free data with its SIMs, continuing the momentum with JioPhone, the cheapest ever hybrid feature phone with 4G support.
Then it laid the framework of JioFiber, helping to connect more people for faster broadband connectivity across India. Now, finally, the hugely anticipated first smartphone from Jio is here, and yes, we have it in our hands already but before diving into its real usage, we have to talk about why it's special.
Here are some of the key elements we like about the JioPhone Next:
Price & EMI scheme
If you have a business mind like Mukesh Ambani you will not have to go to Harvard or MIT, just use the wealth and wits to solve the problems of customers. Yes, Reliance Jio with JioPhone Next is solving the biggest problem of Indians is making smartphones more affordable.
More than 50% of our people are poor and a lot of them have no access to the internet or can afford their first smartphone. I have seen people in villages struggle to even get their everyday food, so for them, JioPhone was revolutionary.
Now, with JioPhone Next, the company continues to hold this momentum, you can get the JioPhone Next by paying only ₹1,999 and a processing charge of ₹501 to split your rest amount up to 24 months and that's 2 years! Meanwhile, with a broad range of plans, you also get data and calls included in the monthly EMI scheme.
Google Integration
When Google took a stake in Reliance Jio, we knew both these firms would work together to make something big and yes, JioPhone Next is one of the results.
The embedded voice-first features will enable all Indians to consume content and navigate the phone in their language of choice.
Voice first capabilities
Google Assistant helps users to operate the device (Open App, manage settings etc.) by just speaking to it. User can get information/content from Internet easily in a language familiar to them.
Read Aloud
The 'Read Aloud' functionality enables the user to have any content on their screen read out to them by the device. This allows users to consume content easily by simply listening in their preferred language.
Translate Now
The Translate Now functionality enables the user to have any screen translated to the 10 popularly spoken Indian languages. This allows users to read any content in their language of preference.
Easy and Smart Camera
JioPhone Next is equipped with a smart and powerful camera that supports various photography modes such as Portrait Mode, allowing users to capture great photos with an automatically blurred background. Night Mode allows users to capture great photos even under low light conditions. The camera also features custom India-themed Lenses to enhance their selfies with emotions and festivities.
Access to millions of apps
The device supports all the available Android apps that users can download and use in the device via Google Play, thus giving them the freedom to choose from millions of apps available on the Play Store. It also comes preloaded with a host of Jio and Google apps.
Automatic feature updates
JioPhone Next comes with over the air updates support for new features, customization, security updates and more, which will continue to enhance the phone experience over time.
Easily share with friends
Quickly share apps, files, photos, videos, music and more with family and friends, even without the internet, using the 'Nearby Share' feature.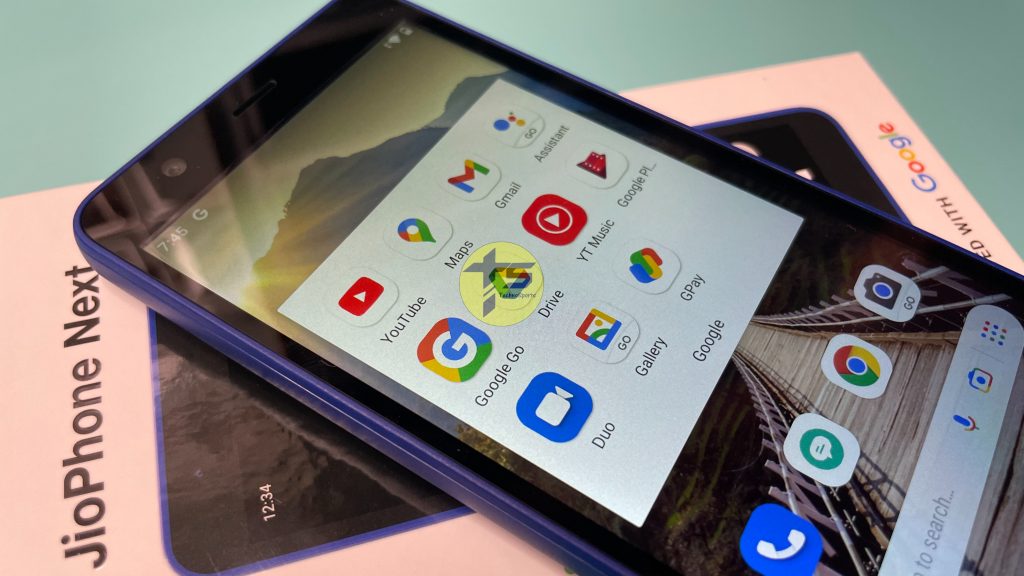 Key Features
To make an entry-level smartphone usable and fast for everyday use requires phenomenal engineering at the heart. Here, the JioPhone Next runs on Pragati OS, powered by Android OS that has been engineered by both Jio and Google to bring Pragati (meaning progress) for all while offering a seamless experience at an affordable cost.
Reliance Jio's partnership with Qualcomm has helped them use a Qualcomm QM215 mobile SoC, which helps to optimise device performance, audio and battery. This is paired with 2GB of RAM and 32GB of storage that's expandable (up to 512GB).
You have a basic 5.45-inch (720×1440) display protected by Corning Gorilla Glass 3. In terms of connectivity, you have both 4G LTE and dual-SIM support, 802.11 b/g/n Wi-Fi, Bluetooth 4.1, a headphone jack, and a micro USB port. There are basic sensors like an accelerometer, light, proximity, and you also have a dual microphone.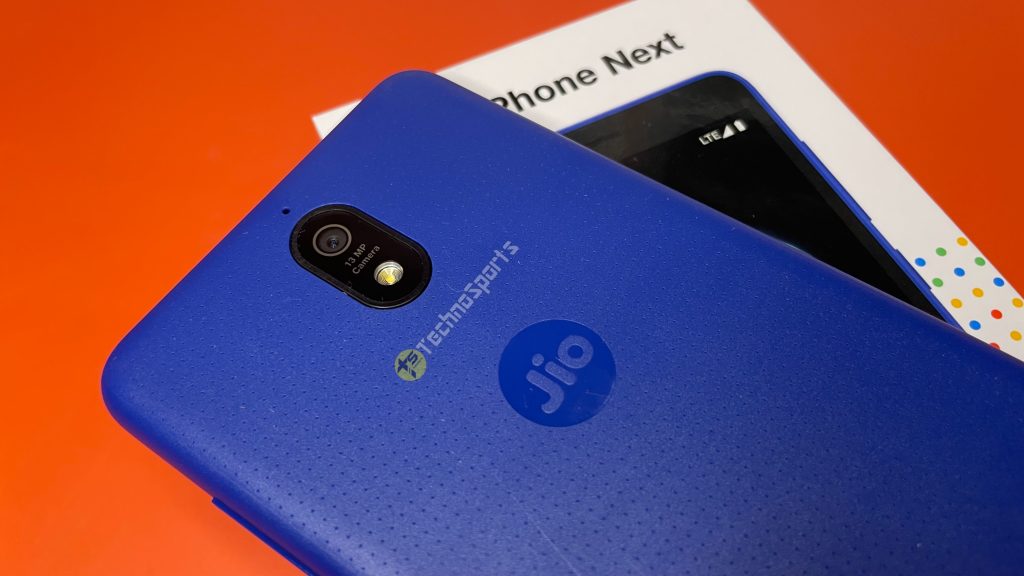 Glad to see, Jio has put a respectable battery that ranges from 3,400mah (rated) to 3,500mAh (typical), this should give enough juice for an entire day. Also, if you closely notice, it is one of the few smartphones these days that has a removable battery, so even if someone's battery is damaged two or three years down the line you can replace it.
For the camera, you get a 13MP rear sensor and 8MP front-facing shooter, for a ₹6499 smartphone, you cannot expect more. However, the close integration between Jio and Google has helped to get the best out of these two sensors, while you see the Camera Go app to be the default camera application being used.
Google has carefully optimised the app for JioPhone Next and taking pictures doesn't lag much because of this. Thanks to the partnership with Snapchat, the Indian-specific Snapchat Lenses directly in the application, you can take images with HDR, Night, and Portrait modes. For flash, you get a rear LED flash and display flash for selfies and yes, you can record 1080p videos at 30FPS from both cameras.
This smartphone is packed with key Google features like Maps, Search, and Nearby Share for offline sharing. Useful features like Assistant, voice interaction, text-to-speech, and Google Lens translation has been integrated carefully keeping the size of apps in mind, most Google apps use the "Lite" version to save space.
You also get a slow but decent charger and it typically takes some time to charge the smartphone from 0 to 100%.
Final Thoughts
As an overall package for the price, with a great financing scheme, the JioPhone Next is a revolutionary step targeted towards people who still haven't upgraded to a smartphone yet. Focussing on the key specs and usability of a smartphone, Jio has made the JioPhone Next both reliable for everyday use and very much usable.
Follow us as we will post every detail of the JioPhone Next in our upcoming articles, have a query? Be sure to drop it in the comments down below…😉