Recently, there has been a surge in the popularity of electric vehicles across the globe. This has resulted in smartphone brands diversifying their interests in this field, and now, it appears that Realme is also buying into the EV bandwagon.
The latest rumor regarding the Chinese smartphone brand entering the EV market arrives from RushLane, who spotted a trademark from the company.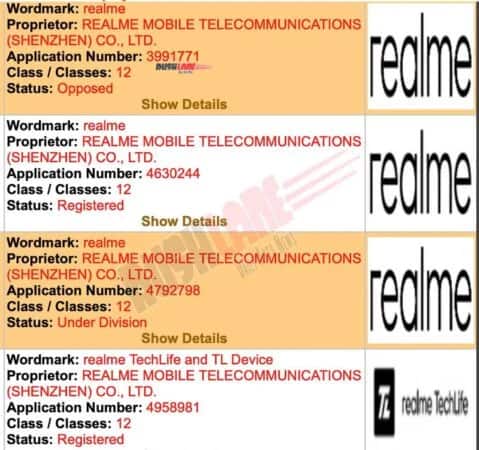 Previously, we had also witnessed brands such as Apple, Xiaomi, Oppo, and even Huawei diversify into the automobile market, and Realme is just the latest addition to this group. The company has filed a new trademark in India under the 'vehicles, apparatus for locomotion by land, air or water.'
Notably, its former parent company, Oppo, had recently also unveiled its Carlink Smart Car Solution while Xiaomi had revealed its 10 billion USD investment for its electric vehicle project earlier this year.
So, it does not arrive as a complete surprise that Realme is also considering opportunities in the EV market. This trademark was filed by Realme Mobile Telecommunications (Shenzhen) Co Ltd back when it had first launched its first smartphone in the Indian market.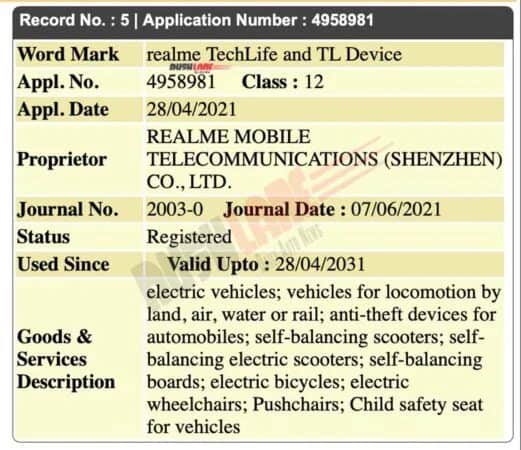 India is one of the emerging markets for EVs, with scooters and motorcycles in particular. So, RushLane believes that an electric scooter from the company may be in the works for the Indian market.
Keep in mind that this is still in the initial trademark stage and does not officially confirm the brand's foray into the market, take this report with a pinch of salt.
However, considering the success Ola had with its electric scooter in India, do not be surprised if other brands also enter this market.
Also read: