The latest Geekbench Android chart winner for single-core and multi-core performance is the Microsoft Surface Duo 2 with Snapdragon 888 SoC. The Surface Duo 2 outperformed the Asus ROG Phone 3 and the Samsung Galaxy S21+ to take first place. However, such performance capability comes at a cost.
According to the Geekbench Android Benchmark listings, the Surface Duo 2 sits atop of the benchmark tests with a Single-Core score of 1,051, and a Multi-Core score of 3,317. That's ahead of the Samsung Galaxy S21+ 5G's second-place 966 Single-Core score, and the 3,235 Multi-Core score of the ASUS ROG Phone 3.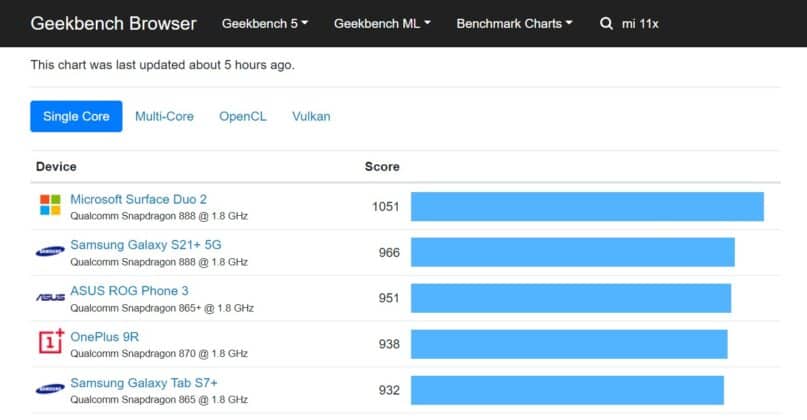 The Microsoft Surface Duo 2 holds it position in the Android charts with a +9.10% advantage over the Galaxy S21+ in the single-core list and +3.06% lead over the ROG Phone 3 in the multi-core table. The Surface Duo 2 sports Qualcomm's powerful Snapdragon 888 processor and is also fitted with 8 GB LPDDR5 RAM and up to 512 GB storage.
Still, the Microsoft Surface Duo 2 can enjoy its moment in the sun as the overall fastest Android device in Geekbench's charts. But this power comes at a hefty price tag, with the admittedly aesthetically pleasing device costing from US$1,499.99 and reaching US$1,799.99 if you want the 512 GB SSD model. The Surface Duo 2 has all the callings of a niche product that apparently still suffers from numerous software bugs, but at least it's snappy.
It is important to note, though, that several other phones with the Snapdragon 888 are missing from the list. That includes the Samsung Galaxy Z Flip 3. Even phones with the newer Snapdragon 888 Plus are missing, including the Asus ROG Phone 5S Pro, so the Duo 2's top spot might not last too long.
Also Read: