At its IntelON event, not only did the Blue team introduce their new flagship 12th Gen Core processors but also showed its upcoming ARC Alchemist GPUs in action. All set to launch in 2022, these GPUs uses TSMC's cutting edge 6nm node and will be equipped with up to 32 Xe cores (compute units).
These high-performance GPUs from Intel will feature Xe Super Sampling (XeSS) – a novel upscaling technology that game developers are now integrating into their games. This works more like DLSS as it is said to be hardware-based and gives similar results to AMD's Fidelity FX Super Resolution, though we are yet to see some official numbers from Intel.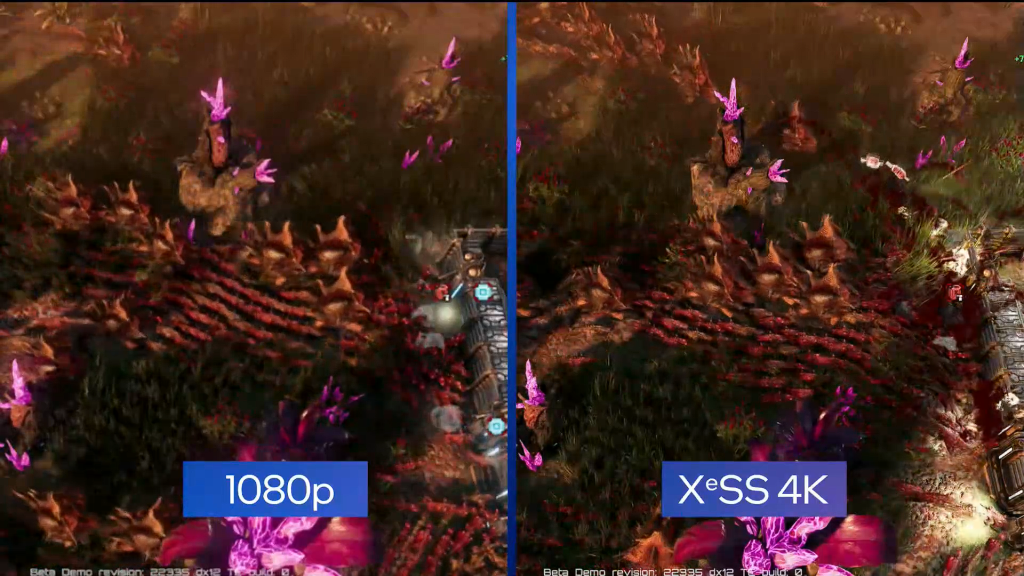 XeSS takes advantage of machine learning and Alchemist's built-in XMX AI accelerators to deliver high-performance and high-fidelity visuals. So, if you are a gamer and still haven't got a GPU due to shortage, Intel's solution could be a viable thing as it packs the most demanding features you ask on a GPU.
XeSS is implemented using open standards to ensure wide availability on many games and across a broad set of hardware. In addition, Alchemist will support Deep Link technology on Intel platforms, with new computing capabilities including Hyper Encode, allowing simultaneous acceleration of a single video file transcode across integrated and discrete graphics engines.
Surprise, surprise, Intel demoed the same game which AMD launched with Fidelity FX Super Resolution, yes, it's The Riftbreaker. We already played and tested the game, it's highly optimized and AMD's software-based upscaling approach too worked very well.
Intel took different scenarios in the game and interestingly compared 1080p against XeSS with 4K settings and obviously you will see more details with 4K.
What Intel might want to point out is the game could be boosted to 4K with XeSS and so playing at 1080p is not an ideal solution. So, we know that Intel's ARC Alchemist will compete up to a mid-range RTX 3070 and so with a supersampling technique if games can be played at 4K means a lot for gamers.
Want to know more about ARC Alchemist GPUs? Read more here: Intel's Arc Alchemist GPUs rumoured to cost around 800 USD