Earlier this year, we saw multiple reports emerge about Huawei unveiling the Arcfox Alpha S, which was a new electric vehicle that was co-developed in collaboration with BAIC and featured HarmonyOS.
Now, Huawei has officially announced that it will begin the production and delivery of a small batch of Arcfox Alpha S units in Q4 of 2021.
While Huawei has stated in the past that it does not intend to begin building cars, it has been actively working with other carmakers for the launch of its own in-car systems for both hardware and software.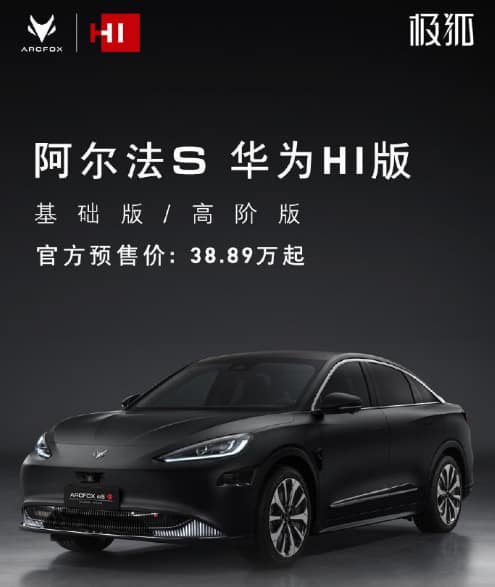 The Arcfox Alpha S is a great example of the Chinese tech giant parenting with an automobile brand for an advanced car with autonomous driving features. For those in the dark, the Alpha S is the result of over a billion dollars worth of investment for the research and development of EV and autonomous driving-based research.
Despite the Arcfox being branded under BAIC, the new electric car's highlighting features are Huawei's 'HI' systems. This system is short for Huawei Inside and offers Level 4 capabilities, which means that the car is capable of full autonomy. The car is priced between Yuan 388,900 and 429,900(45,67,565-50,41,286 INR). It runs HarmonyOS and related applications powered by a Huawei HiSilicon Kirin processor.
This permits it to offer automated driving, fast charging, and even a cloud computing experience as well. While the company does claim L4, it clarified that the L4 is in experience but it is legally required to note I2 since China has only permitted a small number of companies from testing autonomous vehicles and is far from allowing consumer vehicles to be driven autonomously on the roads.
But Huawei did showcase the L4 function, with the Arcfox traveling 1,000KM in a busy Chinese city without any human intervention.
The car managed to achieve this through sensors such as LIDAR, 6mm-wave radars, 13 ultrasonic radars, and 12 cameras along with Huawei's own chipset for self-driving.
Also read: