With the festivities around the corner, the happiest are our taste buds because 'tis the season to make merry'. Decadent delicacies become a part of our routine meals and are enjoyed guilt-free (or is it!). From devouring traditional 'mithais' to deep-fried savoury dishes, the festive months become one long cheat season that we all had been waiting for the rest of the year.
Even regular working out and physical activities that normally keep us fit for the rest of the year, take a back seat, however much we want to incorporate them in any way possible. In the past few years, time management and work-life balance have been a myth for us, with the ongoing long working hours, unhealthy eating habits, disturbed sleep schedules and patterns and almost a non-existent outdoorsy life. Surprisingly, AIoT enabled gadgets can help bring some semblance of a routine that can help to reset your daily activity schedules.
Unless you have been living under a rock, you would have heard the term 'wearables'. Wearables have taken over the consumer technology world and how! Whichever way we look around us, we see someone or the other sporting an AIoT enabled device on them – either strapped to their wrist or plugged into their ears.

In the last few years, there's been a surge in popularity in wearables, including activity trackers, smartwatches, health trackers, and earpods of course! With the segment showing no sign of slowing down and the resultant impact on people's quality of life, it is important to consider some of the advantages of using wearables, especially with our rapidly changing lifestyles.
Wearables keep us fit – With the Diwali cleaning happening in full vigour, wearables can help track our movements and track our fitness levels real time. You will be able to add some exercise while cleaning and don't have to worry about missing out a workout. Once linked to our smartphones, most of these devices allow us to do this on-the-go. Wearables help us set fitness goals and track our progress towards achieving them.
Wearables as activity trackers – Many of these wearables provide the ability to track our physical activity from the device itself – also allowing us to store it and view at a later time. This can be a great resource, allowing us to set short-term and long-term fitness and health goals. By receiving real-time notifications, such as reminders to stand or walk, wearables can also serve as a source of encouragement and motivation. Most importantly however, wearables bring us together – sharing our fitness goals and achievements with friends and family and also by working out or engaging in outdoor activities together.
The DIZO Watch 2 is one such gadget that will help you keep a tab on your and your loved ones' vitals. With trendy and sporty designs, the DIZO Watch 2 boasts of a high-res touchscreen, 15 Sports Modes, 10-day Battery Life, 100+ Stylish Watch Faces, Blood Oxygen Monitor, real-time Heart Rate Monitor, Smart AIoT control, 5ATM Water Resistance and much more.
Original price: INR 2,999
Link to check the best price: Flipkart.com
Go handsfree and cord-free with TWS earbuds – With wireless earbuds, you are able to do away with the multiple wired gadgets in your life. You can do your things handsfree, meaning that you will be able to pick your calls without the need to place your phone on your ears. You will also never have to unwind knots formed by the wires of your headphones or earbuds. It also becomes easy to work out as you listen to music or your favourite podcast from your phones through the wireless earbuds.
Choosing the right earbuds – There are many types of earbuds that are wireless and produce the great sound. Then there are those that come with special bass boosting technology such as the DIZO GoPods D, and DIZO Wireless for the neckband lovers. And these pair seamlessly with Bluetooth enabled devices such as phones, tablets, laptops, TV sets, etc. Now, when you are out shopping, you can attend an office call seamlessly and without outside disturbance/noise.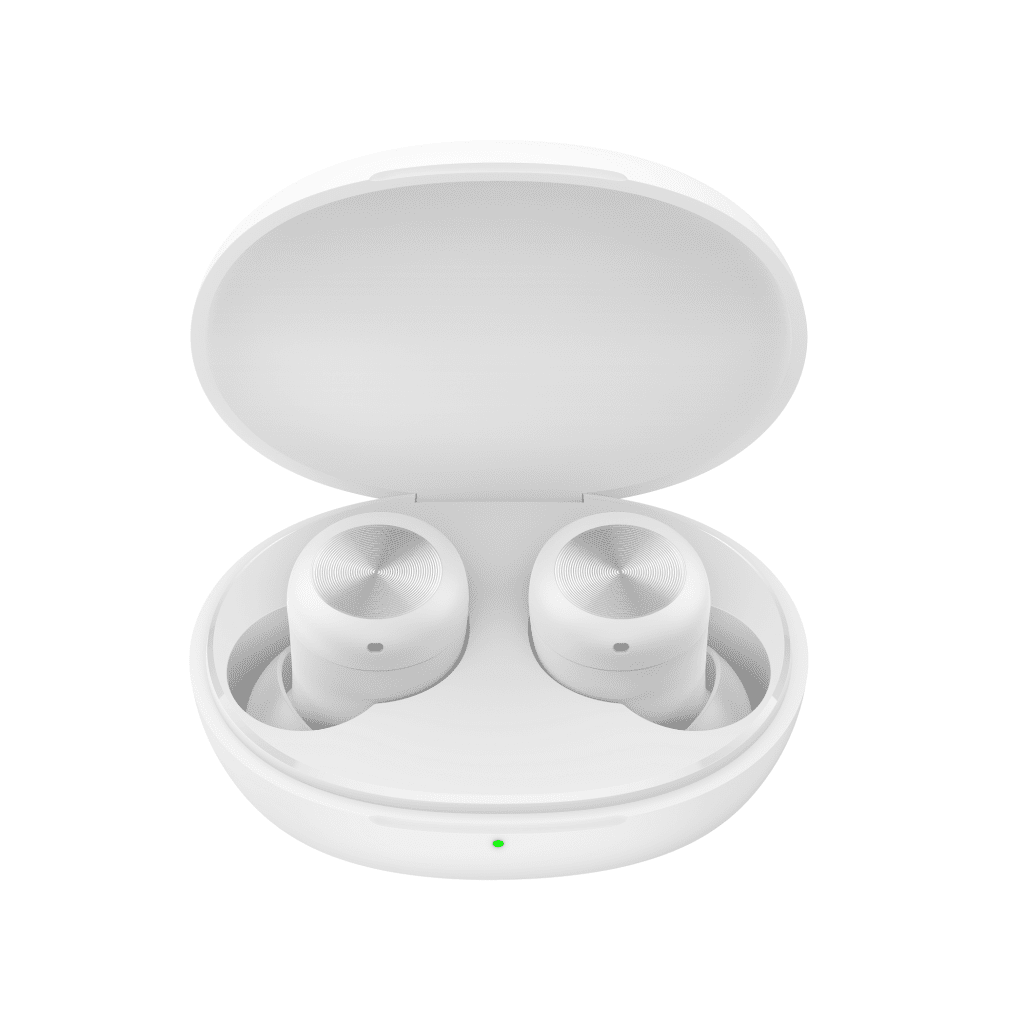 DIZO recommends you invest in a good pair of TWS (true wireless stereo) earbuds such as the DIZO GoPods D equipped with Radial Metallic Texture with advanced engraving process, 10mm Large Driver with Bass Boost+ algorithm, 20 hours of Music Playback, Game Mode at 110ms Super Low Latency, Environmental Noise Cancellation, realme Link App for customization and Intelligent Touch Controls among a host of other exciting and smart features, that allows you the freedom to go about your daily chores without compromising on your 'me-time'. How freeing is that thought!
Wearables to gift – Festival gifting is a feel-good age-old indulgence that instantly makes the festivals merrier and this year, you can get your loved ones something that can make their life a lot more convenient. Smart wearables are a good option for every age, from tracking health & fitness to receiving calls and messages. Smartwatches like DIZO Watch 2 is an ideal fit for gifting that lets you stay connected and staying hands free.
The DIZO GoPods D features Game Mode bolstered with 110ms Super Low Latency, while the DIZO Wireless gives you 88ms of Super Low Latency, provides a battery life of 16 hours. And the Environmental Noise Cancellation (ENC) algorithm helps block out ambient noises to make the experience even better.