The 'BIG DIWALI SALE', from 28th October, early access for buyers from 27th October midnight only on Flipkart !
Fully loaded smart TVs with Dolby MS 12, Dolby digital plus, DTS Trusurround, Bezel- less design, HDR 10+, 40W Sound Output, , Android 10, Google assistant, 4k Ultra HD and Dual- band Wi-Fi
New Delhi, Wednesday, 27th October, 2021: Offering customers a great festival bonanza this season, Thomson launches a blockbuster line up of smart TVs at 'The Big Diwali Sale', starting 28th October, with an early access from 27th October midnight, only on FLIPKART. The brand has announced the launch of its 3 new models -43 OATHPRO MAX, 50 OATHPRO MAX and 55 OATHPRO MAX, from its hugely popular and successful series OATHPRO. Priced competitively these models will be up for grabs with the starting price of INR 26,999 exclusively on FLIPKART !
Betting high on its sound output, some of the other top features of OATHPRO MAX models includes
HDR 10+, 40W Sound Output, Dolby MS 12, Dolby digital plus, DTS Trusurround, Bezel- less design, Android 10, Google assistant, 4k Ultra HD, Dual- band Wi-Fi et al.
Preloaded with 6000 Plus Apps and Games including – Netflix, Prime Video, Hotstar, Zee5, Sony LIV, Google Play Store , Thomson's OATHPRO MAX offers 500,000 Plus TV Shows. Available in bezel less & airslim designs , these smart TVs come in Rose Gold colour & alloy stand and offer 4K UHD Display with 1 Billion Colours, which makes them a clear winner in the category.
Commenting on the festive launch , Mr. Avneet Singh Marwah, CEO, Super Platsronics India Pvt. Ltd. India Brand Licensee of Thomson Tv's said, " The kind of response we received from the flipkart big billion days sale was astounding and we decided to launch OATH PRO Max before schedule. Despite supply constraints we have innovated and developed the product in-house to cut short the timings."
Establishing its leadership with 'Make in India' or 'Go local vocal' approach Thomson has been prompt in bringing its whole spectrum of home appliances from Smart Tv's, Washing Machines to Air Coolers to Indian market at very competitive prices by manufacturing its complete range at home turf. Always going with the 'consumer first' approach the brand has created a great loyalty amongst its target audience , who is discreet, price-sensitive and looking for best-in-class technology.
Thomson has made a successful run in less than 3years and has become one of India's fastest growing and leading Top 3 online selling smart Tv brands. Great reviews, high brand equity and customer satisfaction has added more badges to brand's honour and established it as a continuous outperformer in its categories.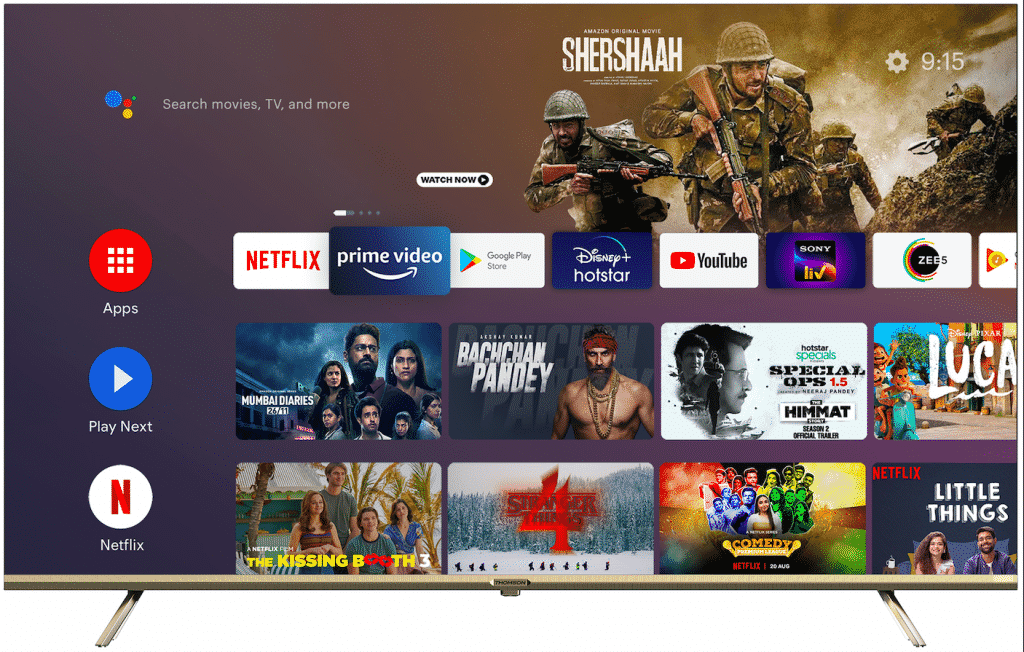 | | |
| --- | --- |
| Specification | 43 OATHPRO MAX |
| Display | 4K UHD Display with 1 Billion Colours |
| HDR/HDR10/HDR10+ | HDR10+ |
| Digital Noise Filter | Yes |
| Colour | Rose Gold with Alloy Stand |
| Design | Bezel Less & Airslim Design |
| Dolby Certified Audio/Any other Audio certifications | Dolby Digital Plus, DTS Trusurround |
| Number of Speakers | 2 |
| Speaker Output | 40W Dolby Audio Stereo box Speaker |
| MEMC | Yes |
| Bluetooth | Yes, 5.0 |
| Wi-Fi | Dual Band 2.4 GHz/5 GHz |
| Voice-enabled Remote | Yes (Google Assistant) |
| Connectivity | In-built Chromecast & Airplay supports 1000+ Apps |
| Panel | IPS+ |
| Browser | Yes |
| Brightness (nits) | 450 |
| Sound Technology | Dolby MS12, DTS TruSurround |
| Surround Sound | Yes |
| Digital Audio Output (Coaxial & Optical) | 1 ( optical, side) |
| Sound Mode | Standard/Sport/Movie/Music |
| Platform | ANDROID 10 |
| RAM | 2 GB |
| ROM | 8 GB |
| Processor | ARM Cortex A53 |
| Chipset | Mediatek |
| HDMI | 3 (ARC, CEC) |
| USB | 2 |
| DTV Receiving System | DVB-C, DVB-T/T2 |
| Dedicated Shortcut Keys on Remote | Yes (Netflix, Prime, Youtube, Google Play) |
| Device Support | Speaker/Headphone, Game Controlloer, Mouse, Keyboard |
| Apps & Games | More Than 6000 Plus Apps and Games Like Netflix, Prime Video, Hotstar, Zee5, Sony LIV, Google Play Store with 500,000 Plus TV Shows |
| | |
| --- | --- |
| Specification | 50 OATHPRO MAX |
| Display | 4K UHD Display with 1 Billion Colours |
| HDR/HDR10/HDR10+ | HDR10+ |
| Digital Noise Filter | Yes |
| Colour | Rose Gold with Alloy Stand |
| Design | Bezel Less & Airslim Design |
| Dolby Certified Audio/Any other Audio certifications | Dolby Digital Plus, DTS Trusurround |
| Number of Speakers | 2 |
| Speaker Output | 40W Dolby Audio Stereo box Speaker |
| MEMC | Yes |
| Bluetooth | Yes, 5.0 |
| Wi-Fi | Dual Band 2.4 GHz/5 GHz |
| Voice-enabled Remote | Yes (Google Assistant) |
| Connectivity | In-built Chromecast & Airplay supports 1000+ Apps |
| Panel | IPS+ |
| Browser | Yes |
| Brightness (nits) | 500 |
| Sound Technology | Dolby MS12, DTS TruSurround |
| Surround Sound | Yes |
| Digital Audio Output (Coaxial & Optical) | 1 ( optical, side) |
| Sound Mode | Standard/Sport/Movie/Music |
| Platform | ANDROID 10 |
| RAM | 2 GB |
| ROM | 8 GB |
| Processor | ARM Cortex A53 |
| Chipset | Mediatek |
| HDMI | 3 (ARC, CEC) |
| USB | 2 |
| DTV Receiving System | DVB-C, DVB-T/T2 |
| Dedicated Shortcut Keys on Remote | Yes (Netflix, Prime, Youtube, Google Play) |
| Device Support | Speaker/Headphone, Game Controlloer, Mouse, Keyboard |
| Apps & Games | More Than 6000 Plus Apps and Games Like Netflix, Prime Video, Hotstar, Zee5, Sony LIV, Google Play Store with 500,000 Plus TV Shows |
Specification
55 OATHPRO MAX
Display
4K UHD Display with 1 Billion Colours
HDR/HDR10/HDR10+
HDR10+
Digital Noise Filter
Yes
Colour
Rose Gold with Alloy Stand
Design
Bezel Less & Airslim Design
Dolby Certified Audio/Any other Audio certifications
Dolby Digital Plus, DTS Trusurround
Number of Speakers
2
Speaker Output
40W Dolby Audio Stereo box Speaker
MEMC
Yes
Bluetooth
Yes, 5.0
Wi-Fi
Dual Band 2.4 GHz/5 GHz
Voice-enabled Remote
Yes (Google Assistant)
Connectivity
In-built Chromecast & Airplay supports 1000+ Apps
Panel
IPS+
Browser
Yes
Brightness (nits)
500
Sound Technology
Dolby MS12, DTS TruSurround
Surround Sound
Yes
Digital Audio Output (Coaxial & Optical)
1 ( optical, side)
Sound Mode
Standard/Sport/Movie/Music
Platform
ANDROID 10
RAM
2 GB
ROM
8 GB
Processor
ARM Cortex A53
Chipset
Mediatek
HDMI
3 (ARC, CEC)
USB
2
DTV Receiving System
DVB-C, DVB-T/T2
Dedicated Shortcut Keys on Remote
Yes (Netflix, Prime, Youtube, Google Play)
Device Support