After doing the drama contain the two seasons from a pandemic that has also been induced the delay due to the exit of star Ruby Rose who is returning as the Batwoman for what is hopefully a far less eventful third season.
However, it will be anything but smooth sailing for Javicia Leslie's Ryan Wilder, who will have to contend with not one, not two, but three classic villains, with the trailer hinting at the arrival of Mad Hatter Poison Ivy and a surprise appearance from Killer Croc.
This is on top of some rather personal drama for Ryan, who is set to finally meet her birth mother, who is not quite who she expected.
The Bat Family will also have their own issues to contend with as Luke suits up as the first-live action Batwing, while there also looks to be some movement in his relationship with Mary finally.
Batwoman (season 3): release date
Batwoman season three was quick to get a green light, with The CW renewing the show after only three episodes of season two had aired.
The latest superhero series will return in the US in a new Wednesday time slot, with season three premiering on 13th October 2021.
However, UK broadcaster E4 tends not to air new episodes until a few months after they went out in the US.So don't expect Batwoman's third season to arrive on UK screens until early 2022.
Batwoman (season 3): cast
There'll be no main character shake-up this time around as Javicia Leslie will be suiting up in the cape and cowl once again for her second year as Ryan Wilder.
She'll be joined by most of the returning supporting cast, including Meagan Tandy as Sophie Moore, Campus Johnson as Luke Fox, Nicole Kangas Mary Hamilton, and Rachel Skarsten as Alice.
However, following Ruby Rose's departure as Kate Kane last year, another original character played by a big-name actor will leave Dougray Scott's, Jacob Kane.
Jacob Kane (Dougray Scott) and Kate Kane (Ruby Rose) in Batwoman
Jacob had a rough ride over the first two seasons when he became addicted to Snakebite after becoming overwhelmed by grief. The showrunners eventually decided that Jacob would be used to wrap up the Crows storyline, with the Kane patriarch disbanding Crows security after learning the full extent of their corruption.
"Once we made that decision – and obviously Kate isn't staying on the show – this character of Jacob had run its course, for better or for worse, through that storyline," that the showrunner Caroline Dries told Entertainment Weekly.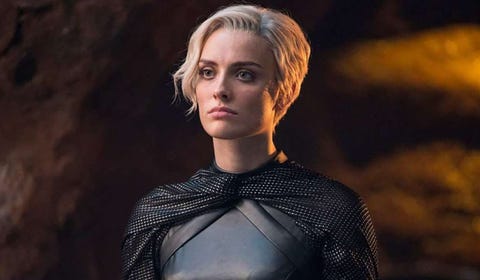 "So it worked out that it was mutual [with Scott]. We ended up being able to really write to a good ending for Jacob, just knowing in advance that's what we were going to do. I'm very pleased with how that storyline worked out for him."
However, Batwoman will more than make up for Scott's departure – with five brand new cast members set to make a rather big impression in Gotham.
The arrival of Riverdale star Robin Givens' new character will have the biggest impact on Ryan, as she will be playing Jada Jet, the CEO of Jet Industries, who had to give up her first-born child – almost certainly making her Ryan's biological mother.
However, Jada won't be the only new surprise family member for Ryan – like Law and Order: Organised Crime's Nick Creegan will appear as Marquis Jet, Jada's playboy son who, in contrast to Ryan, has grown up with a lavish lifestyle.
However, the family reunion will have a thorn in its side in the form of Agent Carter's Bridget Regan, who will have a recurring role as Poison Ivy after the classic Batman villain was teased in the season two finale. She will be joined by Schmigadoon! Amitai Marmorstein as Mad Hatter, whose hat was also released from the Batcave in the second season.
Finally, Victoria Cartagena has been cast as Renee Montoya – the same role she played in fellow DC series Gotham. However, while the Arrowverse has crossed over with nearly every DC property, Gotham was one show that was never incorporated into the shared universe.
Instead, this will be a different Renee Montaya to the one seen in Gotham – with Batwoman's Renee, a former Gotham police officer who now runs the "freaks division" from the basement of the mayor's office.
Will Wallis Day be in Batwoman season 3?
Wallis Day played the recast Kate Kane is Batwoman, who was the main character in season one (then played by Ruby Rose) and then reappeared in season two (now played by Day) to give the character a proper send-off.
However, as the season two finale implies – spoiler alert – Kate will not appear in season three, as she has left Gotham searching for her missing cousin Bruce Wayne.
"It's our way of wrapping up her journey," Dries told EW. "It's ending how we met her, you know, in the absence of Bruce, and then bringing that full-circle and giving Kate a loving farewell between the Bat-team and Sophie."
Dries added that she would "never say never" to a return for Day but added that this was a farewell to Kate for now.
Batwoman (Season 3): Plot
The first bombshell revelation that will surely be explored in season three is Alice's reveal that Ryan's biological mother did not die while giving birth and is very much alive.
"It's really like opening an old wound, and Ryan's not sure if she wants to deal with it," Batwoman showrunner Caroline Dries told TVLine. "Part of her thinks Alice is messing with her, and deep down is hoping that Alice is messing with her, so she doesn't have to deal with this. What she ultimately learns is Alice was telling the truth."
Ryan's mother almost certainly looks to be powerful Jet Industries CEO Jada Jet, whose life as a business tycoon has been a far cry from Ryan's childhood spent growing up in foster homes. Complicating things is Jada's son and Ryan's potential brother Marquis Jet, an impetuous playboy who sees much of himself in Ryan as a like-minded young go-getter. Leslie had previously revealed that she wanted Batwoman to feature classic Batman villains Joker and Penguin – and it looks like her wish might be partly coming true.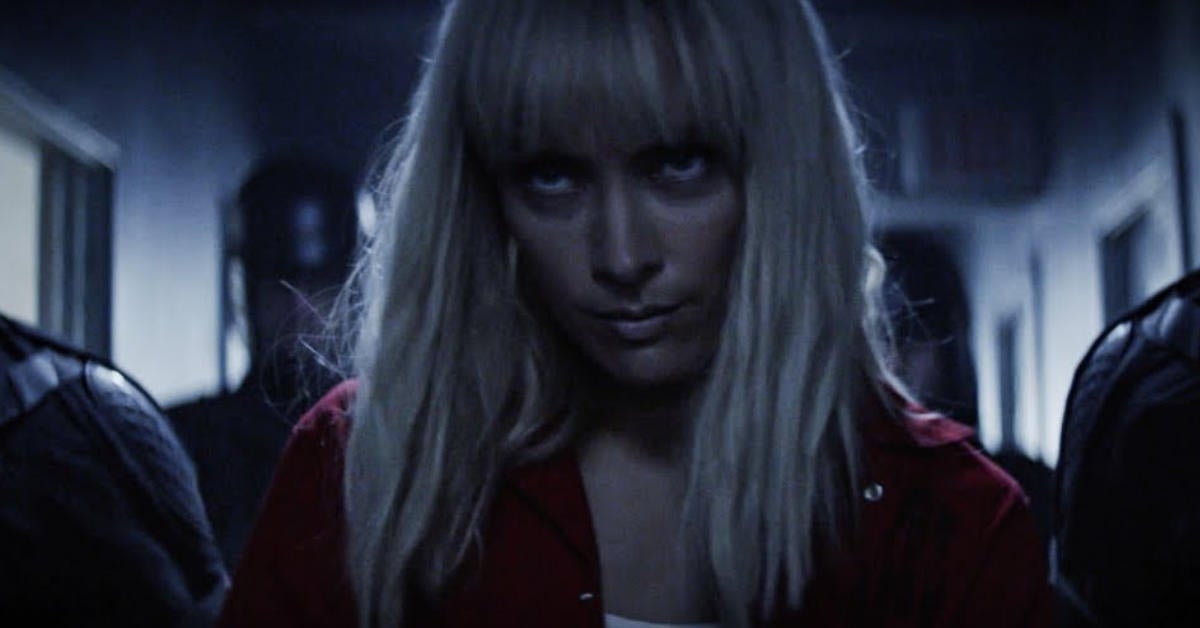 The season two finale ended on a cliffhanger, revealing that Penguin's umbrella, Mad Hatter's hat, and other villain trophies from the Batcave are now loose in Gotham, with one of Poison's Ivy's vines also beginning taking root and sprouting.
"Like literally a lot of your epic Batman villains, we have all of their weapons, and they've all been released into the river, and people are going to find [them], and you're going to find the effects that these weapons have on these normal Gotham citizens and then becoming like these supervillains, and it's just going to be so much fun," Leslie told EW.
"I can't wait! I'm excited because we're about to start shooting season 3, and I can't wait to read the scripts and to see where it goes."
The season three trailer saw the Mad Hatter retrieve his hat and give a rather chilling speech at Gotham University Medical School, though also hinted that another classic Batman villain would be debuting in season three as Killer Croc made a surprise blink-and-you'll-miss-it appearance – before being confirmed to arrive in the second episode titled Loose Teeth.
Poison Ivy's vines were also seen in the trailer, seemingly recovered and locked up, although the classic villain is confirmed to later appear in human form in a recurring role through the season. Dries has teased a major twist in the Poison Ivy storyline, hinting at a fresh take on the character's comic book history.
"I'm super excited about the Poison Ivy storyline," Dries told TV Line. "There's a huge facet of it that we haven't revealed to the press that will be really fun for the audience to participate in. We do a combination of staying true to the Poison Ivy canon and what we normally do, putting our own spin on it. It's a major story arc of the season, and we make it really, really hard on Batwoman."
Leslie had previously revealed that she wants her Batwoman to have a supervillain love affair, similar to the famously rocky and complex relationship between Batwoman and Catwoman. However, while several new villains look to be introduced, it remains to be seen whether such a relationship will be incorporated into season three.
She told RadioTimes.com and other press: "You know what I would love if I could pick anything? I love the energy that Batman and Catwoman had, and I would love to have that super-villain love interest, where you know this person is horrible for you, but you can't help but want to be with them. So I would love that for Batwoman to find her own version of Catwoman."
As the season two finale revealed, Campus Johnson's Luke Fox has also suited up as Batwing – the first live-action portrayal of the superhero – and will be spending less time in the Batcave and more time-fighting crime in season three.
However, it seems that Luke could be returning to the Batcave long enough to pursue a budding romance with Mary Hamilton in pairing fans who have lovingly coined 'Hamilfox'. Showrunner Caroline Dries previously revealed that the two would become part of a love triangle in season two – possibly involving Stephanie Brown – but this idea was seemingly placed on the back burner following the exit of star Ruby Rose and the need to introduce Leslie's Ryan Wilder.
While it's unclear if the planned love triangle storyline is still going ahead, Dries has promised that there will be some movement in Luke and Mary's relationship in season three.
"I feel bad continuing to make this promise, but in my mind, these two are destined to be together, so that's why I'm not really rushing it due to the feel so obvious to me," Dries told Entertainment Weekly. "They have so much drama in their lives. They're always putting out fires, so there's not a whole ton of time for their love story to evolve. But this season, we're going to try to eke it out a little better."
Rachel Skarsten plays Alice in Batwoman
Dries has also hinted that this season will explore mental health, using the character of Alice to explore a topic that has a rather mixed track record in the comic books.
"As she's not one to sit around journaling her problems, she's struggling with how to cope with these problems, and who to talk to, and if she even wants to admit her problems," Dries told TV Line. "A lot of our theme for this season is mental illness and mental health, and Alice is a great representation of somebody dealing with a mental health problem and that they're treated, and her fear around the taboo of that."
Batwoman (Season 3) episodes: How long will season 3 be?
Both seasons one and two of Batwoman suffered a reduced episode count due to the coronavirus pandemic, broadcasting 20 and 18 episodes, respectively.
It is not yet known if restrictions in the filming location of Vancouver will allow a full run for the 22 episodes that were initially ordered for season one or if season three will have a reduced length similar to previous instalments.
Here is the trailer:
A big thanks for the source.